Giallo Essentials Boxset – Review
By Sarah Morgan
They're dark, usually feature a murder or two and always have a mystery at their core.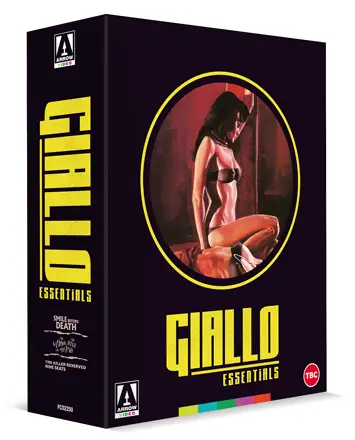 No, I'm not talking about film noir, but about a genre that could be described as Italy's answer to it. However, to add a little spice to the mix, Giallo movies often have an added pinch of the supernatural too.
"Brutal death"
Giallo is actually Italian for yellow, the colour of the covers of a series of novels that encompassed the same sort of subjects. It has its origins in the 1960s but really peaked in the 1970s thanks in no small part to several classics from auteur Dario Argento, including The Bird with the Crystal Plumage, Four Flies on Grey Velvet and Deep Red.
Many other notable Italian directors from the same period, such as Mario Bava and Lucio Fulci, also dabbled; sadly none of their work turns up in this boxset, which perhaps should have been entitled Giallo Obscurities.
But don't let that put you off – the three films it contains are well worth a look for students of the genre.
Silvio Amadio's Smile Before Death begins with the brutal death of a wealthy woman. It's passed off as a suicide by the police, but when Nancy, the deceased's teenage daughter, returns home from boarding school, she begins to realise that something isn't quite right.
Nancy's stepfather has been having an affair with her mother's photographer best friend, but just when you think the film is heading towards a cliched ending, shocking twists occur.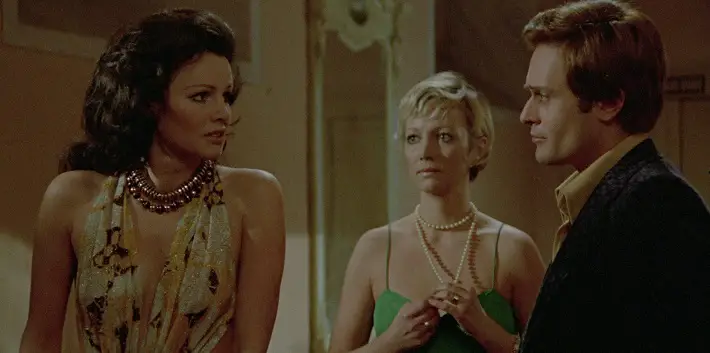 "Bumping them off"
Francesco Mazzei's The Weapon, the Hour, the Motive takes place within the confines of a convent, where a handsome if vow-breaking priest has been found murdered. The police chief is determined to unmask whodunit, while finding himself drawn to the dead man's sensual lover.
Finally, and perhaps the best film of the trio, comes Giuseppe Bennati's The Killer Reserved Nine Seats, which owes a lot to Agatha Christie's celebrated novel And Then There Were None.
The story takes place in an abandoned theatre belonging to wealthy Patrick Davenant. Following a party, he takes a bunch of his friends and relatives – perhaps associates might be a better way to describe them seeing as they don't appear to like each other very much – for a tour of the place.
Unfortunately, somebody locks the group in and begins bumping them off one by one…
As long as you're not offended by some of the rather un-PC elements (it's amazing how often the women's clothes fall off while the men remain completely covered), this is a splendid collection that will either introduce viewers to or enhance their knowledge of the Giallo genre.
LIMITED EDITION CONTENTS:
• Brand new 2K restorations from the original camera negatives of Smile Before Death and The Weapon, the Hour, the Motive
• 2K restoration from the original camera negative of The Killer Reserved Nine Seats
• High Definition Blu-ray (1080p) presentations of each film
• Original lossless mono Italian and English soundtracks on Smile Before Death and The Killer Reserved Nine Seats
• Original lossless mono Italian soundtrack on The Weapon, the Hour, the Motive
• English subtitles for the Italian soundtracks
• Optional English subtitles for the deaf and hard of hearing for the English soundtracks
• Rigid box packaging with original poster artwork in a windowed Giallo Essentials Collection slipcover
• Reversible sleeves for each film featuring original and newly commissioned artwork by Adam Rabalais, Peter Strain and Haunt Love
DISC ONE: SMILE BEFORE DEATH:
• Brand new audio commentary by authors and critics Troy Howarth and Nathaniel Thompson
• Original Italian and English front and end titles
• Smile of the Hyena, a brand new video interview with Stefano Amadio, film journalist and son of director Silvio Amadio
• Never-before-seen extended nude scenes, not used in the final film
• Image gallery
DISC TWO: THE WEAPON, THE HOUR, THE MOTIVE:
• Brand new audio commentary by author and critic Alexandra Heller-Nicholas
• A Man in Giallo, a brand new video interview with actor Salvatore Puntillo
• Front and end titles for the lost English-language dub
• Image gallery
DISC THREE: THE KILLER RESERVED NINE SEATS:
• Brand new audio commentary by author and critic Kat Ellinger
• Hanging with Howard, a video interview with actor Howard Ross
• Writing with Biagio, a video interview with screenwriter Biagio Proietti
• Italian theatrical trailer (in Italian and English)
• Image gallery
Giallo Essentials is released on Blu-ray by Arrow, £59.99