Flesh + Blood (1985) – Film Review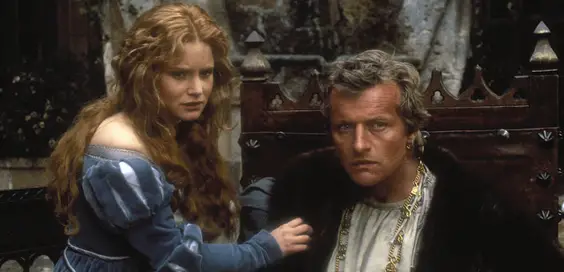 Director: Paul Verhoeven
Cast: Rutger Hauer, Jennifer Jason Leigh, Tom Berlinson
Certificate: 18
by Sarah Morgan
Well, where to start with Flesh + Blood, Dutch film-maker Paul Verhoeven's first English language film…
He clearly felt he was on safe ground; the script was based on unused material from the TV series Floris, the first project on which Verhoeven worked with Rutger Hauer and screenwriter Gerard Soeteman. All three men collaborated on this project, although not as successfully.
In fact, Flesh + Blood was a huge flop, recouping only $100,000 of its $6.5million budget, and it's easy to see why – it already seemed out of date back in 1985 when it was released.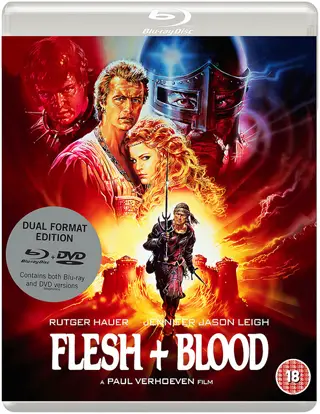 The movie came out in the same year as Ridley Scott's Legend, which was also a commercial disappointment, but it's hard to see Verhoeven's work gain the same sort of cult reappraisal, even following this blu-ray release.
"Double-crossed"
The director's work has been criticised in the past for his depiction of women, and I'd go as far as to say that Flesh + Blood would never be made now, particularly in light of the #MeToo movement.
Its depiction of a chaste female protagonist who turns into a raging nymphomaniac after being gang raped is surely a fantasy of a kind we're unlikely to see on screen again – thank goodness.
The story takes place in early 16th century Italy. A group of mercenaries are betrayed by the commander and monarch they have been working for, so decide to go into business for themselves, pillaging the countryside.
On their travels, the uncouth group, led by anti-hero Martin (Hauer), stumbles upon a caravan transporting Agnes (Jennifer Jason Leigh) to her husband-to-be Steven (Tom Burlinson, a sort of low-rent Tom Cruise), who also happens to be the son of the man who double-crossed the outlaws.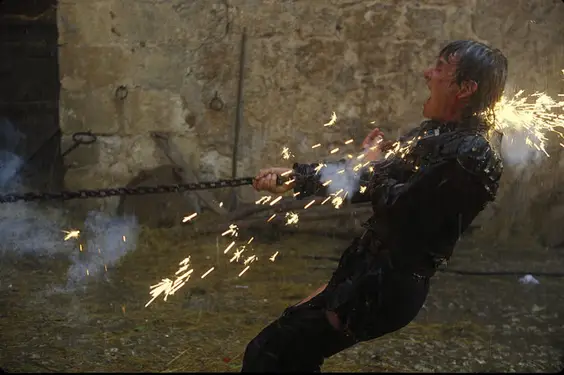 "Lurid"
After the rather gratuitous rape scene, she tries to stay alive by making herself accessible to Martin. Steven, meanwhile, tracks down his bride and launches a rescue plot.
The plague, swordfighting, explosions, full frontal nudity and an appearance by a young Jake Wood, aka EastEnders' Max Branning, are thrown into the mix. In fact, Verhoeven stops at nothing to try to win over his audience – clearly he had never heard the phrase 'less is more'.
There is the germ of a compelling tale in there, but it never quite works, opting for the lurid and downright offensive rather than the subtle and intriguing.
Instead, Flesh + Blood acts more as a window into the time when it was produced, espousing views that film will, hopefully, never return to again.
4/10
'Flesh + Blood' is released by Eureka on dual format (Bluray and DVD), £17.99