Plate, Shoreditch, London – Restaurant Review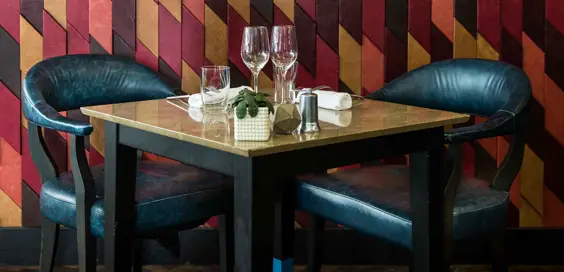 Plate, Shoreditch, London
Restaurant Review
by Roger Crow
The knife-shaped building is one of the most elegant I've seen during my latest flying visit to London. Once I know it's there, it's hard to ignore; the place almost begs me to take photos, like the curved apartments just around the corner which feel like the futuristic structures from Thunderbirds have been built full size.
This particular sci-fi-style construction is a hotel apparently – The Montcalm, though we're not here to check in sadly. My partner and I are at the end of a 30-hour joint birthday trip to the capital and we're on a tight schedule.
With 90 minutes to sample some of the best Plate has to offer, the clock is ticking. But thankfully we have back up. We're in Shoreditch where we've hotfooted it from a hipster bar 10-minutes' walk away.
Admittedly getting to Plate takes a little navigation. We enter the lobby of said posh hotel and get directions from a security guard. A short lift ride later and we find Plate around the corner.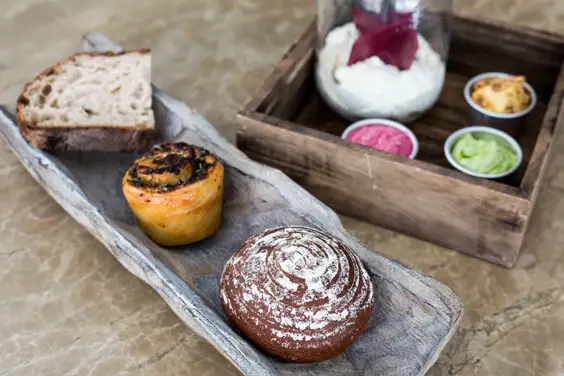 "Simple and attractive"
It's an elegant, beautifully designed eatery which looks like it costs an arm and a leg, but is surprisingly affordable for a restaurant of this calibre. Though we're booked in for two, our culinary MC has no problem seating our two other party guests.
The menu is simple and attractive; the ambience is welcoming and laid back – in sharp contrast to the cacophony we've just endured at the other end of town. (Oh dear, I've reached that age).
'At Plate we believe in the importance of simply taking time to share a meal with family and friends, to break bread together and catch up.' I can't fault their publicity blurb, and it tastes like they've 'used the highest quality local and seasonal ingredients to create a menu of fresh, flavour-packed plates.'
"Hugely positive"
I have a starter I'm sure Nigella would approve of – crushed avocado on sourdough toast with chilli and lime (£7 and worth every penny). It's a delicious palate-cleanser and very moreish.
(My main is so good, my mouth is watering a dozen hours after tasting it). I'd quite happily pay £16 for the corn-fed chicken with garlic purée, chicken jus and confit carrot. It's beautifully tender, with a side of potatoes and cabbage perfectly complimenting the meat. Every mouthful is a pleasure.
Two of my fellow diners opt for the vegetarian risotto, and the verdict is hugely positive. "A nice, simple combination of flavours," enthuses Rachel. (An hour after we leave she's still singing its praises). The Atlantic cod with cauliflower purée, almond crumb and pickled grapes also gets a thumbs up from an old friend.
Due to our tight schedule we get a good taste of Plate's calibre of dining, but I feel we've merely seen the tip of a terrific culinary iceberg.
"Very affordable"
I pop over to the kitchen to thank Head Chef Matt Hill. He and his team have done a wonderful job of impressing all of us, and like most great restaurants there's a feeling of wanting to return. Next time Rachel and I will stick around for dessert instead of racing off to Euston to catch our train home.
However, judging by the photos and verdict from my stand-in reviewers, the strawberries with elderflower sorbet and coffee brûlée with amaretto mousse, I'm guessing they were as big a hit as the mains.
London never ceases to amaze me with its glorious selection of eateries, and though on the outside Plate looks way out of my price range, the great thing is it's very affordable for special occasions or just catching up with old friends.
We wouldn't need to think too hard about making a return visit.
Plate, 151-157 City Road, London, EC1V 1 JH
Closes 10pm
020 3837 3102
mbymontcalm.co.uk/restaurants-bars