Kansas City (1996) – Film Review
Director: Robert Altman
Cast: Jennifer Jason Leigh, Miranda Richardson, Harry Belafonte
Certificate: 15
by Sarah Morgan
It's a freezing winter morning and it's raining cats and dogs outside. Only the most dire of emergencies would persuade you to get dressed and leave the house. So what are you going to do? Get those annoying little jobs done that you've been putting off for weeks?
If you're me, absolutely not. Instead, you'll be curling up on the sofa with the cat, putting on a good film and losing yourself for a couple of hours. Thankfully, a review copy of Kansas City, Robert Altman's 1930s-set love letter to his childhood and his place of birth, recently fell through my letterbox and fits the bill.
I've admired Altman's output for years, even if I haven't always enjoyed his films. The big screen version of MASH was his major breakthrough, but I'm not hugely enamoured of it – I prefer the subsequent TV series.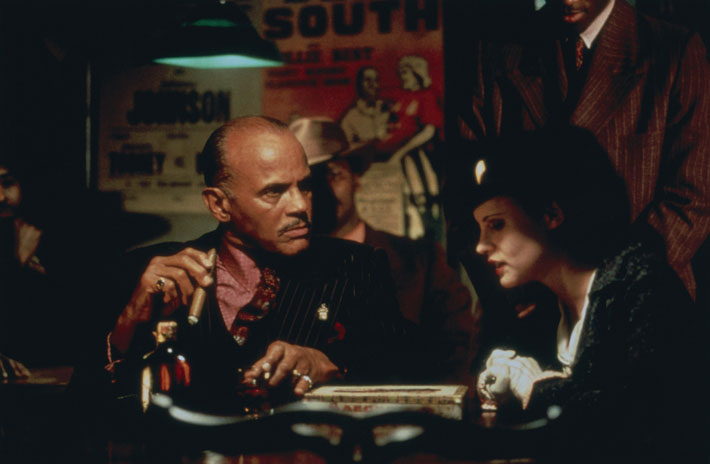 "Interesting"
However, Altman's approach to making the movie was groundbreaking in its use of overlapping dialogue and mobile camera work, something commonplace today. He was undoubtedly an innovator.
MASH was followed by genuine classics such as McCabe & Mrs Miller, Nashville, The Player and my personal favourite, Gosford Park. Kansas City isn't as well regarded as those, but it's an interesting entry on Altman's CV.
Jennifer Jason Leigh plays Blondie, a Jean Harlow-obsessed young woman whose husband, low-level criminal Johnny (Dermot Mulroney), has been kidnapped by the wonderfully named Seldom Seen (Harry Belafonte), a gangster, gambler and owner of a local jazz club.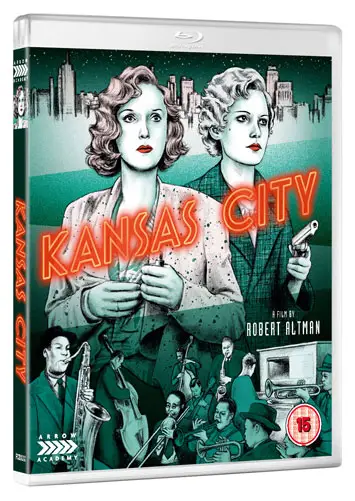 Seen is angry that Johnny posed as a black man to rob one of his customers and is determined to exact revenge. Blondie, meanwhile, takes hostage Carolyn Stilton (Miranda Richardson), the dope-addled wife of a local politician (Michael Murphy). She demands he uses his influence to free Johnny, or something terrible will happen to Carolyn.
"Entertaining if largely forgotten"
Of course nothing goes as anybody involved would want it to. Who lives, who dies and who manages to escape the carnage unscathed will not be revealed until the very end, keeping viewers on their toes.
Leigh's performance is rather unsettling. Apparently Altman wanted her to speak as if Blondie was appearing in a film of her own life, using the kind of language Harlow might have spoken. Unfortunately, it doesn't quite work – it just makes her appear as if she's in a different film to everybody else.
The jazz score (played on-screen by acclaimed musicians) was a little overwhelming for me as a non-fan, but that and Leigh's performance aside, this is an entertaining if largely forgotten entry in the film-maker's oeuvre.
Watch out too for a brief but telling appearance from Steve Buscemi; special features include an excellent video essay from critic Geoff Andrew.
High Definition Blu-ray™ (1080p) presentation
Original 2.0 and 5.1 DTS-HD MA audio
English subtitles for the deaf and hard of hearing
Audio commentary by director Robert Altman
Newly filmed appreciation by critic Geoff Andrew
Gare, Trains et Déraillement, a 2007 visual essay by French critic Luc Lagier, plus short introduction to the film narrated by Lagier
Robert Altman Goes to the Heart of America and Kansas City: The Music, two 1996 promotional featurettes including interviews with cast and crew - Electronic press kit interviews with Altman, Leigh, Richardson, Belafonte and musician Joshua Redman, plus behind-the-scenes footage
Four theatrical trailers
TV spots
Image gallery
Reversible sleeve featuring original and newly commissioned artwork by Jennifer Dionisio
Kansas City is released on Blu-ray by Arrow Academy, £24.99