Anomalisa (2015) – Film Review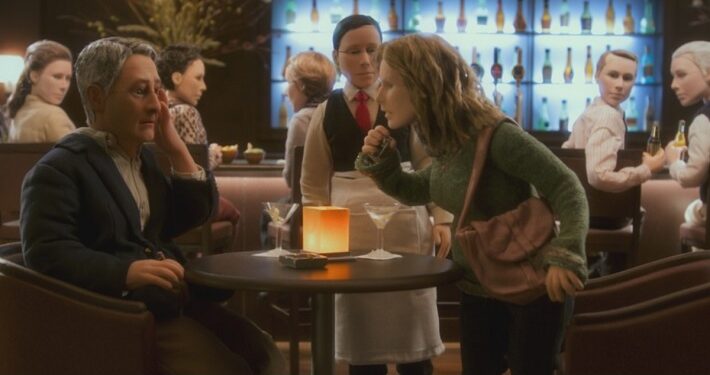 Director: Charlie Kaufman, Duke Johnson
Cast: Jennifer Jason Leigh, David Thewlis, Tom Noonan
Certificate: 18
by Jen Grimble
Film directors strive to recreate the authenticity of human emotion in their work. But truth can often be lost within the melodrama and artistry of cinema. Indie movies have, however, perfected the art of interpreting the emotional state of the underdog. Silver Linings Playbook and Lars and The Real Girl candidly analyse the behaviours of outsiders seeking human connection. The latest movie to join them, with an arresting and uncomfortable accuracy, is the stop-motion animation, Anomalisa.
The movie is the latest brain-child of director Charlie Kaufman, screenwriter of Eternal Sunshine of the Spotless Mind and Being John Malkovich. Those two films focused on reclusive characters fighting solitude. Anomalisa is unsurprisingly similar. It possesses that classic Kaufman humour and eccentricity. We enter a world where everyone is banally similar, yet where siblings excel at sheer playful fantasy, Anomalisa does the opposite. Ironically this animated film takes existentialism to an altogether more factual place.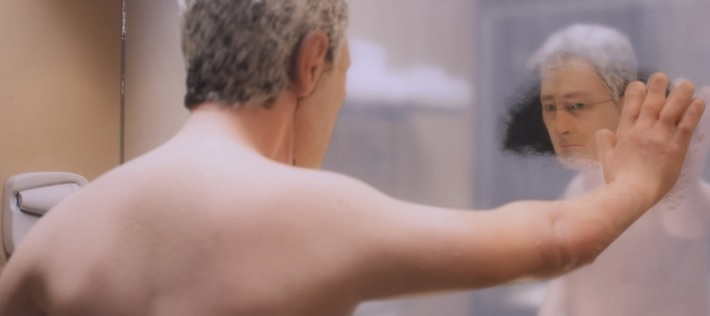 "Serious and uncensored"
David Thewlis voices Michael Stone. He's a lonely and socially-inept motivational speaker on the verge of a midlife crisis. He is a man entirely unsuited to his career.  On his latest business trip to Cincinnati, a city that plagues him with memories of a former flame, Michael finds himself at an emotional low. Everyone around him looks and sounds the same (all the voices by Tom Noonan). He is desperate to connect with someone, but not just anyone. So when Michael hears an original voice pass his hotel room he follows the sound like a man possessed. The voice leads him to Lisa (Jennifer Jason Leigh). She's an equally lonely customer-services rep who is in town to attend Michael's lecture. We watch as the pair's relationship develops over the course of one evening in their hotel.
The plot is that simple. Kaufman masterfully breaks up the story with flashbacks of old conversations and dream sequences. They highlight the deterioration of Michael's state of mind. Through the dark humour that laces numerous scenes, Anomalisa emits a philosophical question about the path of modern society. These moments are as close to Kaufman's back catalogue as this movie gets. He merely humours us, before sharply taking us back to the trite reality of Michael's existence. It is serious and uncensored; an unapologetic tell-tale story of human interaction. It makes for awkward and painful viewing in parts. Like being a voyeur of an uncomfortable confrontation. This 'puppet noir' is a tangible exploration of the everyday occurrences of everyday people.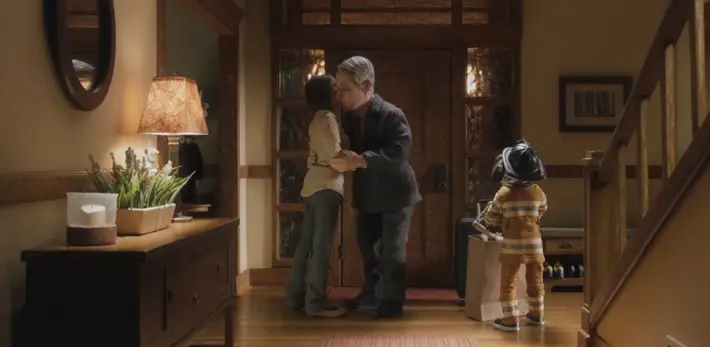 "Surprisingly uplifting"
Obvious comparisons abound between this and Sofia Coppola's Lost in Translation. Both movies focus on struggling characters, who inadvertently meet and bond within the confines of an unfamiliar hotel. Though we've seen the story of "an unlikely friendship" in this, and countless other films, Kaufman gives the concept new weight. Anomalisa triumphs in its moments of quiet conversation and the gaps that fall between them. When silences say so much and subtle glances say even more. Though in many ways the story is deeply saddening. It leaves many questions unanswered. It is also surprisingly uplifting and entirely astute in its implicit context.
Anomalisa is a rare work of cinema. It is both beautifully simple and painfully real in its telling. Kaufman is the master of dystopian realms and nonconformist characters. Yet with this project he accomplishes his most impressive and mature film to date. There is something very special about Anomalisa, a tale of loneliness, self-depreciation and the pursuit of happiness. It is entirely possible that it will be the most authentically human film you will see this year.
8/10