An Interview with Bill Kenwright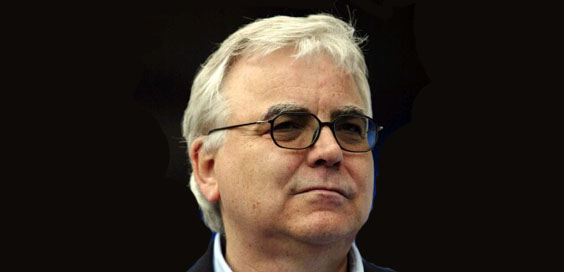 By Elaine Peake
The theatre impresario and Everton football club chairman on the enduring appeal of Blood Brothers, working with a Spice Girl and culture on Merseyside…
How did you first become involved with Blood Brothers?
In the seventies and the eighties there was a sort of divide in the city; you were Everton or Liverpool, Alan Bleasdale or Willy Russell; I'd worked a lot with Alan and didn't really know Willy. Of course, I'd heard that Blood Brothers was the new Liverpool sensation when it was at the Playhouse there, and that it had come to London but was not faring too well at the box office. I went to see it with my friend, the director Alan Parker. We sat in a not very full house and saw a musical that was one of the greatest I'd ever seen, and I walked out of the theatre bemoaning the fact that it wasn't me who had produced it! I felt I knew the way to turn it round and make it into something that wouldn't have empty seats. After that I suppose it could be said that I plagued Willy for a year or two, trying to persuade him to let me have a stab at it. Eventually, he did let me and here we are, twenty-something years later.
I think it's 29-years since it was first produced in Liverpool and 24 since you brought it back to the West End?
And we'd been on tour for two years before bringing it back to the West End, so I probably got hold of it in 1986.
Did the show have a slow start in some ways?
Not really. I think Willy was very wary of the West End. Like most writers of his ilk, he doesn't write for any particular kind of audience. The West End is such a cut-and-thrust kind of commercial alleyway, maybe he felt that it wasn't for him and I accepted that. He originally gave me just the touring rights, and it was during the eighteen months of touring when I worked on the show as director, that we became close friends. I know it was a very big moment for him – it was on our third tour – when he said, 'OK, let's take this back into London.' I don't think it had ever happened before – a show closes because it's not done particularly well at the box office and a few years later it's back; it doesn't seem to make a lot of sense. But I think I'd proved my love for the production. I remember Willy wrote me a wonderful note on the Broadway opening night saying, 'Everything I ever wanted from Blood Brothers I can now see on that stage.' I think trust was important to Willy, he needed to know that he had a producer who would look after his show. So it wasn't a slow start, but it was a slow-ish journey getting it to the West End, and it was quite a different production from the original.
"P

henomenal success"
Have you ever felt you needed to update it in any way?
No. People ask me why Blood Brothers is the phenomenon that it is. What is it about a musical that can play 23-years in the West End and at the same time week in, week out, bring audiences to their feet in Liverpool, Manchester, Birmingham, Dublin? Lots of producers will tell you that about their shows, but with Blood Brothers it's true, it's absolutely true. It doesn't have crashing chandeliers, it doesn't have a helicopter, it doesn't have a chorus line, and the only answer I can ever give to the question of why it is such a phenomenal success is – Willy Russell. He's got in him something that is unique. To write the book, the lyrics and the music of any musical is almost unheard of in this day and age. And to do that with a musical that still, 29 years after he's written it, plays to standing ovations and packed houses must mean there's something special going on. I don't know what Willy has that makes his writing so special, but I do know he has it. I'm not sure Willy knows either. I remember once we were talking specifically about a line in Shirley Valentine, where she says something like, 'Costa kissed my stretch marks. He told me that he loved my stretch marks, they were a sign of me and of womanhood', and then she pauses and looks at the audience and says, 'Aren't men full of sh*t?' I asked Willy, 'Where did that come from?' And he said, 'I don't know, but I do know that when I wrote it I looked at it and gave myself a round of applause.'
There have been some interesting castings through the years, haven't there?
I originally wanted someone who was as near to Barbara Dickson as I could get, that is, a pop star who could sing wonderfully, and Kiki Dee just fitted the bill. Hearing her voice singing 'Tell Me It's Not True' was one of the great moments of my auditioning career. I have to say there was an even greater moment when Petula Clark finished on Broadway and, out of the blue, Carole King rang and asked if I would consider her to take over. I'm a huge fan of Carole King, and I dashed over to New York to audition her. I remember getting to the theatre very early in the morning. I went straight to the bathroom to get a quick shower. As I'm in there I can hear Carole warming up on stage, and hearing that wonderful Carole King rasp singing 'Tell Me It's Not True', I just got goose bumps. Petula has been a great servant of Blood Brothers, and she and David Cassidy turned it round on Broadway. The show has given me so many leading ladies, I feel privileged to have worked with them.
I think Willy always wanted a singer playing Mrs Johnstone. Whenever we talk about the future, we always talk in terms of singers. Lyn Paul has had a love affair with it for nearly a decade now. She's one of my favourite Mrs Johnstones. As is Linda Nolan, and the sadly departed Stephanie Lawrence. Recently, Melanie C completed a season in London. She received the kind of critical acclaim that no Mrs Johnstone has ever received before. Melanie was incredibly the first 'Scouser' to play the role. She was extraordinarily wonderful on stage and off. A great girl! No matter when they leave or where they go to, they always want to come back. Helen Reddy did it in Australia, in America, in London and on tour. People just fall in love with the piece. When you get the privilege of producing and directing a musical like Blood Brothers, you have to protect, love and nurture that privilege. I think that's another reason why it's been around such a long time. Everyone involved with the show loves and respects it. That comes across in the performances up and down the country, and all around the world. We do actually love and admire what we are working on, and without that it couldn't have been the long-running show it is.
"Great opportunity"
What do you think about Liverpool's status as European City of Culture in 2008?
First of all I think that it was fitting that this new production of Blood Brothers opened on January 1 2008 in Liverpool. Its very existence sums up the 'rubber ball' mentality of the city. You simply can't keep it down for too long before it bounces back. In the 1950s it seemed in many ways to be the city that time had forgotten. It was no coincidence that the Merseyside musical boom started in the early 1960s in Liverpool. We wanted desperately to have something we could call our own. So we discovered this music from the merchant seamen who came to our port. We feverishly claimed it – held on to it and played it in caverns and cellars all over the city. And of course that sparked one of the biggest musical revolutions in the world.
Similarly, it's no coincidence that Liverpool spawns writers like Russell and Bleasdale. We are fiercely protective of our home and fiercely devoted to our heritage. Neither Willy nor Alan have left Liverpool. To do what I do you have to be in London. But those two prove their commitment to the city day after day, week in week out. What I have observed over the last five to ten years is a real celebration of growth in Liverpool. And cultural growth at that. The Capital of Culture was a great opportunity for us and I think Liverpool loved it. We are proud of our city. You ask any Brit abroad where they come from, they will inevitably say England, Ireland, Scotland, Wales. Ask a Scouser and he'll instantly say, 'Liverpool'. Even though I've been in London for 43-years, my answer will always be, 'Liverpool'. I've lived in London twice as long, but Liverpool is my home.