Enys Men (2022) – Film Review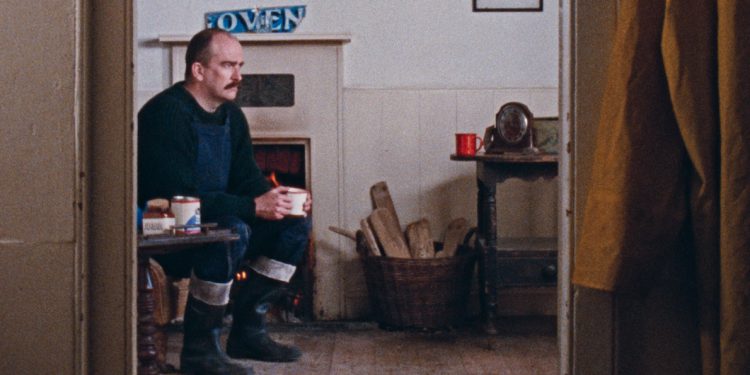 Director: Mark Jenkin
Cast: Mary Woodvine, Edward Rowe, Flo Crowe
Certificate: 15
By Sarah Morgan
I think I'm being haunted by Enys Men (which is Cornish for Stone Island and pronounced Ennis Main, in case you were wondering).
I can't stop thinking about it. I watch a helluva lot of films (I keep a note of them all – Mark Jenkin's movie was my 134th of 2023 so far), but few rent space in my brain. Or at least, not for as long as this.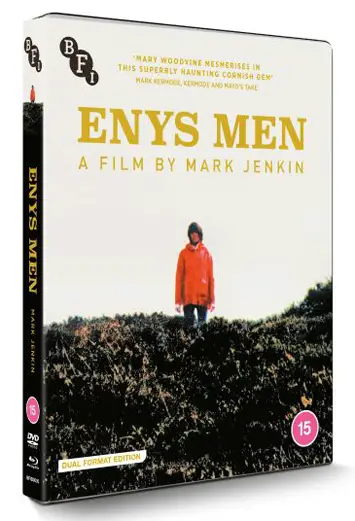 From the moment it begins, you can tell it's going to be something different. If you're hooked on multiplex blockbusters, then you're certainly going to be in for a shock because it couldn't be as far removed from those if it tried. Instead, it has more in common with the kind of grainy TV series we uses to see back in the day before restorers got their hands on everything and turned them into slick 4K productions.
"Haunting"
And that's undoubtedly one of the things I love about it. Jenkin's previous feature, the remarkable Bait, had a similar handmade quality to it, probably because it was shot on a vintage hand-cranked Bolex camera using 16mm monochrome film that he processed himself.
Enys Men uses a more conventional approach to production, but retains what I can only describe as an earthy quality; the grittiness of the picture and oddly saturated colour makes you aware it's been handcrafted by real human beings rather than processed via a computer.
You might think I'm waffling on a little too much about how it looks when I should be concentrating more on the story, but the two are intrinsically linked; one would be so much less without the other.
Mary Woodvine delivers a haunting performance as a woman living alone on an otherwise uninhabited island off the Cornish coast. She's there to monitor a rare flower, recording its growth or other changes on a daily basis. Initially, there aren't any for her to write down, but as she seemingly begins to lose her grasp on reality, lichen appears on its petals – as well as across a scar on her own torso.
"Strange events"
But is the lichen responsible for her mental issues, or is it the other way around – is the lichen, and other strange events and visions she sees, a result of a possible breakdown?
These are questions Jenkin wants us to answer for ourselves. If the interview with himself and Woodvine, carried out by critic Mark Kermode and which is included in the special features, is anything to go by, he's still keeping the meaning of what happens to himself – or perhaps he isn't sure either.
Enys Men can be regarded as the latest entry in the folk horror genre, and it's one of the best yet, right up there with the grandaddy of them all, The Wicker Man, which celebrates its 50th anniversary this year. Interestingly, I think the two films are linked by the same timeframe – the lead-up to May Day 1973.
Is this a coincidence or intentional? Jenkin hasn't said; perhaps there really was something in the air half a century ago… Anyway, with that in mind, I'm off to watch Enys Men again. Maybe a second viewing will help me make sense of it all – or imbed it deeper into my brain like some errant lichen.
Special features:
● Presented in High Definition and Standard Definition
● Audio commentary by director Mark Jenkin and film critic Mark Kermode (2023)
● Mark Jenkin and Mary Woodvine in conversation with Mark Kermode (2022, 29 mins): the film's director and its star discuss the making of Enys Men in an onstage Q&A filmed at BFI Southbank
● Film Sounds (2023, 86 mins): Mark Jenkin and filmmaker Peter Strickland (Berberian Sound Studio, Flux Gourmet) discuss the subtleties of sound in film
● Haunters of the Deep (1984, 61 mins): a Children's Film Foundation adventure that shares many West Cornwall locations with Enys Men, and made quite an impression on Mark Jenkin
● Recording the Score (2022, 6 mins): Mark Jenkin at work on the film's distinctive soundtrack
● Mark Jenkin's audio diaries (2022, 90 mins): the director charts his filmmaking process
● The Duchy of Cornwall (1938, 15 mins): the strange beauty of Cornwall resonates through this iconic film from the vaults of the BFI National Archive
● Image gallery
● Newly created audio description track
● Theatrical trailer
Enys Men is released on Blu-ray by the BFI, £19.99