Bait (2019) – Film Review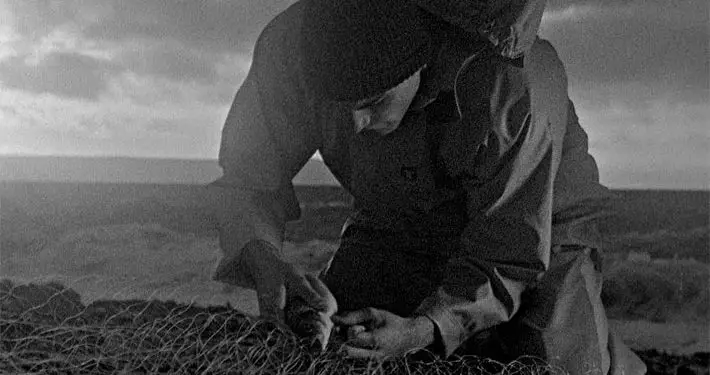 Director: Mark Jenkin
Cast: Edward Rowe, Mary Woodvine, Simon Shepherd
Certificate: 15
by Sarah Morgan
I don't think I've ever seen a film like Bait before. It's quite simply an astonishing piece of work from writer-director Mark Jenkin, a true cineaste if ever there was one.
Born and raised in Cornwall, Bait is based firmly in the county, and focuses on the culture clash between a fisherman who can't accept that his way of life is dying, and the nouveau riche incomers buying up traditional seafront properties as holiday homes.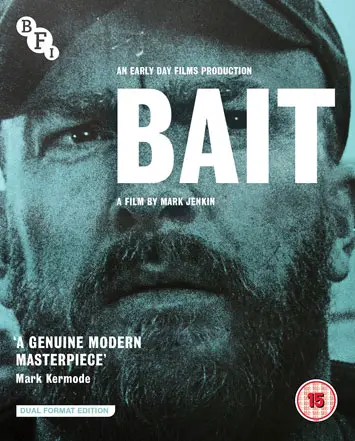 At first glance, actor Edward Rowe looks like your archetypal hipster while playing Martin Ward, the film's central character. He's big-bearded with a cap and loosely fitted T-shirt, but after hearing him speak, seeing his attitude to the world and learning about his experiences, it soon becomes clear that Martin would never fit in in Hoxton, sipping coffee in some trendy café or other.
"Scraping a living"
Instead, he's a fisherman without a boat, scraping a living by catching the odd seabass in the nets he plants on the beach, collecting whatever is caught in them after high tide and selling them to a local pub owner.
His brother Stephen has moved on, running boat trips in the trawler once owned by their father, something Martin hates; he feels his sibling has sold out and should have stuck to his clan's seafaring traditions.
Martin's world clashes dramatically with that of the Leighs, who have transformed his former family home into their weekend getaway, complete with their idea of what a fisherman's cottage should contain – their fake nets, porthole and buoys, purchased online, seem crass to someone whose life has depended on such items.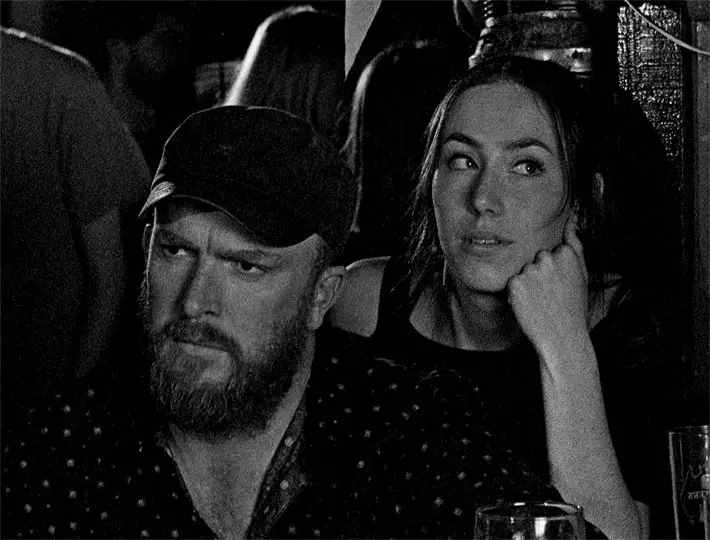 "Gritty nature"
As Martin desperately attempts to save up the money he needs to buy himself a boat, he suffers a number of setbacks, including a personal tragedy, although by the time the end credits roll, there is a sense of hope on the horizon.
There's a documentary feel to the entire venture, which is also perhaps more akin to an early Ken Loach production than it is to the big-budget movies you can see at your local multiplex. There are no stars here either; the only recognisable member of the cast is ex-Peak Practice and Casualty actor Simon Shepherd as the Leigh family patriarch.
The gritty nature of the film is enhanced by the minimalist score and the fact Jenkin shot it himself on what he describes in one of the special features – an interview at the BFI with Mark Kermode – as a clockwork 16mm camera that, he claims, had a mind of its own dependent on the weather conditions.
Jenkin is currently working on his next project, another Cornish-set tale, this time in the horror genre. I, for one, can't wait to see what he does with that.
Presented in High Definition and Standard Definition
Feature-length audio commentary with director Mark Jenkin and film critic Mark Kermode
Bait Q&A with Mark Jenkin (2019, 33 mins): filmmaker Mark Jenkin in conversation with Mark Kermode, recorded at BFI Southbank
Dear Marianne (2015, 6 mins): a Cornishman's travels in Ireland, through Wexford, Waterford and Cork in search of the familiar in this short film by Mark Jenkin
The Essential Cornishman (2015, 6 mins): Mark Jenkin's film is an homage to the spontaneous prose of The Beats, from the mythical Cornish west
The Road to Zennor (2016, 2 mins): poetic travelogue by Mark Jenkin of a familiar journey to the small coastal town near St Ives
The Saving of Bill Blewitt (1936, 25 mins): a charming docu-drama that sees two Cornish fishermen managing to save enough money to replace their boat after it's lost at sea
Scenes on the Cornish Riviera (c.1912, 19 mins): providing an early visual record of Cornwall, this Great Western Railway-sponsored tour visits among others, Saltash, Newquay, Truro, Falmouth and St Ives
Trailers
Bait is released on Blu-ray by BFI, £19.99