A Night of Horror: Nightmare Radio (2019) – Film Review
Directors: Joshua Long, Pablo S. Pastor, Jason Bognacki, Adam O'Brien, A.J. Briones, Sergio Morcillo,
Matt Richards & Oliver Park
Cast: Clara Kovacic, Patricia Arizmendi, James Wright
Certificate: 18
By @Roger Crow
On a stormy night, DJ Rod (who looks like a generic barista, only without the charisma), leads a radio show dedicated to horror.
Listeners call the station telling their own paranormal stories. Until suddenly the announcer begins to receive strange calls from a child who desperately asks for help.
At first Rod thinks it is a bad joke, until he discovers this is not the case. Not only that, but these calls hide a dark secret in which the announcer himself will be involved.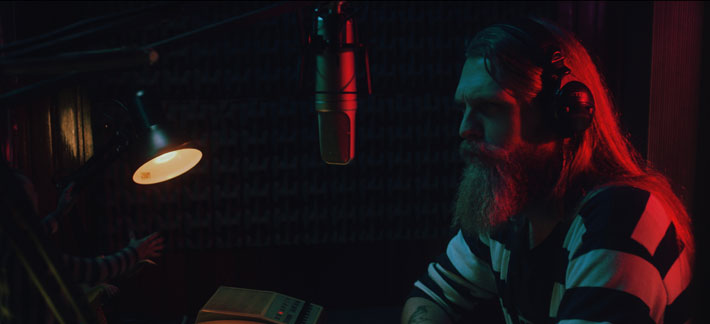 "Varied yarns"
That's the set-up for this stylish horror anthology which features some lush visuals, occasionally interesting flourishes, and great sound design. Those thunder effects really work if you listen on headphones.
There are some nice ideas, such as a demon in a kitchen reminiscent of the creature on the wing of the plane in Twilight Zone: The Movie. And the pile of clothes at the end of the bed in the middle of the night that seems to be a monster.
We open with a taster of things to come, involving an invisible woman and the sort of rapid editing and high gloss photography of a rock video from a decade ago. It looks good but scary it isn't.
There a tale involving a dead girl and a photograph, which is okay, and there's plenty of varied yarns to not so much chill the blood, but drop the temperature to lukewarm tea.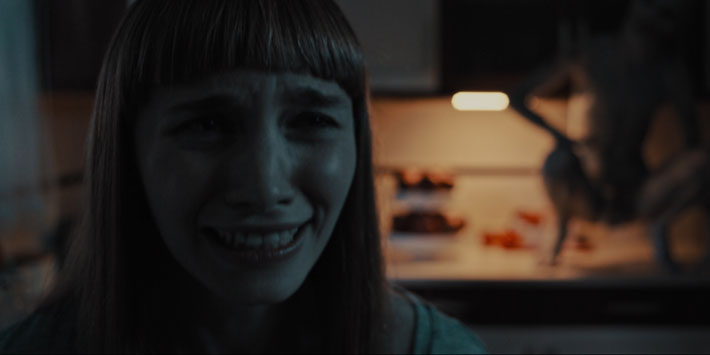 "Compendium of horror"
If you love old Amicus and Hammer horror anthologies, then this may feel like a poor relation. However, if you like flicking through a compendium of horror tales and you don't like one story, at least another will be along in a few minutes.
It's good, not great, and while there are a few chills here and there, I doubt any will give you nightmares, unless you watch while tucking into cheese on toast with chilli sauce.
Oh, and if you're one of those folks that loves sitting through closing titles, these last TEN minutes. Yes, TEN minutes.
A Night of Horror: Nightmare Radio will be available on Amazon and Google from 21st December and iTunes from 30th December