Wild Camping by Stephen Neale – Review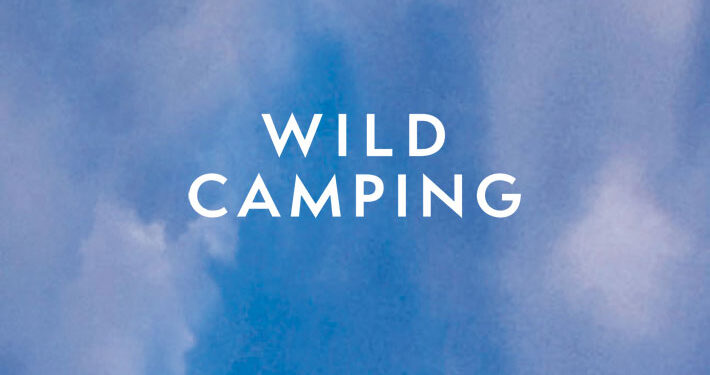 By David Schuster
'Wild camping' is simply camping off site, safely and legally, with the minimum of equipment, in order to immerse yourself in the enjoyment of being outdoors as fully as possible. Stephen Neale's definitive Wild Camping has just been updated with a second edition and tells you everything you need to know about this exciting pastime.
As a guidebook, Wild Camping comprehensively covers all the regions of both the UK; Central, Southern, Eastern, Northern, Scotland and Wales and, unusually, Ireland, which is so often overlooked. It is divided into two main sections: The first outlines the reasons behind the activity, how and where to do it and the essentials you need to take. The second is comprised of short, engaging descriptions of suggested places to experience the thrill of camping under the stars.
This second section, which makes up the majority of the book, is a joy. The author tells stories of his experiences at the locations with beautiful, almost poetic phrases that remind me of Robert Macfarlane's works. The opening paragraphs of the entry for The Wash are typical, talking of a retired farmer he met; 'He had a grey beard and blond strands of hair that hung clumsily from beneath his hat like ribbons. He talked about why the wild was better when he was young, before grazing sheep and cattle were allowed in to flatten the marsh and creeks. A huge flock of black-headed gulls moved on the shoreline in a single puff of white smoke, twisting and turning on itself in the clean air. Two giant, white egrets cawed like grumpy crows.'
"Fired with new enthusiasm"
The first part of the book deals with the laws and history of land ownership and the rights of wild campers. Historically this is fascinating and underlines how, for most of UK history since 1066, the bulk of land and access to it has been controlled by a very small, rich, elite. Even now, 90% of land is privately owned, with more than a third belonging to the aristocracy and traditional landed gentry. It may also come as a shock to many, how short a time period we have been able to enjoy rambling in the countryside; this freedom only followed the so called 'Kinder Trespass' of 1932, where a brave few risked prison to challenge the laws that prevented the access to paths that we enjoy today.
Unfortunately, the author's obvious passion for his subject gets the better of him, and at more than 40 pages it feels like he labours his point. Don't misunderstand me; this is vitally important: The current government has made efforts to curtail these hard won rights, and to prevent this we must be aware of, and understand, what we could so easily lose. However, I feel his argument would have been better served by spreading this information throughout the book, in more digestible chunks.
Bloomsbury have become synonymous with fabulously produced paperbacks, and this is no exception; the text, in appealing Bell Gothic font, is interwoven with wonderfully crisp colour photographs, and the cover has fold out flaps; very handy for page marking.
I 'discovered' wild camping by necessity. In my twenties, as an impoverished student with hippy tendencies, it allowed me to visit prehistoric monuments, and the occasional free festival, for very little expense. I grew to love it and, if you've never been woken up by the sound of skylarks and the sun on your face, then you've missed out.
So, whether you decide that this form of camping is for you, or not, this book makes a fantastic travelogue offering insights into both familiar and unfamiliar areas of the UK. I've long enjoyed Snowdonia in Wales, the ancient Neolithic Ridgeway and the North West's Peak District, but I've now been fired with new enthusiasm to see the Preseli Mountains, the Dengie Peninsula below the Norfolk Broads and Salt Island in Ireland. The latter offers the chance to approach in a canoe for 'a chance to sleep in cordgrass beside basking sharks and seals.' How often in life do you get the opportunity for a Famous Five style adventure like that?
'Wild Camping: Exploring and Sleeping in the Wilds of the UK and Ireland' (2nd edition) by Stephen Neale is published by Bloomsbury, paperback £16.99, ebook £16.30