Norfolk Broads – Travel Review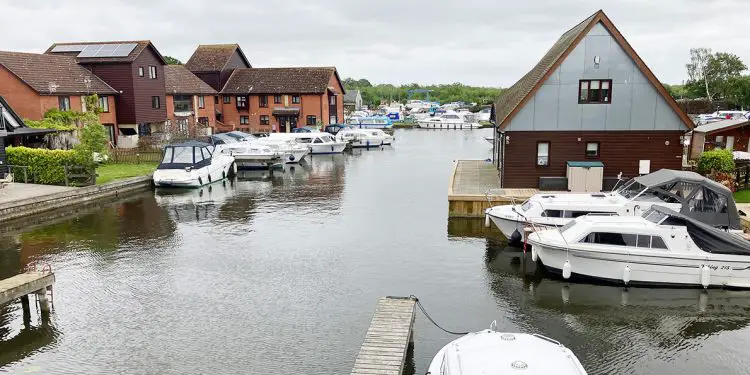 By Dominic Picksley
Norfolk Broads. Two words that could well encapsulate the meaning of serenity, an area where you should forget about any worries and let the calming waters just drift you along.
Heck, you don't even need to venture out on to the water to experience the beauty of such a fascinating region, but it helps. And seeing all sorts of wildlife from Red Kites, to numerous herons and even otters makes it even more magical.
Stretching out from Stalham at the northernmost tip to Loddon in the south, and from Norwich in the west all the way over to Great Yarmouth in the east, the Broads cover an area of 117 square miles and include seven rivers and 63 broads, although many of the broads are not navigable. And the Broads briefly head into Suffolk for a short distance, although the vast majority of the waterways are in Norfolk.
"Charming"
Our base for the week was a house at the charming village of Horning, situated on the River Bure and in parts resembling a mini version of Venice, just down the road from Wroxham, the 'capital of the Broads' (and also a virtual stone's thrown from Bewilderwood, the adventure theme park that is a must for all young children).
Most day-trippers head to Wroxham, where the majority of the boats are hired and from where you can board a river cruise and wend your way down river, past Horning and deep into the heart of the Broads.
But for boat hire, head 'out of town' away from the hustle and bustle to some of the lesser-known yards and companies, where you can be assured of a warmer welcome.
We certainly got that at Sutton Staithe Boatyard where the ever-jovial owner Rob Frearson spent the first 10 minutes or so of our initial meeting, wise-cracking about the current topics of the day. Not only does he run a boat hire firm, they also repair, service and maintain them, too, and he even operates a recovery club should something untoward happen out on the river.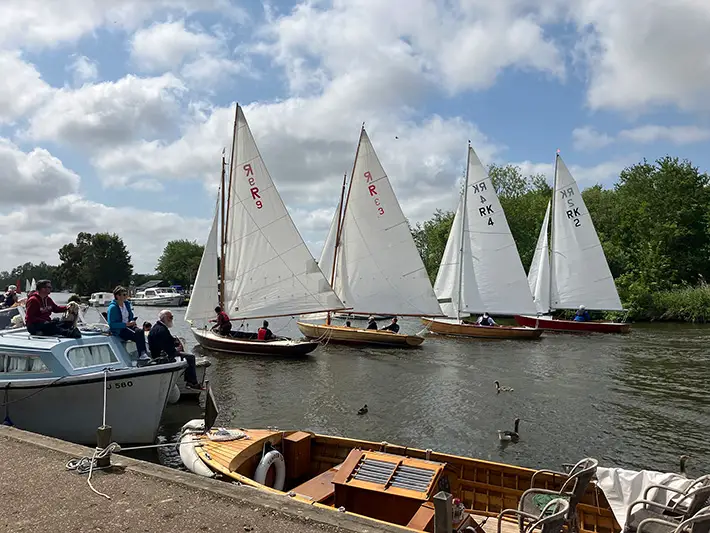 "Like crossing a giant ocean"
The six of us (and two dogs) were shown our boat for the day, a small electric cruiser, and one of his work crew took the time to spend a few minutes showing me how to drive and manoeuvre the boat, making it look effortless – you don't get service like that at the 'bigger' companies.
Off we trundled down River Ant and some time later ventured across Barton Broad, which in our small vessel seemed like crossing a great ocean, especially at a steady 4mph (there are strict speed limits on the Broads).
Our destination, as it happened, was How Hill Nature Reserve, which is also an environmental study centre. Thankfully there was enough space to moor up, big enough that I didn't crash into another boat… which is an almost constant worry.
An hour spent there, having a wander and an ice cream and it was time to head back to the boat and back to Sutton Staithe, thankful for an event-free day out on the water.
"An excellent touch"
Our next venture onto the water involved just my son Ben and I, with a few hours aboard the 1960s-built Peggotty, a lovely restored day launch picnic boat from Eastwood Whelpton, located a few miles south of Sutton Staithe at Upton Yacht Station – and less than 10 miles from Horning, but it took around half an hour to get there as when in the Broads, you have to go round the houses to get anywhere.
With a spread of cakes and hot drinks to greet us, we were then shown round Peggotty by Terry, whose fantastic handiwork had restored the boat to its former glories, with a lovely glossy, varnish look inside and out.
As he proudly proclaimed the boat as his own, I immediately felt under pressure to bring the vessel back in one piece, but then heartened after seeing the delightful goodie bag left for us by the staff, in which there were sumptuous cookies, tea bags and bottles of water. An excellent touch.
We could have made ourselves a brew as the boat had a small stove on board, but we opted not to attempt to set ourselves on fire, opting to imbibe just the water bottles instead.
"The pull of Norwich"
We sailed a couple of miles down river, stopped for a bite to eat as the sun struggled to soak its head through the clouds, and then made our way back. It doesn't sound much of an experience, but even travelling that short distance can take a few hours… and anyway, the pull of Norwich was proving too much for Ben, who fancied a walk round the historic city.
While in Horning, and away from the water, the RAF Air Defence Radar Museum is well worth a visit, just a five-minute drive from the village centre.
We spent a few hours there, looking at all sorts of radar systems that have been in force in Britain since the World Wars and it is far more interesting than it sounds.
We also headed across the county border, just, into Suffolk and had an enjoyable day at Pleasurewood Hills theme park, where Ben and my daughter Amelia ticked a few more rollercoasters off their respective lists.
"Highlights"
One thing I would suggest is to look beyond indifferent reviews on certain sites – the Norfolk Broads is much better than people on there say it is. It has a bit of an olde world feel to it, which has its own charm, and it certainly got the seal of approval from my two, with particular highlights the Wipe Out boomerang coaster, Water Fun Factory and Marble Madness.
The coast isn't too far away, either, although it takes a good 30 to 40 minutes to get to some good beaches, with Cart Gap a particular favourite, with its wide expanse of golden sands, eroding cliffs, plus it's dog friendly, so the animals can stretch their legs too.
Then there's Great Yarmouth and Caister-On-Sea, for those who want a bit of entertainment and some traditional British seaside resort fare away from the calm and tranquility of the Broads.
And if you time it right, like we did, you can also watch a flotilla of sail boats depart from Horning for the Three Rivers Race, one of the major events of its kind in Europe.