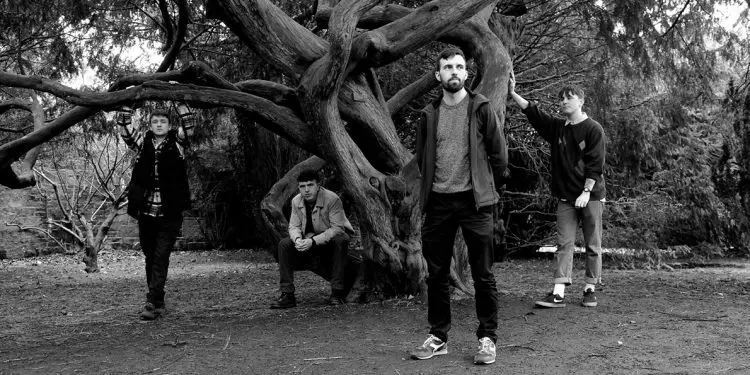 Andy, Eoin, Gavin & Chris are Tung in Cheek, a four piece indie-rock band from Dublin, Ireland. They're a band who gives their fans elements of post punk as well as psychedelic influences with some garage and alternative rock.
Many of their songs are heavy hitters, but they also have some contrasting stripped back mellow ballads. With unapologetically bold music, Tung in Cheek take huge pride in their studio releases, and especially their live shows.
We caught up with the band to find out a little bit about them, their influences, and their music…
Where are you all from?
Andy & Eoin are from the south side of Dublin around Blackrock. Gavin & Chris are from Glasnevin on the Northside of Dublin.
What's the title of your latest release, and what does it mean to you?
'Rib Cage' is the name of our most recent release. It's the first single from our forthcoming debut EP Knockoffs & Dummies. This song means a lot to us. It's definitely one of the most enjoyable songs to play live and is always really well received at our gigs. We have been sitting on this song a while and actually recorded it somewhere else a year or two back but it just didn't hit the way we wanted it to. This time around it has energy and flair in abundance. The EP title is actually a lyric from this song. For us this track captures the energy of our live show and that's why we decided to release it first. It's a song that's mix we couldn't be happier about and definitely shows a maturity and professionalism to our music.
"Big aspirations"
What was the hardest part about putting this release together, and why?
I suppose we are self managed. That can bring challenges around everything that goes with being in a band. As we have to organize and run everything ourselves from our releases, posters, tours, flights, accommodation, photoshoots, social media, artworks, videos, posters, recording, finances. We have big aspirations for what music we can make and where that music can take us. We all work full time non music jobs as well, so at the moment we just play in the band for our own enjoyment. It takes great accountability towards each other for this to work. Luckily we have a great friendship with one another which is the foundation to what we do along with our love of music. Those reasons make being self-managed viable for us.
Who produced the release – what did they bring to it? 
'Rib Cage' and our entire 5 track EP was produced by Dan Doherty of Darklands Studios. Dan is top of his game. It's not the first time we worked with him. He really fosters a relaxed but inspiring environment to be creative and express yourself. He brings great suggestions to the music and is always open to what the band has to say. It's hard not to be inspired when you hear of the calibre of acts he has worked with: Fontaine's DC, Damien Dempsey, Meryl Streek etc.
What do you want the listener to take away from listening to your music?
We like to leave that up to each listener. Our songs don't have hugely profound meaning. They're often written through the lens of a young person growing up in Ireland. I think we like the listener to feel relaxed but energised by our sounds. We also like to have a laugh along the way and try not to take anything too seriously.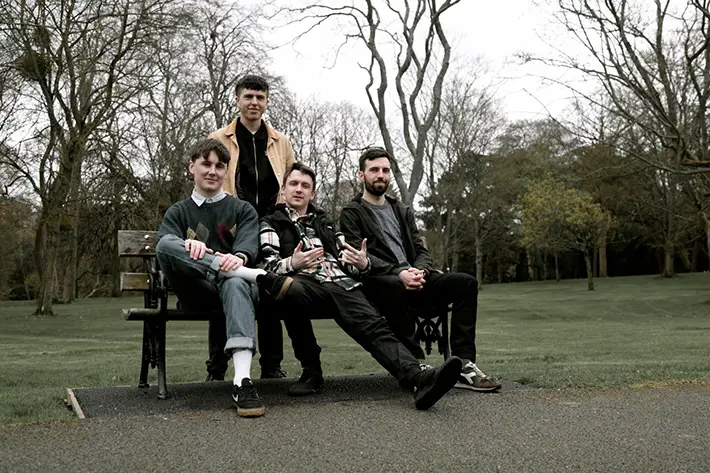 "We love the type of music we play"
How does a track normally come together? Can you tell us something about the process?
Some of our tracks have been written by Andy & Eoin who have played in bands together since they were 13. Some songs have been written through Ableton loops. Other songs are written through more conventional jamming. Jam a riff or chord progression, take a recording, work on it ourselves and bring ideas the next day.
What band/artists have influenced you the most since you started this project, and why?
We all really have a very different taste in music. From rock and jazz to metal and rap. I think you'll find that we love the type of music we play. And also all share a passion for supporting other (particularly emerging) artists in Ireland. Particular bands we love include: Bicknasty, Fizzy Orange, Really Good Time, Enemies, Just Mustard, The Murder Capital etc.
What countries would you like to tour? Are there any standout venues you'd like to play in?
We would love to play some big European and UK festivals. Anywhere and everywhere. We would really love to make our mark on the Irish festival scene. Our goal would be to play All Together Now and Electric Picnic. Irish venues we would love to play would be the Olympia, Vicar St, Dolan's, the Spirit store, crane Lane and Roisin Dubh.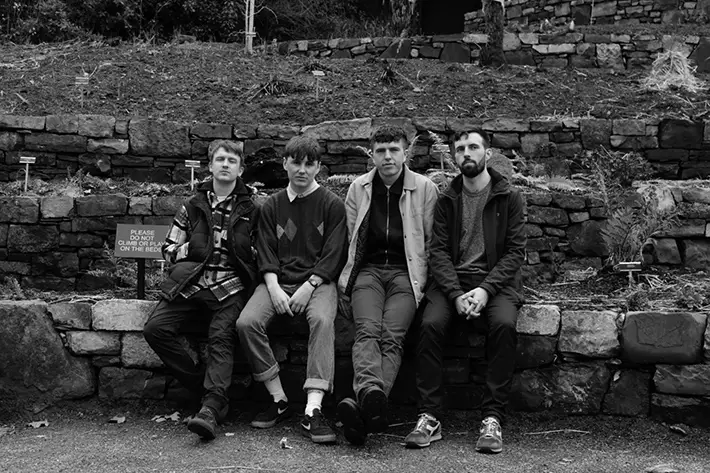 "Heavy and soft"
If you could pick one track for our readers to listen to in order to get a taste of your music, what would you pick, and why?
Probably 'Command Z'. It's our most popular song on Spotify and always goes down well live with a crowd sing along. It has heavy and soft parts which sums us up nicely. The structure is a bit mad too which makes it unique.
What ambitions do you have for the band/your career?
I think we want to see how far this EP can take us in the next 12 months. Be that in Ireland or abroad. Hopefully it gives us the platform we need to move forward as a band. After that we might look at doing an album but that's probably thinking too far ahead.
Finally, as you leave the stage, what are your parting words?
'Lucid' the second single from our forthcoming EP dropped on the 14th of April, and we couldn't be happier with how it sounds. It's definitely a really easy listening tune which we are confident people will love. So keep an ear for that, and the rest of the EP. If you like what you hear, come see us play in May. Don't be afraid to chat to us after the show or to send us a message. We are always delighted and grateful to chat to our listeners.
Tung in Cheek are Andy Burke (lead vocals and rhythm guitar), Eoin O'Shea (lead guitar and backing vocals), Gavin Dunne (bass), and Chris Brady (drums and backing vocals). 'Lucid' was recorded and mixed by Dan Doherty of Darklands Audio and mastered by Pete Maher. Lucid is out now on all streaming platforms
Follow Tung In Cheek on Instagram