Anvil: The Story of Anvil (2008) – Film Review
Director: Sacha Gervasi
Stars: Anvil!
Certificate: 15
by Matt Callard
Inevitable echoes of Rob Reiner's seminal spoof rockumentary This Is Spinal Tap abound throughout this Brit-directed snoop into the world of underachieving Canadian metal band, Anvil.
Take this ponderous exchange: director wonders why band are playing to an almost empty dungeon of a club in unsunny Prague. Drummer, Robb Reiner, (yes, bizarrely, that is his name) muses for a moment, then surmises; "I can answer that in one word. Er, two words." Pause. "Three words. We haven't got good management."
Except this is no spoof. This is for real.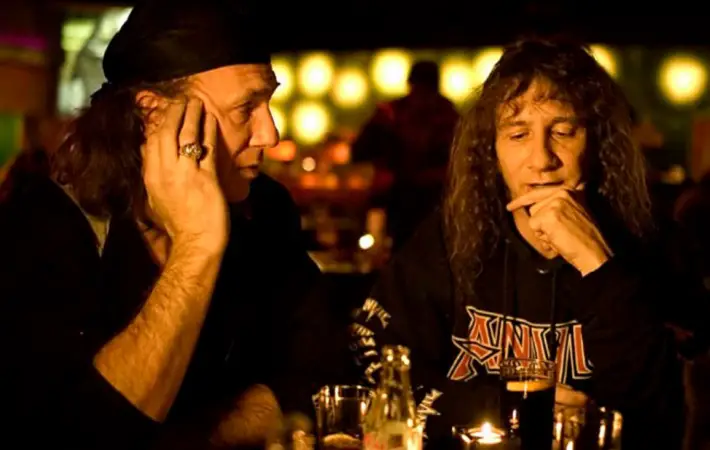 "Beacon of hope"
In their 80s heyday Anvil toured with rock behemoths Whitesnake, Bon Jovi and the Scorpions. They had it all – big hair, big amps, big prospects – except it never really happened. After their celebrated second album paved the way for the new metal onslaught of Slayer, Metallica, Anthrax and the rest, the band, somehow, were left behind.
Except here they are. Still playing, still touring, still believing their just rewards are just a van ride away.
But this is no snidey portrayal of un-beautiful losers – by the end of this you'll be rooting for Anvil. Their catastrophes, flaws and failures are manifold and yes, sometimes painfully funny, but their musical heart and soul, however deluded, is a bright and strangely moving beacon of hope.
And when all's said, it might just be true that the band never really had good management. Wonderful.
Anvil: The Story of Anvil is currently streaming on Prime