The Oxford Book of Theatrical Anecdotes by Gyles Brandreth – Review
By Sandra Callard
Gyles Brandreth's bon vivant demeanour belies a vast range of theatrical knowledge and his new publication, The Oxford Book of Theatrical Anecdotes, is a chunky tome of a book containing scrupulously researched snippets of amusing theatrical chat dating from the seventeenth century through to the present time. You need to be an avid reader and an even more avid theatregoer to appreciate even a soupçon of the huge amount of anecdotes that Brandreth has uncovered.
The prologue to the book is a mini masterpiece in itself and demonstrates with a quiet strength and a familiar humour, the depth of Brandreth's love for the theatre and his remarkable insight into it.
The many, and occasionally quite long, early anecdotes clearly depict the language and humour of Tudor, Stuart and Georgian England, and the startlingly close behaviour which existed between the patrons of the theatre covering those years and the actors on the stage during their performances. There was often an interchange of words between them, when patrons shouted advice, showed derision at the acting, or gave massive applause at a particular good bit of acting, often bringing the show to a halt while the actors received their praise, then carried on with the performance. Sounds great fun, but we are, I fear, far too civilised today to join in with such flagrant and public displays of personal feelings.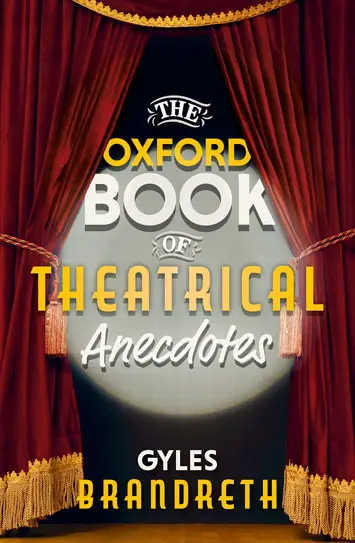 Never to use two words when twenty would do, I loved the comments from the admired actor WC Macready when explaining to colleagues that one of the actresses was, quite simply, drunk. "… she had fortified herself for some extraordinary efforts (ie, on the stage) by a stimulant which was too easily detected on a near approach to her". Lovely!
"To be read as the mood takes"
The stories are reproduced verbatim from the reminiscences of well known theatricals and of famous actors, managers, theatre patrons and backers. Actors whose names have survived the span of time are included and bring the likes of Nell Gwyn, mistress of the Stuart king Charles II, David Garrick, massively successful Georgian actor, and Sarah Siddons, whose beauty was such that "her face shone as if an eye had appeared from Heaven", and brought to life that beauty with a startling and emotive clarity.
As the numerous anecdotes progress towards the twentieth century the names become more familiar. Peggy Ashcroft, David Niven and Laurence Olivier are a tiny part of the huge cast which parades before us, as the style of writing slowly evolves towards the present time. That in itself is fascinating, and seems to suggest that words, and in particular the profusion of them, were so much more important in the past than they are now.
Brandreth's book is separated, not by chapters, but by the theatrical terms of Prologue, Acts and Epilogue and we even have an interval. It is grand theatre through and through, but is not a book to be read from cover to cover, which would be rather exhausting. It is a book to be opened anywhere and at any time, to be read or passed by as the mood takes, and preferably in front of a blazing fire with a gin and tonic to hand.
The Oxford Book of Theatrical Anecdotes makes you smile, wonder and sympathise, and perhaps, at this particular time in our history, feel sad at the possible demise of such a wonderful and necessary thing as live theatre.
'The Oxford Book of Theatrical Anecdotes' by Gyles Brandreth is published by Oxford University Press, £20