An Inconvenient Death by Miles Goslett – Review
By Rich Barnett
It's strange to think Dr David Kelly died 15 years ago: For many his death, not long after he was 'outed' for giving information to then BBC journalist Andrew Gilligan, remains far more than puzzling.
As this book shows, there's way more to it than Dr Kelly's body being found in a wood not far from his Oxfordshire home. The Prime Minister Tony Blair, his sorcerer of spin Alastair Campbell and former Blair flatmate Charles Falconer all were heavily involved in the immediate aftermath of the biological scientist's death.
"Unsettling"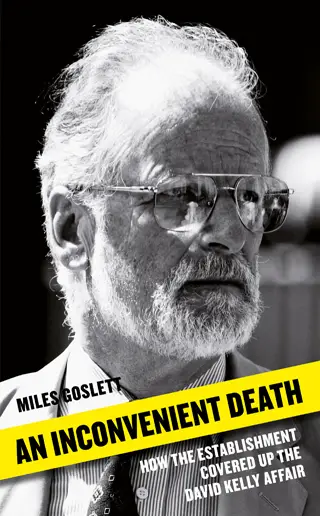 This is no legal treatise that bores the reader with legal procedure. Instead it charts all that happened from the moment Dr Kelly was reported missing right to the present day – the exhumation of Dr Kelly's body and the removal of his gravestone.
If those latter-day events are not sufficiently unsettling, Goslett charts a course that sees the inquiry, headed by Lord Hutton, effectively kick a coroner's inquest – which would have looked at the causes of death – into the long grass. Instead Hutton – who, for some reason posed for a photograph in the High Court's car park – merely looked at Dr Kelly's death, with little attention paid to the build-up.
Along the way here was an inquiry that side-stepped so many important issues – did the Dr and his wife really head to the West Country the night he was 'outed', or was he playing cribbage with the local pub team? No entirely definitive answer was found.
"Pulls no punches"
But, more worryingly, how much did the PM know about Dr Kelly's death before his aircraft touched down in Japan, where he was making a several-days' visit? Grilled by a Mail on Sunday reporter on his arrival in Japan with the question 'Do you have blood on your hands Prime Minister?'. The usually media-savvy leader was rendered speechless, but here was the starting block at which all further events would ultimately converge to create one of the greatest British post-war mysteries – some might say conspiracies – that involved the highest levels of Government, police and judiciary.
Goslett pulls absolutely no punches, criticising everyone from the Prime Minister downwards for, at some times their interference, at some times their lack of action. It's a genuinely compelling read, and one that makes even the most cynical reader believe there is something often called 'The Establishment', and that 'The Establishment' is perfectly capable of producing cover-ups if it needs to.
A first-class, stunning, but also tragic piece of contemporary history writing.
'An Inconvenient Death' by Miles Goslett is published by Head of Zeus, £16.99