Nemesis: The Book of the Movie – Review
By @Roger Crow
I love film books. Probably not too surprising as I adore films and books. In the pre-digital age they seemed to be everywhere. 'The Making of Batman', '…of Dick Tracy'. You name it, there was usually a film tie-in book of every major film of that year. Of course they still exist, but now everything is available with a couple of clicks, it seems to be a dying art form.
And more modest indie films which deserve a lavish 'making of' book as much as a tentpole picture usually don't bother with such tomes. Which is a crying shame, because they often prove to be far more interesting than a glorified press release.
Such is the case with Nemesis: The Book of the Film, which is a fascinating companion piece to one of my favourite indie gangster home invasion thrillers of the year. And it's British. I know that fact is often something to be ashamed of for one reason and another, but Blighty has long turned out the best gangster thrillers in the world, from Brighton Rock and Get Carter (the original) to The Long Good Friday and Sexy Beast.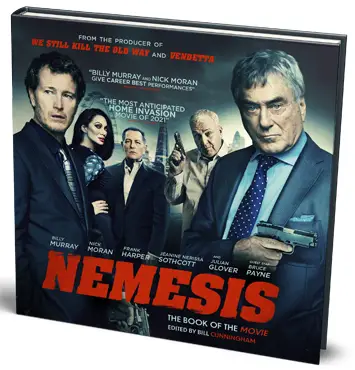 Now in the interests of disclosure I have got a mild interest because said book features a snippet of my review. I was one of the first journos to see the movie when it was released earlier in 2021. I won't go over old ground here, but the fact months later I want to watch it again is testament to its success.
"Valuable information about the film-making business"
Naturally there are plenty of colour photos from the movie, and the script by Adam Stephen Kelly and Jonathan Sothcott. The former dropped me a line years ago when he made the short Guy Henry movie Done In. (Guy is not short I might add, but that film was). It's a pleasure to see how well Adam graduated to feature offerings like this.
The full script is always valuable for budding screenwriters like me, and lots of background info revealing how the movie was made. Not quite as revealing as Jeanine Nerissa Sothcott's attire in one very bold scene, but like a pivotal moment later in the movie, that costume also packs quite a punch.
There's plenty of data on how the movie was marketed, which again is one of the key elements for any film maker trying to get their movie out there in an increasingly competitive marketplace.
How much you like the book obviously depends on your love of the movie. Or not. You may dislike the flick but glean valuable information about the film-making business, which is a major point in its favour.
To say I'm looking forward to the follow-up movie Renegades is something of an understatement, for reasons that will become apparent when it's released later in 2021. And rumour has it Shogun Films are also crafting plenty of tie-in merch to help sell that picture. That also features Nemesis stars Billy Murray, Nick Moran and Mrs Sothcott.
If you're a fan of morally ambiguous gangster thrillers with a rug-pulling twist, then this tome beautifully enhances the viewing experience. Recommended.
Nemesis: The Book of the Movie is published by Shogun