Renegades (2022) – Film Review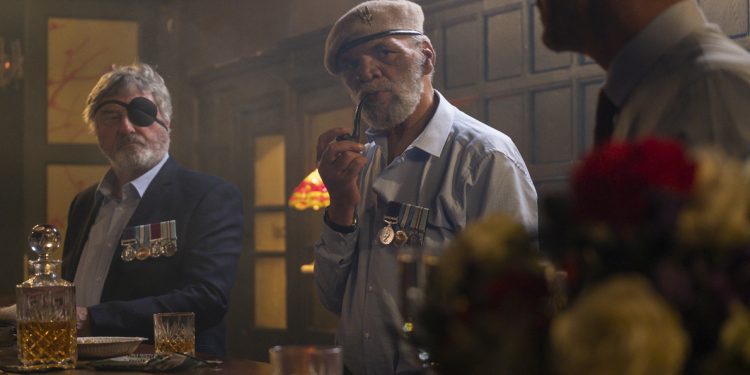 Cast: Nick Moran, Ian Ogilvy, Lee Majors
Director: Daniel Zirilli
Certificate: 15
By Roger Crow
"We're not exactly The Wild Geese," remarks one of the key protagonists in this British action thriller, which wears its influences on its blood-soaked sleeve. Acknowledgment of that 1978 classic is admirable, but you'll possibly also notice that Renegades characters Moore, Burton and Harris hammer that point home. (No Kruger alas, which may have been too on the nose).
We open with veteran soldier Burton (the excellent Nick Moran) trying to get intel from a villainous hostage before an air strike. Setting its stall out early, the violence might put some off, but stick with it.
Cut to present-day London, and riddled with PTSD, Burton is sleeping rough.
Thank heavens for veteran US soldier Carver (Lee Majors), who is keen to get the troubled ex troop back into some sort of normal life.
However, when Carver is murdered (which comes as a shock to absolutely nobody), Burton and the ex-army Renegades band together to protect his daughter Judy (Patsy Kensit), and exact revenge on those responsible… a vicious international drug gang, led by the fearsome Goram (Louis Mandylor).
In the interests of transparency, I did spend a day on set, and filmed a scene with Majors. I even get a credit (Bar Patron 1 – #bucket list uptick), but I'm not in the movie, so that makes giving an honest opinion a lot easier.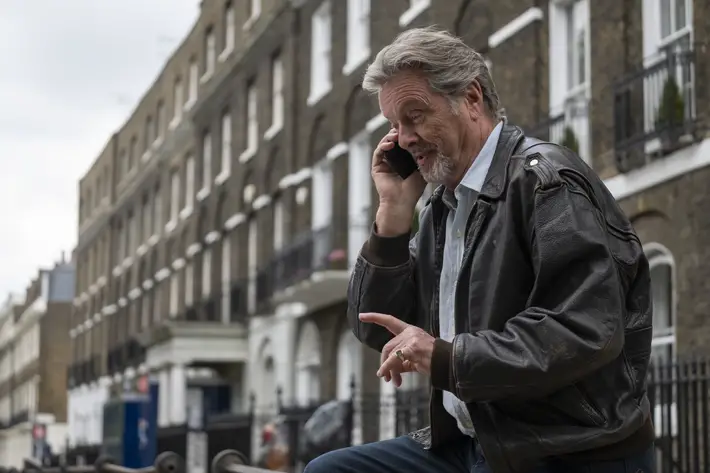 "Rarely a dull moment"
First up, the casting is excellent. I've long been a fan of Lock, Stock's Nick Moran, and great to see him as part of a terrific ensemble. Ian Ogilvy is smoothness personified as Peck, though swearing is not big or clever 'Sir' Ian (it's only a matter of time); Octogenarian Billy Murray (more energy than an 18 year old) has a ball as the one-eyed crossbow-wielding pensioner Woody, as does Paul Barber as Harris, who adds that Scouse wit we associate with Only Fools and Horses. But I'd forgotten he was in the daddy of British gangster flicks, The Long Good Friday. And while Renegades is obviously not in the same league as that movie – few films are – it gets a lot right.
Okay, the scene 'between' Ogilvy and Danny Trejo would have been better as a Zoom call, and Michael Paré's world-weary Stateside associate Donovan needed to inject a lot more energy into his scene; he literally phones it in. But Renegades ticks over, and director Daniel Zirilli (who grants himself a cameo at the end) ensures there's rarely a dull moment; the 90-plus minute run time is ideal for a nuts-and-bolts revenge thriller like this.
Jeanine Nerissa Sothcott (genuinely fabulous person) and Stephanie Beacham lend able support as screen plod trying to crack the case, while no doubt adding valuable exposition to those struggling to keep up. (It's as easy as ABC, so no worries on that count).
A shame there's a huge lack of tension. The heroes never really feel like they're in danger of dying, or are maybe so immune to fear that they just laugh off all of the bullets flying in their direction.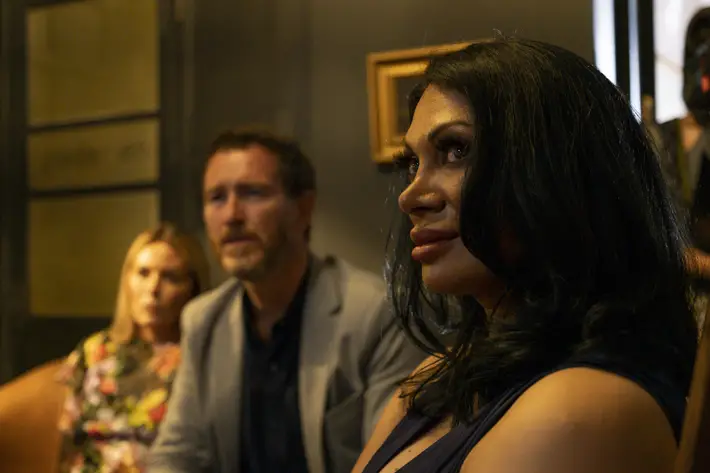 "Seasoned protagonists"
I could also have done without that eponymous title theme, which may be one of the most annoying since Universal Soldier's 'Body Count', but as a Friday night diversion with a few beers and a take out, it will definitely take your mind off the rubbish weather and even worse news.
Okay, it won't win any Baftas for Best Film, nor was it meant to. What it was meant to do, aside from make cash, obviously, was appeal to movie fans the world over who love fun action movies and great actors, including the iconic Lee Majors; he steals every minute of his all-too-brief appearance.
Comparisons with Red and The Expendables movies are inevitable, and I've a lot of time for films which feature seasoned protagonists. So while Renegades might not be the masterpiece I'd hoped for over the last 18 months of waiting, I'm guessing a potential sequel with those winning leads will deliver a more impressive escape from the real world. Or failing that, Jonathan Sothcott's Shogun Films should stick a camera in front of Moran, Ogilvy, Majors, Barber and Murray in a pub for 90 minutes reflecting on their amazing careers and I'll happily watch that instead.
So, a good start, but let's have Judy Carver kidnapped for the sequel; Lee Majors' twin brother seeking vengeance, and a bigger role for Bar Patron 1. Showed a lot of promise that bloke.
Renegades is released on digital from January 30, and on DVD from February 13