Don't Knock Twice (2016) – Film Review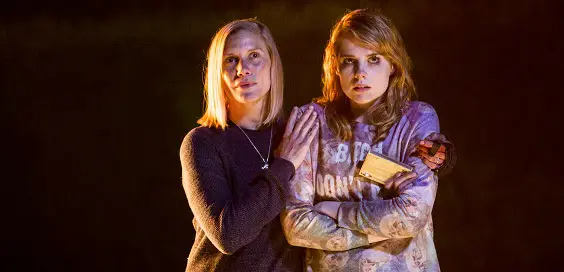 Director: Caradog James
Cast: Katee Sackhoff, Lucy Boynton, Nick Moran
Certificate: 15
by Roger Crow
There's around 24-hours between me watching the latest episode of Doctor Who and Don't Knock Twice, the new British suspense thriller starring Katee Sackhoff. Both feature a great cast, a creepy old house and things going bump in the night. However, I'm so bored during the BBC's enduring show I go and do the washing up.
No such issues with Don't Knock Twice. There's a scare in the first 15 minutes that's so effective, I feel like my armchair has just gone into free fall. And there are many more shocks where that one came from.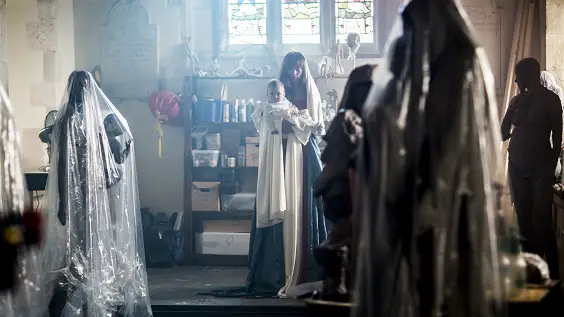 "Grudge to settle"
Okay, some of them are predictable, and though it adheres to the usual rules that heroines must walk slowly down dimly lit corridors toward moaning antagonists, there's no denying the creative forces behind this well-shot chiller know just what they're doing.
A visual gag with a laptop echoes clever touches from Paranormal Activity, and though the movie might put you off carrot and coriander soup, there's no denying it has a lot more chills than your average low budget Brit chiller.
Sackhoff has always been great value for money, whether as cocky fighter pilot Starbuck in Battlestar Galactica or as one of the few saving graces of Riddick. Here, she gives another good turn as Jess, the concerned American sculptor mum whose estranged daughter Chloe comes to stay. It seems Ginger, the creepy woman from an old gothic house, has a grudge to settle, and having claimed the life of Chloe's boyfriend, she's now after her and Jess.
"A creeping sense of dread"
Despite the limited budget, Don't Knock Twice is an effective little shocker with beautifully shot opening titles and the feel of superb American chiller It Follows. I like the fact the advertising poster is a throwback to those tongue-in-cheek House movies from the 1980s, and am thrilled Lucy Boynton (from the excellent Sing Street) is given a chance to shine.
It might not be the most original story in the world, but the Blair Witch-style villain, a solid cast, including Lock Stock's Nick Moran, and a creeping sense of dread help to sell the familiar premise.
Director Caradog James is definitely a name to watch in the future, especially after his previous movie The Machine proved he could deliver slick sci-fi as well as skin-crawling horror. Given how well he handles suspense and jump scares, Ridley Scott could do worse than hand him the megaphone for the Alien: Covenant sequel.