Rolls-Royce Dawn – Review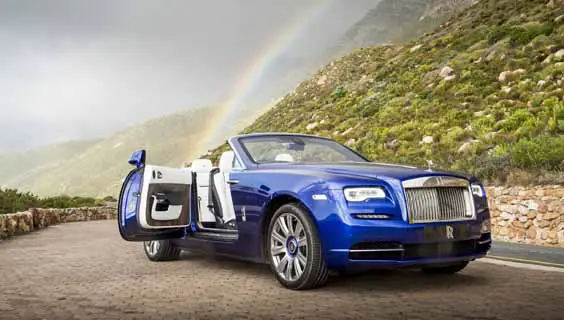 By Liam Bird
I turn 44 in June. That's just one year short of the now average age of a Rolls-Royce owner. Not so long ago it used to be 55. Due to the world's wealth now belonging to a younger (and more often than not eastern Asian) crowd, Rolls-Royce are now making and selling equally as many cars orientated towards owner-drivers as they are those aimed at owners that employ drivers. Their Wraith coupe was the first one. Now there's the Dawn.
It may, upon first acquaintance, look like a soft-top version of Roll-Royce's fastback Wraith – and indeed it does share the same chassis, gearbox, electronics, and engine (albeit de-tuned). But, say the Goodwood-based manufacturer of motorcars: "80% of the Dawn's body panels are unique. It is is very much a separate model. It is the sexiest Rolls-Royce to date."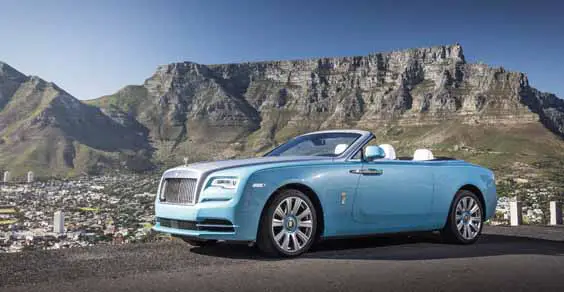 "Irons out surface imperfections"
Subtle metalwork changes and front bumper extensions aside, the most noticeable difference, of course, is the roof – all six layers of it. Capable of folding back in 20-seconds and at speeds of up to 30mph, the Dawn's folding hood really is a thing of engineering wonder. Not only does it insulate the Dawn's occupants from virtually every outside noise known to man it also folds back in a near silent motion too. Honestly, if you weren't aware that the Dawn had a soft-top you'd never guess once you were underneath it, so good are its sound-deadening abilities.
Were it not for the side windows dropping and a little more wind in your hair, you'd never know if, or when, the centre console-mounted switch marked 'Top' (so typically British) had been activated. There must be a multitude of electric motors at work beneath the Dawn's polished-to-perfection bodywork, but they barely make a sound.
Pressing that shiny little button not only lets the sunshine in, it exposes an interior that exudes luxury. The hand-stitched leather is thick and soft and from cows that are kept far away from barbed-wire in order to avoid them blemishing their hides. The open pore, booked-matched woodwork that covers the dashboard and the rear deck-lid that caps all of that aforementioned folded fabric has been designed especially to remind the Dawn's owners of those beautiful Italian Riva speedboats they no-doubt keep moored outside their the lakeside villas.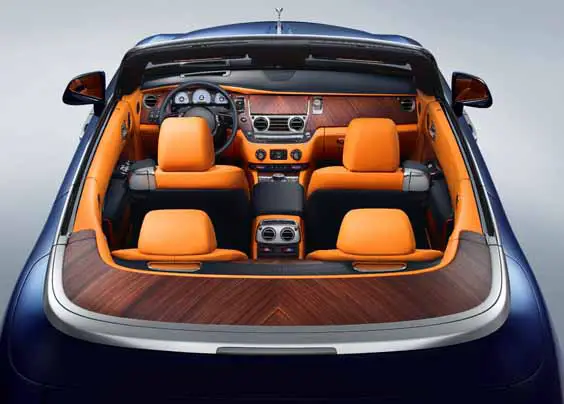 "Convertible that puts all others in the shade"
The stainless steel trademark organ-stops for the fresh air-vents move with a satisfying engineered precision. The lambs-wool foot-mats are so deep and fluffy you feel that you legitimately request your man-servant mow them. One press of the discreet button that brings the Dawns's vast rear-hinged "suicide" doors to a close and it's as if the chaos of the outside world simply ceases to exist.
Regardless of the road surface, the surrounding traffic, your chosen speed, or even the rabble of the riff-raff who stand agog as you waft by, the Dawn glides gracefully along on its computer-controlled air-suspension. It irons out surface imperfections as if they simply weren't there.
Use the The Spirit of Ecstasy that sits atop the famous grille like a gun sight and, despite the Dawn's size, you can guide this most grand of grand-tourers via its thin-rimmed wheels with precision, and without drama. Turn and it settles and grips in a way that Rolls-Royce's of old could only ever dream of, with the satellite guided gearbox – each of the eight ratios are selected prior to what's coming up – seamlessly swapping the cogs.
There's nothing as common as a paddle-shifter or a rev-counter in the Dawn. Instead you get a power reserve meter. Even when you're really in a hurry, such are the 6.6-litre twin-turbo engine's reserves you're unlikely ever to see less than 60% displayed on that elegant little dial. The Dawn doesn't so much as accelerate: it simply gathers speed effortlessly, relentlessly and without drama. You'll notice the fuel needle drop dramatically though: official fuel consumption is 19.8 mpg. In the real world you'll probably get even less.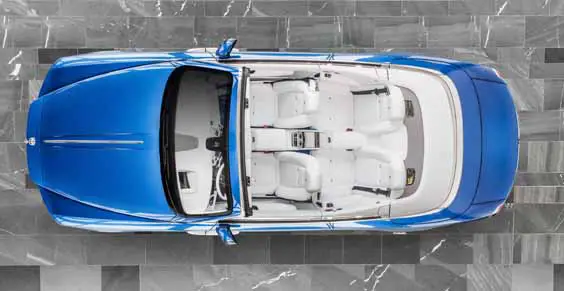 But if you can stretch to the £264,000 that Rolls-Royce will relieve you of for a Dawn – and that's before you start adding your choice of bespoke options – a £100+ fill-up every 400 miles or so is unlikely to bother you. Neither, I imagine, is the Dawn's somewhat stingy boot-space (that roof has to go somewhere).
It's unlikely that even by the time I reach 65 I'll be able to afford such a thing. Or, for that matter, even get someone to do my ironing. Nevertheless, a long weekend with the Dawn has allowed me to sample something very special indeed.
This is the Convertible that puts all others in the shade.
Rolls-Royce Dawn
Engine: 6,592cc, 12Cyl, 48V twin-turbo Petrol
Transmission: 8 speed satellite guided auto. Rear Wheel Drive
Power: 571 bhp @ 5,250rpm
Torque: 575 lbft @ 1500 rpm
0-62mph: 4.9 sec
Max Speed: 155 mph (electronically limited)
MPG: 19.8 combined.
CO2: 330 g/km
VED Band: M
Price: £264,000 (before options)