The Last Good Man by Thomas McMullan – Review
By Sandra Callard
Thomas McMullan's dystopian novel, The Last Good Man, is an extraordinary piece of work. Set somewhere on Devon's Dartmoor in an unknown century, it is a tale of fear, mistrust and unexpected normality, following some great and terrible upheaval referred to only as 'The Tragedy'.
The cities are in anarchic turmoil where survival of the fittest holds sway. Duncan Peck, a strong and forthright man, decides to leave the city to try and find his cousin, James, who lives in a newly formed village on Dartmoor which is apparently safe.
After a difficult and dangerous journey Peck arrives at the unnamed village and finds, to his amazement and elation that it is surprisingly civilised. The people are friendly and it has houses, a school, agriculture and animals, and a very unexpected tea room. A surprising haven after the misery and danger of the cities.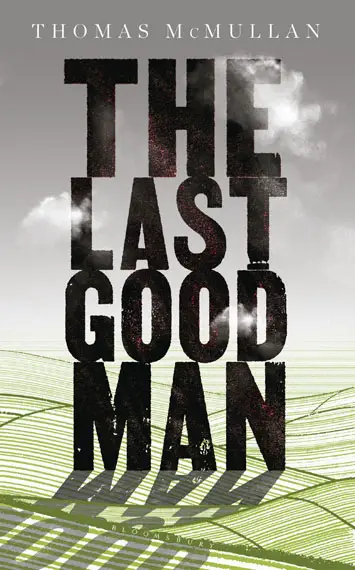 Peck is welcomed by his cousin and the village in general and is happy he has arrived safely. However, there are some disturbing elements to the place, the largest of which is a huge wall outside the village on which anyone can write their disgust of any other villager whom they feel has done wrong or even just annoyed them. These messages are taken seriously by the leaders of the village and the public punishments are strange, severe, and invariably brutal.
"Unsettling and startling"
The story becomes tangled and then clear by turns and there is no doubt that it has a hypnotic hold on the reader. McMullan's prose is evocative and forceful and the reader is hooked by the desire to find out what has happened to bring them to their present state, and what will happen in the future.
However, whatever has happened in the recent past is never told, but is obviously of seismic proportions and the surviving people are carving out a new life from scratch with what is still available to them. With no prevailing laws extant they provide their own, and the results depend completely on the personalities of the strongest and most capable. Justice is not paramount but the satisfaction of the people is. Peck's unease gradually grows as the story develops some brilliantly unexpected twists.
This is an unsettling and startling work of literary imagination but it still produces in the reader the usual themes of liking or disliking particular characters and cheering on the one they have chosen as their hero. But it has a drastically dark undertone which lies uneasily with the apparently natural personalities of the characters as they go about their daily lives. Will we ever find out what the events around The Tragedy were, and it doesn't really matter? Our minds can replicate many scenarios to fit the bill.
This is a deeply disturbing story, but told with great creativity. It contains many sections of narrative which depict almost normal family conditions, which are then brutally swept away in vast swathes of violence and cruelty. It is a shocking but compulsive read with a sudden and unexpected ending. I was hesitant to read this book, it not being my usual choice of reading, but having done so, I'm glad that I did.
'The Last Good Man' by Thomas McMullan is published by Bloomsbury, £16.99 hardback