Home Stretch by Graham Norton – Review
According to the official blurb, Graham Norton's third novel 'begins with a car crash that happens the night before a wedding. Six young people are in the car and only three survive.' But don't let that grim summary put you off; this is actually a story of hope and humanity, and whilst it is likely that you'll shed a few tears along the way, rest assured that you will emerge feeling uplifted.
The central character is the young driver of the car, Connor. Born in a small Irish town, the accident forces him to leave for new horizons and allows him to become the person he would not have been able to had he remained in such a close-knit and traditional community. No matter how many decades separate him from his past, however, he is unable to leave the shadow of it entirely behind. Throughout the novel, we follow the series of events that leads him to a point where he can eventually close this long chapter of his life.
Too often, books written by celebrity-turned-writers have disappointed so I did approach this one with a degree of scepticism (despite having been a fan of Norton since his Father Ted days). I freely admit, however, that my misgivings were completely unfounded.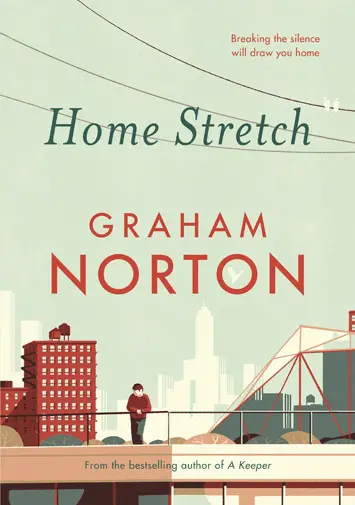 This is a beautifully written book with some truly lovely descriptive passages and moments of poetic prose. In these travel-starved times, it was thrilling to vicariously visit Ireland, Liverpool, London and New York, all of which are vividly conjured through his writing.
"Widely identifiable"
Norton's famous wit is in gentle evidence in parts, though as the premise suggests this is far from being a comic novel. The characters are thoughtfully observed and tenderly written, and the plot is very well crafted. To say I was absorbed throughout is an understatement – I actually boiled a pan dry whilst trying to read and cook simultaneously as I was unable to put the book down.
The narrative is not chronological and the jumping around in time serves to keep the story fresh and engaging (as well as providing much-needed stimulation to my foggy Lockdown brain). As with all great writing, this book carries truths that extend beyond the story; Norton captures themes of family, loneliness, identity and searching with great tenderness, and writes fluently about moments of emotion that are more widely identifiable.
Like Norton's previous two novels, I am quite sure that this will be a bestseller and deservedly so. It is a triumph – engaging, entertaining and a brilliant piece of storytelling. I very much recommend it, though I do advise you to clear your schedule for a few days and make sure you have food prepared in advance. (Oh, and if anybody sees Graham Norton, please would you tell him he owes me a new pan?).
'Home Stretch' by Graham Norton is published by Hodder & Stoughton, £20 hardback