Soul (2020) – Film Review
Director: Pete Docter
Voice Cast: Jamie Foxx, Tina Fey, Graham Norton
Certificate: PG
by @Roger Crow
Remember when we all sat in the cinema, slack of jaw as Toy Story proved a full length computer-generated film was possible? Okay, maybe you were too young, in which case a shame, as it was as important as the debut of Disney's Snow White in the 1930s.
Twenty five years later and just the idea of sitting in a cinema is the real dream, so when Pixar released their latest movie on Disney+, there was a genuine sense of event.
Given the fact CG cartoons are now the norm rather than the exception, that quality Pixar has nearly always managed to deliver, the sucker punch, is that rarest of gifts which no computer on Earth can replicate without an army of animators crafting every frame for maximum effect.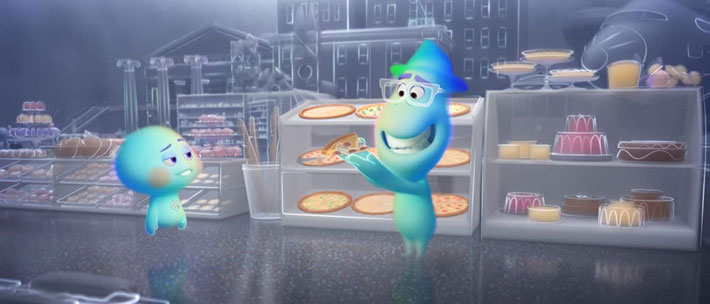 "Stunning candy coloured animation"
Director Pete Docter has long been one of the company's brightest stars. The initial 10 minutes of Up is so heart-breakingly powerful, just the first few chords of that theme leave me speechless.
Going into Soul, I knew it was going to be emotional, but it's also one of the funniest films of 2020. And let's face it, any laugh out loud comedy is all the more welcome at such a dark time.
Soul is not a kids' film, though the stunning candy coloured animation will leave them hooked. It's a family movie which tackles questions most of us ask and deal with on a daily basis: self doubt, depression, being trapped in the wrong job, letting go of our dream vocation, grief, and so much more.
It centres on Joe, a middle-school band teacher whose life hasn't gone the way he expected. He's passionate about jazz, to an obsessive degree. But then fate intervenes, and Joe travels to another realm to help someone find their passion.
"Sucker punch"
It might sound a little humdrum, elements of La La Land and Docter's Inside Out if you like, but that mix of a perfect vocal cast, terrific animation, splendid Trent Reznor and Atticus Ross score, and that all-important sucker punch make this one of the best films of the year.
It's hugely intelligent, daring, occasionally surreal, and for this Pixar fan, ramps up to one of those overwhelming third acts which makes me relieved I couldn't see it at the cinema. And I don't say that about many films which deserve to be seen on huge screens with an audience.
Judging by some of the feedback on the socials, it's also a bit of a Marmite movie, so, like any film, there's no guarantee you'll be affected in the same way.
Have hankies on standby just in case. You might need them.
Soul is now streaming on Disney+