Away (2019) – Film Review
Director: Gints Zilbalodis
Certificate: U
by @Roger Crow
The first five minutes of this animated offering are among the most hauntingly beautiful of the year. A kid suspended in a tree from his parachute, and a shadowy giant who emerges from the mists of a random desert to inspect, and eat him.
Our hero runs off with the apparent antagonist in slow pursuit. Not a word is spoken. The music is simple and never gets in the way. It feels like part of a compelling video game like Limbo, so if you are a gamer, the desire to guide the young hero to safety is ever apparent.
Usually by this point I'm so used to the best bit being in the first minutes that anything which comes after will be a let down. Thankfully that promising start continues like an absorbing puzzle.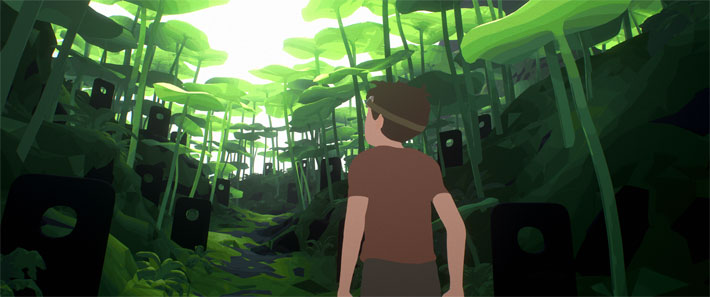 "Rewarding"
Imagine a Hayao Miyazaki version of TV series Lost and you get the idea. And like one of Miyazaki's best films, you will also be 'spirited away' as the lone explorer investigates his extraordinary environment. A mix of what looks like CG landscapes and cel animation works rather well together, which is not always the case, as early forays into hand-drawn and computer-generated animation proved.
What unfolds turns into one of the most rewarding animated films of recent years. Like Pixar's Soul, this works on a number of levels: it's a surreal mystery which touches on loneliness; empathy; facing your fears and that age-old staple of an innocent protagonist on a journey of discovery.
His friendship with a little yellow bird is hugely affecting, and the use of chapters to break up the story works rather well.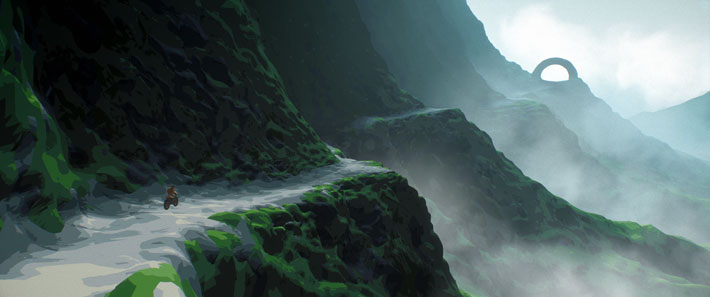 "Excellent score"
Latvian writer/director Gints Zilbalodis has so far made a series of short films, so it's great to see him make the leap into features. He also wrote the excellent score and edited this labour of love.
For this reviewer, an amateur animator tinkering with his own short films, it's hugely inspiring, and makes me wonder what I've been doing with my life.
On the strength of Away, I'm guessing Gints already got many a major film studio, including Pixar, dropping him countless requests to work on their next project. They'd be fools not to.
Away is available to pre-order now from Apple TV and iTunes and to purchase from Sky Store, Amazon, Google, Microsoft, Rakuten and Sony from January 18th 2021