The Couple at the Table by Sophie Hannah – Review
By Sarah Morgan
I read a lot of crime novels, but somehow, for a long time, Sophie Hannah eluded me. I've seen her talk at events, watched as fans have queued to pay homage while having their books signed, and yet still hadn't gotten around to reading any of her books.
So when I was offered the chance to review her latest, I decided it was a good opportunity to finally find out what I'd been missing.
The Couple at the Table is the 12th novel in her series featuring married police officers Simon Waterhouse and Charlie Zailer. Luckily for those (like me) who haven't experienced any of the other 11 books, it's not necessary to be up to speed with their previous cases – the tale works as a standalone and may even tempt some readers to delve into their back catalogue.
This time they're supposed to be taking a holiday at a swanky, luxurious resort not far from where they live. However, as is often the case with fictional detectives, trouble seems to follow them, so it isn't long after their arrival that one of the guests, Jane Brinkwood – daughter of the aristocratic owner – is found dead, stabbed in the back.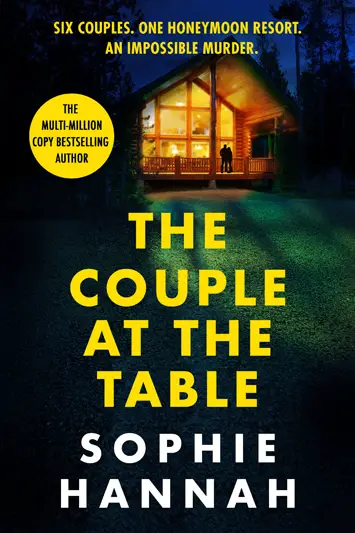 The irony there is that Jane herself thought nothing of stabbing others in the back, metaphorically speaking, when she was alive. Indeed, one of her fellow guests is Lucy Dean, whose ex-husband, William, left her for Jane. They'd been having an affair for 18 months behind Lucy's back, and Jane had even worked as their doula during her pregnancy.
"Everyone has an alibi"
Jane also managed to upset everybody else at the resort, so there are plenty of suspects for Waterhouse and Zailer to investigate, although as everyone has an alibi, getting to the bottom of the matter proves rather difficult indeed.
As well as creating her own characters, Hannah has penned novels featuring Hercule Poirot, and the denouement to The Couple at the Table feels like something Agatha Christie may have dreamed up – all the protagonists gather at the scene of the crime, during which the detective sums up exactly what happened before revealing the killer.
Unfortunately, despite being hooked on the first 300 or so pages of the book, I felt the last section let it down somewhat. There's an awful lot of explaining to be done, and some of it just seemed too preposterous – I'd love to be able to explain that better, but I'd be giving away plot spoilers if I did, and I wouldn't want to ruin it for anyone still planning to read the book.
Hannah's obvious skill as a wordsmith almost enables her to get away with it – it's so beautifully written that the nonsense is almost forgivable – but I must admit to feeling somewhat frustrated at the end, despite having guessed whodunit.
The Couple at the Table by Sophie Hannah is published by Hodder & Stoughton, £16.99 hardback