Hue and Cry – Live Review – Cottingham Civic Hall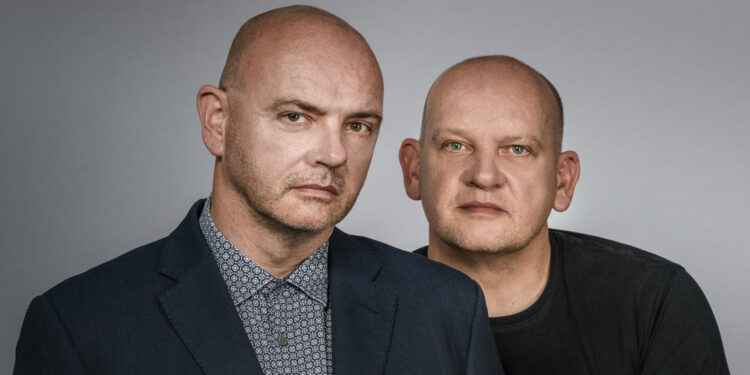 By Roger Crow, February 2022
Hard to believe it's 35 years since Hue and Cry's 'Labour of Love' stormed into the charts and stole my heart. Some songs live with you briefly and vanish, while others are on hard rotation. For decades.
Of course brothers Greg and Pat Kane had plenty of other successes, perhaps most notably 'Looking For Linda', which Rylan plays most Saturdays on Radio 2 as an intro to a chat with his mum.
When I heard the Kanes were playing Cottingham, I thought for a nanosecond before deciding it would become my mission in life. If only for that one song.
I'll be honest, along with the glorious 'Violently', that trilogy of Hue and Cry tracks are my total knowledge of the group. Or so I thought. 'Ordinary Angels'. How could I forget that?
As I've never been to Cottingham Civil Hall before, the trek itself is a bit of a mission, but Mrs C and I rock up in time to hear the brothers doing a glorious sound check.
By 8.15pm, with many of the audience ready for a good night, the support act, Ric Neale, arrives on stage. He gives us half an hour of original songs, and a great cover of Climie Fisher's 'Love Changes Everything'.
Fair play to Ric. He does a great job in spite of some of the attendees talking through some of his set. That's showbiz for you. Some folks go for the music. Others for the beer.
By 9pm, without much fanfare, Hue and Cry are on stage and proceed to give us almost two hours of splendid music, albeit with a short interval.
Pat and Greg deliver the classics surprisingly early, and allude to an appearance on This Morning a few days earlier. (Naturally I'm later willing to endure the slow-drip torture of finding it on ITV Hub, multiple ad breaks and all).
"Voice is extraordinary"
As stripped down acts go, they are phenomenal. No fireworks, gimmicks, smoke machines or lasers. Just two brothers who have survived decades in the music industry delivering their sublime music.
'Looking For Linda' is a treat, and when they launch into 'Labour of Love', I'm in my element. Again it's surprisingly early in the gig, which leaves me both thrilled and amazed.
Following that interval, they're back with more top tracks, rounding off with the sublime 'Violently'. However, there are plenty of other diamonds in there, such as 'Alligator Man', warning of the perils of dealing with unscrupulous companies. I probably last heard that track in 1987 when I borrowed the album Seduced and Abandoned from our local library. (That used to be a thing before downloads, though now it seems like something from the dark ages).
Pat Kane's voice is extraordinary, even after all these years. Some vocalists may lose a little as the years tick by, but his is better than ever.
I love the inclusion of Grand Master Flash and Furious Five's 'The Message'. "Don't push me I'm close to the edge" works rather well in any gig, but with Pat's voice? Incredible.
Thirty five years of loving a handful of songs, and I feel like a major box has been ticked on my bucket list.
The good news is Hue and Cry have assorted other dates in our neck of the woods during the rest of the year.
Oh, and I'm already looking forward to their October gig at Hull City Hall with fellow eighties chart survivors T'Pau and Paul Young. Whether you were also a fan in the eighties or are late to the party, Hue and Cry are an outstanding live act and not to be missed.
Hue and Cry can be seen with Paul Young and T'Pau in Essential 80s at Hull City Hall on October 15, 2022