Batman: Nightwalker by Marie Lu – Review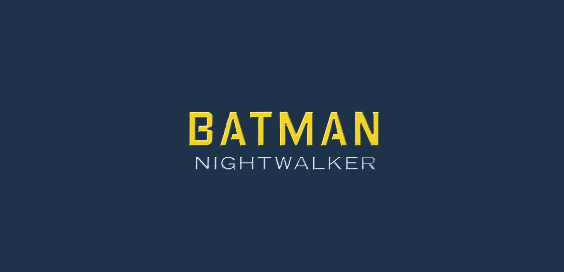 By Victoria Holdsworth
Nightwalker is the second of four books in the DC Icons Young Adult prose series, and the story focuses on an episode in the life of Bruce Wayne when he was a teen, before he became the Dark Knight.
Batman: Nightwalker is a fantastic taster to the world of Batman. It is interesting in that it takes its time to build up the story, exploring Bruce Wayne at critical moments in his life, and the way he views and experiences his beloved Gotham City.
Eighteen-year-old Bruce has just inherited the family fortune, but his life isn't particularly as glamorous as the older Wayne. He is a curious, reckless young adult who finds himself in the sights of a dangerous group, the Nightwalkers, on the way home from his birthday party. He makes an impulsive choice, which sees him sentenced to community service at Arkham Asylum, the infamous prison that holds the city's most nefarious criminals.
"Sharp"
There, he encounters Madeleine Wallace, a teenage girl accused of murder to which he finds himself intensely and curiously drawn. As a smitten young Bruce starts to bond with his new femme fatale, the young woman's background turns out to be much darker, twisted and complex than it initially seemed.
Lu's descriptive, evocative writing is steady and poised enough to keep the story moving at a fairly sharp reading pace, and it certainly throws up some surprises, but I won't add any spoilers. Every single character in the book is just so well written and the mystery elements of the story are thought provoking.
The interaction between young Bruce Wayne as a character and his connection with others is refreshing to see and with the older Wayne is more reclusive. These relationships give a different angle on the whole back story, and his story resonates more to you as a reader as you see into his thoughts and feelings and his reactions.
"Spectacular"
As the story unfolds even further, Bruce Wayne becomes involved in helping out the police to bring down the Nightwalkers, and when the 'Bam!' 'Kerrpow!' action moments finally come in; they really hit hard and fast, igniting Bruce, and a few of his new techno gadgets, into a face off against a surprising villain within spectacular fashion.
Lu has made sure there are some noticeable nods to the Batman mythology as we know it, and whilst the grittier, Gothic noir styling has disappeared, you do have to remember the age demographic that it is aimed at.
Batman: Nightwalker is a real page turner, and a quick read. It is packed with everything you could possibly want from a superhero, and the story from Lu slowly shapes Bruce into becoming the Batman we all know today. Readers of the comic books might wish for a bit more meat on the bones, but this is a great story – and worthy of further development.
'Batman: Nightwalker' by Marie Lu is published by Penguin, £7.99 paperback