An Interview with Joe Washburn of Toploader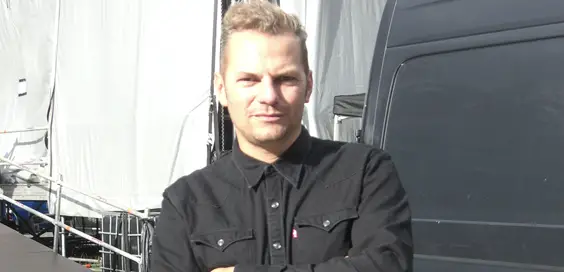 By Victoria Holdsworth
When Toploader broke onto the scene, at the back end of the Britpop explosion, a multi-platinum selling debut and second album followed. But after being dropped by Sony in 2002, like many young bands, the label kept all of their music.
After struggling to put out a third album, the band finally split in 2003, with each member pursuing different paths. However, a wedding invitation and some self-healing saw the Toploader lads missing the music they had made, and they decided to give it another spin to see what would happen.
Speaking to lead singer, Joe Washburn, backstage at Cotton Clouds festival, I found him wandering around the band's campervan doing his vocal warm up, before he spared On Magazine some of his time, and let us know what has been going on since the reunion…
"It snowballed"
Your comeback started in 2013 with the single 'Turn It Around' – do you feel you have now turned it around as a band? How hard was it to come back after such a long period away?
It's not something we ever planned really. When we called it day in 2004 I just thought that was it really. I used to have anxiety dreams about being back in Toploader [laughs] but it's been so natural, and I would say that we're enjoying it more this time around. There is a lot less pressure and we can make records we want, without A&R men and the Sony pressure machine behind you, and the live stuff has just gone from strength to strength really. We've got about 50 shows this summer, and they're all different and lots of fun and way more enjoyable.
You do seem to be regulars on the festival circuit, which is your favourite one to play?
Yeah, I don't know why? Because we're good hopefully [laughs]. But what started as booking a few festivals in, then some more got booked in and it snowballed from there. I think we are better than we have ever been live.
And your favourite festival?
You know what? It's easier to say the ones that we haven't enjoyed playing [laughs]. The thing is, when you have the crowd behind you, and then all those festivals are good festivals. We've also done some food related festivals this time around, and it's not just about the food, its about the whole ambience of everything around it, rather than just sticking a band on next to a hot dog stand or something [laughs]. People like getting out and about in the summer, and when the weather has been so amazing it's been a great summer so far.
"I got to dress up in a sparkly jacket"
Let's talk about 2011 , Pop Star to Opera Star – Vanessa Mae said you turned her on – how the hell did all that even come about?
We had written our first album since Only Human, and we were starting to do things with that, and the opportunity came up. I never really thought of myself doing anything that was reality TV related, but it was a singing one [laughs] and these guys just ripped the piss out of me when I told them I was going to do it.
Well it could have been Strictly Come Dancing.
Yeah it could, but they didn't even ask me to do that! I just thought because we had been away for a little while, and we had a new album coming out, so I thought it would be some good publicity and I really enjoyed it actually. I got to dress up in a sparkly jacket every Saturday and sing in Italian.
'Dancing In The Moonlight' is over 20 years old now, and still achieves massive plays on the likes of Spotify – do you always feel like your career will be defined by someone else's song?
It's even older than that now [laughs]. I think we have kind of resigned ourselves to the fact we will never have as bigger hit as that again. We are really proud of it now, but we did go through a stage of 'Oh God', but most bands have one big song, so it's just one of those things. It is a big crowd pleasing song, and it just never goes away. It still sounds great and some younger kids are now digging it for a second time around. So yeah, we're proud of it now, and on board with it again [laughs].
"It was something of a blur"
Some people say you suffered from the curse of the second album, Magic Hotel, however it still went double platinum, so can you now look back on that time period with a little more fondness?
[laughs] Yeah, it only sold half a million copies. We were young, and our management were young as well and we all just thought we would steam into it, and the sensible thing would have been to go away for six months and do some more writing, take a bit of time out. Especially after promoting the first album for three years on the trot, which completely fried us really. In hindsight we would have probably done things a bit differently, but it's still put us where we are today.
Did you ever gain ownership of your previous albums?
No! Sony still owns the first two albums. These days you always own your own stuff, the recordings, the publishing etc., so it's a completely different landscape to what it all was. The core of what we do now is the live stuff, and that's still going strong. It's all about a crowd and band relationship more now, and that's what we love.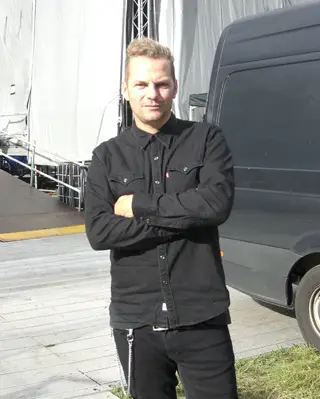 What has been the best advice anyone has ever given you as a musician?
You know what? I could have done with some! [laughs] I would have liked to have given my younger self some advice back then, and told myself not to take things quite so seriously, and enjoy it, ya know? We did have some amazing times, and you kind of forget some things and it was something of a blur really.
"Just carry on gigging"
After the band split, you moved to LA to start a new chapter of his life. Just how different was it?
It was an amazing time. We had spent so many years on a bus, doing gigs, so I went away with my then girlfriend, who is now my wife, and went a lived in a canyon and wrote some music.
So you didn't move too far from the music side of life then?
No, not at all. I did do some work on films and there and some other stuff, without any performing, so that was the only difference I guess.
Dan is a bit of a travel guru these days. What places would be in your lonely planet guide and why?
Ooh, that's a good question. I don't know. I did get married in Florence in Italy, so that's a special place. That's one of the good things about being in a band. You get to travel quite a lot which is great. We were in Poland last week, and it's a place I have never been before, so even now at this stage in our careers, we are still getting to go to places that we have never been, and getting to perform, so it's all good.
So do you have any messages for your loyal legions of fans? And what is next for Toploader?
I think that after this summer of hundreds and hundreds of gigs, we are going to hopefully get together a new EP and release it early next year, and just carry on gigging as much as possible, and thanks for staying with us, and hopefully we can all progress along together.