Cotton Clouds Festival 2018, Day 2 – Live Review – Saddleworth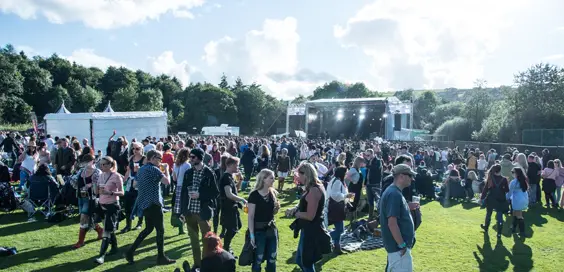 By Victoria Holdsworth, August 2018
Heading in to day two of the Cotton Clouds festival with vigour, especially seeing as we didn't have to crawl out of a tent this morning, made a refreshing change. In fact, it was like walking into a completely different event altogether.
Gone were the brown wristbands-only tents, replaced by a Tim Peaks Diner and another performance area, both at either side of the main stage – and it really did feel like a festival. The numbers had doubled from the previous night, so it was quite busy and access to anything now included a very small wait, but it was all manageable.
There were a lot more families on day 2, and the kids areas were busy. The variety of little workshops and crafts, although limited, were keeping the little ones extremely entertained. I checked out the drumming workshop, and you have never seen such well-behaved kids, all listening intently and following instructions – and they sounded amazingly good, and in time!
"Pack a garage punch"
There were also some amazing little pieces of artwork flying out of the tents, and handmade lanterns for the crowd procession later in the evening, which was pretty adorable.
The bands were already in fine fettle in Tim Peaks diner. Throughout the day and evening some of the bands in there were outstanding, especially the likes of sisters Sidonie B and Esmé Dee Hand Halford, otherwise known as The Orielles, who hail from Halifax, and are a breath of fresh air to the term 'indie'.
The Orielles have that ear pleasing jangle to their sound, with some funky rocking vibes, and even though it all sounds a little girly on the face of it, they really pack a garage punch and defy the indie pop logic that previously existed for bands like this. "We like to write about abstract things, not relationships and the usual things," says Sid, so be sure to check out their new album, Silver Dollar Moment and you'll find some very well crafted and original tunage such as 'I Only Bought it For The Bottle' and 'Henry's Pocket'. You will be hooked in no time.
"Running like clockwork"
Tim Peaks Diner never ceases to amaze with its line-ups, whatever festival you see it at. Other notable bands today included Average Sex, who I saw support The Charlatans in December of last year. These guys are not only intriguing to watch, but have a neat retro rock sound to them which is reminiscent of early Genesis. The lead singer certainly knows how to dress and make his stage presence felt, but you'd have to watch them to truly appreciate them.
What is remarkable about Cotton Clouds is that they seem to have taken away the usual hassles of a festival. They manage the stage time slots really well, making sure you don't really miss anyone that you might want to see. It is the same at Kendal Calling in that you will constantly be entertained, without much down time from bands.
With all the logistics running like clockwork, there were just a few bands today, who really stole the entire Saturday show. First up were The K's, a four-piece, fuzz-pop band from Newton-Le-Willows. They took everyone off guard today with their high energy half hour set. One of the most exciting bands I have seen in a long time, tracks 'Sarejevo' and 'Got A Feeling' stood out, as did lyrics such as, "Well I'm caught up in your gaze, oh, and it's pretty scary / And I'm looking to expand, oh, I'm so… But I feel in myself that something's just ain't right… I took a wrong turn west and I found myself lying with a hole in my chest."
"Creative and experimental"
Huge props go out to Hyde Park Brass, who travelled over from Leeds, with their unique style of play. They are amazing to watch and listen to, and they certainly know how to have a bloody good time!
After doing a quick interview backstage with Toploader's lead singer, Joe Washbourn, it was time for some of the bigger guns to take to the stage for the afternoon and evening entertainment.
After quite a few years away from the public eye, it was clear from the reaction of the crowd that Toploader should not have gone anywhere. We had the old favourites, and 'Dancing In The Moonlight' of course got everyone on their feet, however it was their rendition of 'Rocket Man' that sent the crowd absolutely wild!
Their comeback single, released back in 2013, 'Turn It Around' is worthy of anyone's playlist, and the track 'A Balance To All Things', from the Only Human album just sounded like a new release. What I was most impressed with was how much they seem to have progressed since getting back together, musically and vocally. They have become more creative and experimental with their sound and possess a much more soulful and eclectic mix to their sound, with Joe's voice never faltering! Let's just hope they plan on sticking around a little longer.
"In their element"
Starsailor pick up the gauntlet on the main stage from there, and they really know how to captivate a crowd. Playing their iconic 'Four to the Floor' and 'Good Souls' seemed to register a few flickers of recognition from some of the younger members of the crowd, however for those above the age of 25, then they were in their element.
There is something very enigmatic about Starsailor. Well known for their driving guitar lines and solid percussion, tonight was no different. For a band who appear to have been around forever, they still look and sound as though they just burst out of the plastic wrapper, and audience participation throughout the entire set was a joy to behold with 'Alcoholic' (the band's first UK top ten hit) as the excitement kept getting ramped up by a few more notches with each song played.
Vocalist and guitarist James Walsh, along with drummer Ben Byrne, bassist James Stelfox and keyboardist Barry Westhead, definitely scored a six straight out the cricket ground at Cotton Clouds, and it leaves me to wonder if they enjoyed it enough to get back to the forefront of British guitar music.
"Top notch"
Last on the main stage this year are big hitters, Sister Sledge. What can be said about these ladies, apart from, "Good Grief, what a force to be reckoned with!"
They arrived on the stage like queens, joined by two of their sons in tow to accompany them, and with some slick disco and soul vibes, tore the place apart! There were some extremely moving tributes to the queen of soul Aretha Franklin tonight, as expected. However the performances of 'Lost In Music' and 'Frankie' were absolutely top notch. Although the set did not seem that long, it was probably one of the most enjoyable times I have ever had at a festival – and I'm hardly a disco afficionado. They ended with a celebratory 'We Are Family', and again the crowd went ballistic. Lost in music, indeed.
The singing continued well after the Sisters had left the stage, and I think we can safely assume that the festival this year was as equally as successful as the first,. Credit where it is due, Rick Lees has done a bang on job at creating something from nothing.
Looking forward to next year already!