Midlife – Live Review – Leeds Brudenell Social Club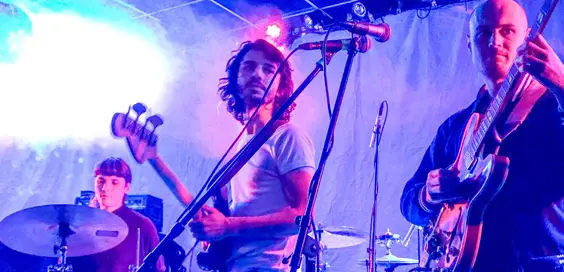 By David Schuster, September 2018
By any standards Mildlife have had an extraordinary year; touring first across their native Australia, releasing their debut album Phase earlier this year to international acclaim from the likes of Mojo, The Guardian and BBC 6 Music, following this with a European tour.
The band start the set with a loose instrumental introduction that contains all their psychedelic rock/jazz/funk trademark elements: Low synth growls, keyboardist Kevin McDowell bent over the keyboard slowly changing parameter settings, building into a hypnotic rhythm with sustained guitar notes soaring over the top. It's a sound which owes a lot to instrumentalists Ozric Tentacles and seminal space-rock combo Hawkwind, but with a laid-back magic which lends them a unique vibe. Only later, when I ask for a set list, do they christen this largely improvised piece 'Inside-Out House', there and then.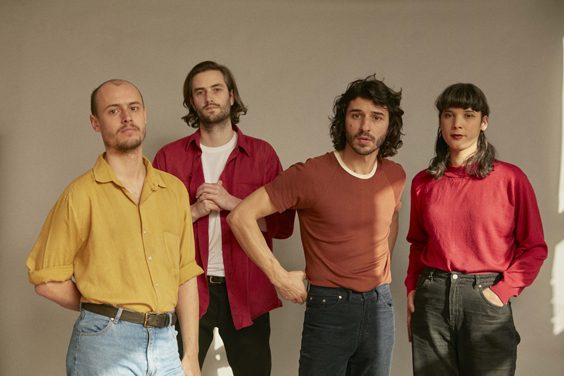 "Enthusiastic"
The introduction slowly gains structure and flows into the light summery hi-hat and delicate guitar riff of 'The Gloves Don't Bite', the closing track from Phase. I think that it's this ability to seamlessly shift their sound between seventies psychedelia and other genres, such as jazz-funk, without breaking the overall soporific spell for the listener that has generated the current attention which they are deservedly getting. You can lie back and listen to them through headphones, taking in the musical nuances, or you can put them on in the background at your dinner party, confident that the music won't jar with the ambience.
Without pause the group move through a short improvised transition into 'Im Blau'. The easy familiarity with which they do this is down in part to the fact that most of the band have known each other since high school. This number has a darker tone to it, and I can feel Tom Shanahan's bass notes in my diaphragm; great stuff. Guitarist Adam Halliwell provides vocals on this track as an alternative to McDowell. These are given heavy vocoder treatment, but thankfully he manages to avoid sounding like Sparky's Magic Piano, just. He also supplies an echoey flute break, very reminiscent of Nic Turner. For the first time there's a real pause in the music, quickly filled with enthusiastic applause.
Mildlife acknowledge the crowd with smiles and quietly go into the next number. Drummer Maria Moles, standing in for James Donald who is taking a paternity break, beats softly on cymbals and side-tom with a noise like distant thunder, over which soars Halliwell's flute. My wife and I are standing in our customary position at the Brudenell, just to the left of the lighting engineer (this on the basis that if anybody is going to get a good view it's him).
"Rousing"
The group have moved the music into a lively place, full of chakka chakka guitar and funky bass, which is when I spot something noteworthy: Brudenell's resident sound engineer is visibly enjoying the show, bopping along to the rhythm. For them to stir someone who listens to different bands day after day into movement is really quite an achievement! This is particularly good news for the band, as this is a new song 'Phase II', which they are shortly going to release as an EP. The immediately recognisable 'The Magnificent Moon' with its rising synthesiser arpeggios, funky guitar and repeated keyboard riff follows next, and they finish the main set with a rousing version of 'Zwango Zop' with a pulsing synthesiser beat and banging bass drum which has the crowd jumping.
At this point there's a hiatus as the band audibly debate if they have enough time for another number, one of the disadvantages of a set which includes improvisational sections. The sound engineer cuts through this with "There's time for one more, if you want", to cheers from the crowd, and the band duly oblige with a short version of 'The Dawn of Zorn', a tune which doesn't appear on Phase. It finishes the evening off strongly and, like the rest of the set, it's greeted enthusiastically by the Leeds crowd.
Reflecting on the gig afterwards with the band, I ask what their highlight has been in such a whirlwind year. It's a sign of how far Mildlife have come in such a short time, that there's some discussion amongst the band as to whether this was the New Year's Evie Festival in Victoria, Australia, or Catania in Sicily.
And do they have enough material for a second album? "Nearly". Strike whilst the iron is hot guys, the world awaits.