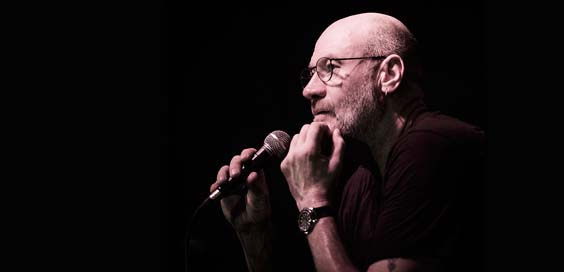 By Victoria Holdsworth
With his close to sell-out tour coming to Leeds, I caught up with the legendary musician, singer and songwriter, Fish. The tour will see the former frontman of Marillion playing tracks from Clutching at Straws as well as from his new album, Weltschmerz…
It has been 30 years since you last visited Clutching At Straws, the last Marillion album, how does it feel this time around?
Quite refreshing to be honest! There were a few songs there that we played in the studio back then that we never really played live. So I was going into rehearsals a couple of weeks back, and singing those songs for the first time in 30 years. Like I said it was really refreshing. One of the songs on there was one I never thought was really good and I didn't like it on the album, but I feel differently now.
You recently stated that you are going to be taking a break from the music industry after this tour. What are the reasons behind that and what will you be doing with your time?
Well… that has all kind of been shelved for the time being. You know what they say about best laid plans and all that [laughs]. I had a really difficult year between kind of health issues, and family deaths and stuff, 2015 into 2016. It kind of threw me off for a year and a bit, so I was supposed to be going out on this tour and playing bits of the Weltschmerz album back then. But to honest at that point I hadn't even written it yet. I was supposed to finish writing it six months after the tour, and getting that recorded in the summer. My retirement has been kind of stalled.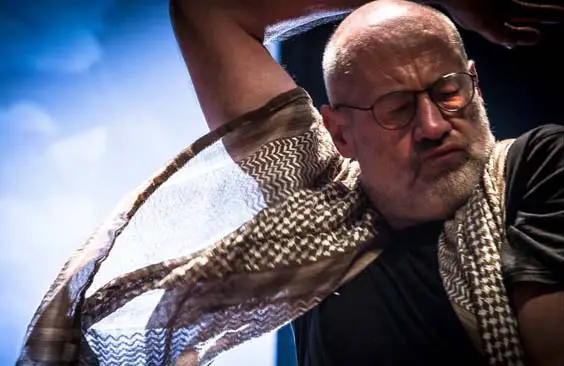 "Overwhelmed"
The new album Weltschmerz has quite a dark vibe to it. Can you tell us the motivation and inspiration behind it?
Well about two years ago, I came up with idea to develop Weltschmerz, which is a German word, meaning world-pain or world-weariness.  It has a strange kind of 1920's vibe to it, and like I say it's about the pain of the world, and at the time it was kind of… let's just say there was a lot of things going on around me. But I didn't exactly realise what was going to happen in the following two years! [laughs] I became kind of overwhelmed with the subject matters in all honesty, and I've been trying to wade my way through it, and find a way to kind of express it and find a string to put all the pearls on, so to speak. I think I've kind of got to that point now, where I've turned a corner.
If there was one album in your vast back catalogue that would come closest to defining you as a person or a musician, which would it be?
I think probably the last one A Feast of Consequences because it was the last one and that was the most recent expressions, and I was really pleased. I think that the last album had a different approach to it, and I approached it in a far more literary way. I took a great interest in the lyrics, researching them and making sure that I was dealing with the subject matter correctly and with respect, which in the scope of the album was about the First World War.
"I'm independent"
Your website has a lot of input from yourself, unlike a lot of artists. How important is it to stay so grounded to your fans.
I think it's very important. How can I say it? It's the way I've always been. I have never been one of those night club, partying, silvery, dusty guys that keeps up with image and stuff. I'd much rather be able to walk down the street and go down to the pub or just be out in the garden most of the time. That's just who I am. I think it is reflected in the way that I approach things.
I like the way my career is at the moment, and I wouldn't like to be having something under scrutiny all the time, like someone like Robbie Williams or whoever. There are too many demands on artists these days. I have never subscribed to that sort of stuff. I'm independent. The only place we sell the albums is through our own mailing system, or Amazon, and that's it ya know. I don't see any sense in going into retail to be stuck on a shelf, and dealing with the completion and all that.
Nowadays I don't have to sell hundreds and thousands of albums, just to keep myself alive. We have a very down to earth kind of system working, and it works well! If you look at this tour, Leeds is pretty close to selling out, we sold out Manchester, sold out Leamington, and Cambridge is pretty much sold out. It looks like the London gigs are going to sell out too, so that is pretty good going for somebody that's kind of under the radar like me.
"Move onto another mountain"
Is there any musician/songwriter/singer out there at the moment that you think:'Yeah, maybe they could fill my presence,' if you were to disappear?
No… I don't really listen to other music to be honest. My step son is fourteen, and he brings round all his little entourage and what have you, and I'll put on Crosby, Stills and Nash and things. But I find that they play a lot of the older music. I'd rather put on an album by Joni Mitchell or John Martin and Nick Drake than listen to anything else really. Or something that has been ultimately composed in a studio and so electronically manipulated, that it is so far away from the real thing. When you look at it, most of the really good melodies and really good lyrics and hook lines have already been taken, used and done, and everyone is kind of copying each other. Which is again, one of the reasons I decided that Weltschmerz is gonna be my last album, because I think I've done the theme. The theme is done! I think I need to move onto another mountain now and find something else to do.
Can fans realistically expect a return to the music industry from Fish, or do you think you may decide to make the move away permanent?
I don't think that there will ever be a permanent move away from music. There will always be that desire in me to go back on a stage somewhere. I loved the Fish Heads acoustic thing that we did, and it was just a guitarist, myself and a keyboard player. It was music filled with stories and banter and the stories behind the songs, and it was one of the best tours that I have ever been on. I really enjoyed it!
"I really liked that freedom"
There was no pressure there, the communication and ambience with the audience was all there, and you're not dealing with spotlights and rigs and forty three trucks of sh*t to organise night after night, and I really liked that freedom. It was on my own terms, and in all honesty we went out and did a hundred and seventy shows across two years with that line up. I saw more of Europe in that time than when I was driving round on a tour bus! It was all about finding our ways to places, playing in interesting places, and speaking to interesting people, having great discussions and being able to take the time out to visit more places, and I loved it, it was great!
That is something that I will always be able to go and do, so if the monkey on my back ever starts shouting 'Get on the road!' then I think that is the format that I would go out on. The big electric format becomes very expensive to operate, and very unwieldy and with the way that the music business is going now, I think everyone is just trying to play live. So there is a huge glut of artists out there, that are not selling physical products and no one is getting any money off the streaming services, so they are going out and playing live. There are only so many clubs and venues, and only so many notes in anyone's wallets to be able to go out and see some of these people perform and to go to gigs.
I'm sitting here now following the Queen tour that I was supposed to be going to see last night, and its £75-80 quid a ticket! Yeah! Whatever, ya know? When something with a big bayonet like that comes through town and it's that price per ticket, even though they are a great band and put on brilliant live performances, you get your twelve to fifteen thousand people spending all that, plus all the money that goes with it, whether it be travel, accommodation, and all the extras that surround it, like food and drink and merchandise, then people can't go and afford to see another band that has another £80 ticket, and there are gonna be at least two or three other bands, whose tickets won't be sold because of that.
"I might write an autobiography"
Everyone is competing for the same size of the pie. I like to keep things simple. My greatest pleasure is gardening and we grow all our own veg and what have you. We don't buy any vegetables, and haven't bought any from a supermarket for the past six months, and that's kind of an analogy for my life. If I can combine that kind of lifestyle with being able to go out on tour, when I need to or when I want to and when it's fun, then great you know? If I want to write a book then I might write an autobiography, or have a crack at a screenplay or if an independent film approached me to do some acting, then I can do that. I have the freedom to do that. I just want to keep things interesting. My days of wanting an empire or desiring things like that are long gone, and I'm quite happy with my lot. I love my privacy and I'm a happily married man, with a really cool family and life is good you know.
So the screenplay – is that something that is already underway, or still just a pipe dream at the moment?
I've talked about it with quite a few other screen writers, and I know a fair few people that work in the film industry and I've thrown out some ideas, and they have said, 'Yeah, that would work, why don't you move it forward.' With Weltschmerz, the stuff that I have been coming up with are not lyrics, they're bloody screenplays. The way I'm explaining these songs to people as well, people are going like, 'Wow! That ain't a lyric! It's way beyond that.' I think to build something up like that and maybe move into short films and stuff could be interesting. Again though, I much prefer the independent scene and doing something that's outside of the proverbial box, or the mainstream. I want to do something that maybe is about people, instead of implementing lots of computer generated sh*te or imagery.
For full details of live dates for Fish visit fishheads.club.
All images courtesy of Fish