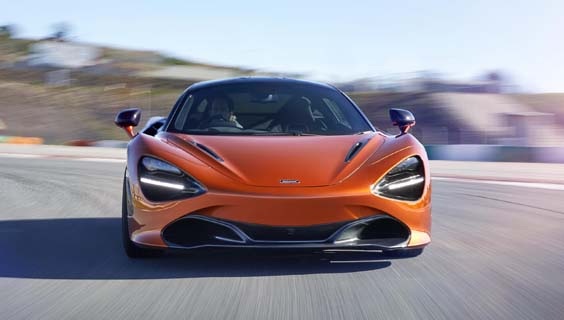 By Liam Bird
A little while ago I drove for two and half hours, before waiting another one and half hours, just so I could drive another car, for what turned out to be more-or-less 45 minutes. I hasten to add I am by no means complaining. The reason for my mid-morning cross-country jaunt was the McLaren 720S.
The McLaren 720S marks the introduction of the second-generation of what's known as their Super Series and is, in fact, the first time that the Woking-based manufacturer has replaced a model, in this case their 650S.
I've been fortunate enough to sample the 650S; it really is something special. As for the 720S, well… how shall I put this? It's… astonishing.
Like all the modern products of McLaren Automotive the hand-assembled 720S is powered by a Ricardo-designed, twin-turbo V8. This time though, instead of being a 3.8 litre unit, displacement has risen to just under 4 litres – 3,994cc to be exact. It sits amidships and produces 710bhp. Or, to put that in metric, 720PS, hence the name.
Torque incidentally is a 568lbft, 0-62mph takes just 2.8 seconds, and 0-124mph takes just 7.8. Top speed – just in case you were wondering or you happened to have a private runway long enough – is 212mph.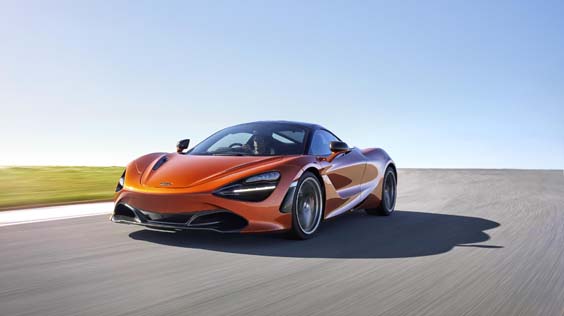 "Everything has a purpose"
McLaren are most famous perhaps for being a Formula 1 constructor first and road car maker second, but it soon becomes apparent that the same exacting standards and level of detail you'd expect from a multi-world F1 constructors champion has been applied here. Everything's done for a reason, everything has a purpose. There's nothing on the 720S that doesn't need to be.
The 720S's architecture is based around a new, lighter, carbon fibre tub structure known as the Monocage II. It's extremely rigid and incorporates both the A-pillars and part of the roof structure, and it helps lower the centre of gravity too. It also aids the 720's near vista-like visibility. If you thought all supercars were hard to see out of think again, although I'd still tick the options list box marked reversing camera if I was you.
It's also from that super-strong tub that the 720S's dihedral doors are hung. Not only are they superb at drawing crowds (stop anywhere and people gather like moths to a flame), they've also been designed with a unique "double-skin aerodynamic" form that channels air into the high temperature radiators.
A key element in the design of McLaren's new Super Series cars is the absence of any separate intakes for such things – like I said, there's nothing here that doesn't need to be. Those bug-like floating headlamps for instance; they assist in the channelling of air into the low temperature radiators. Even the rear wing folds down when it's not needed. It's all very clever.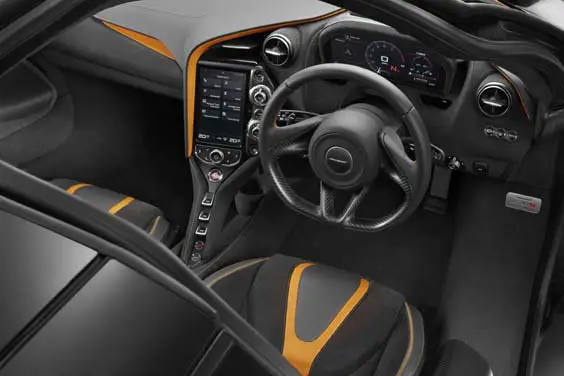 "Simply superb"
The door releases are also hidden within those deep air-guiding canyons. Find them and the door, as well as part of the sill, arc upwards on a gas strut taking most of their respective side of the roof with them. Access as a result is surprisingly easy. Once in you sit low, in a seat that's been covered in the softest of leathers and feels as though it's been specially sculpted just for you.
The adjustment of said chair is electric and, if I'm honest, a bit of a faff. The buttons to get you just-so are not only small, they're hidden somewhere between the transmission tunnel and the seat base. A word of advice: make yourself comfy and then commit the settings to one of the three memory settings, it saves a lot of latter fiddling. Fortunately everything else you need to perfect your driving position falls nicely to hand. The mirrors – they seem so far away – are easily adjusted and the steering wheel can be brought in nice and close.
Press the starter and the V8 whirrs before bursting into life. Select drive, either by button or paddle, a little pressure on the throttle, and off we go.
A number of things immediately become apparent. The 720S is actually, and maybe surprisingly, quite easy to drive. Visibility, as mentioned, is excellent and all of the controls respond immediately and obediently to your inputs. The steering is simply superb; it virtually bubbles over with feel. The ride is much more compliant than expected; although sunken manhole covers are best avoided. The engine note is not what you'd call symphonic; it wooshes and swooshes rather than burbling, wailing or shrieking. The performance? Mind-bending.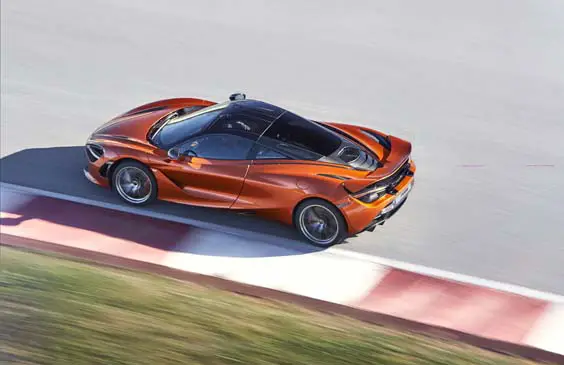 "Grip and acceleration"
Once free of traffic, if you floor the accelerator, you very quickly realise that you really have to re-calibrate your senses. The levels of grip and acceleration are like nothing else I've ever tried – and that includes previous McLarens. The brakes too are phenomenal. The 720S sheds speed as quickly as it gathers it. Surely this must the closest you'll ever get to feeling what it's like to drive a Le Mans racer on the road.
And yet you can hear the radio, the sat-nav guides you through town, the air-con keeps you cosy, there's no drama or highly strung hysterics in traffic, and if you're prepared pack reasonably light you could go away for the weekend in the 720S. If that is you can afford its £218,020 before very expensive options price tag.
After what was for me never going to be long enough behind the 720S's wheel I'd argue that's a small price to pay. Quite simply: The Mclaren 720S is astonishing – and without doubt one the finest cars I've ever had the pleasure of driving.
McLaren 720S Luxury
Engine: 3,994cc 8Cyl 32V twin-turbo petrol
Transmission: 7 speed SSG dual-clutch manual with auto mode, rear wheel drive.
Power: 710 bhp @ 7,500 rpm
Torque: 568 lbft @ 5,500 rpm
0-62MPH: 2.9 Sec
0-124MPH: 7.8 Sec
Max Speed: 212MPH
CO2: 249g/km
MPG: 26.4 combined
Price: £218,020