An Interview With Gerald Scarfe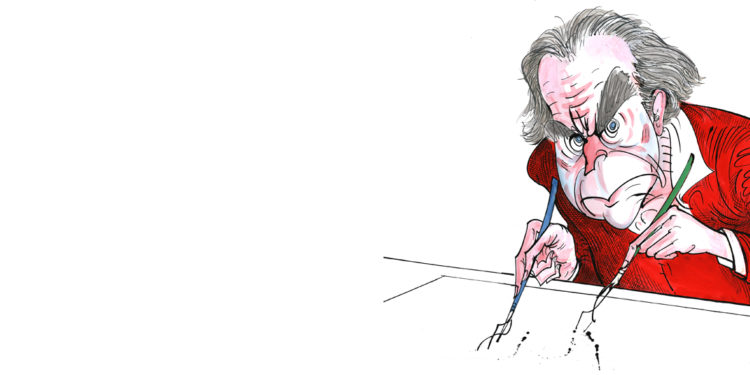 By Roger Crow
Ahead of his appearance at the Ilkley Literature Festival (4-20 October), legendary caricaturist Gerald Scarfe CBE talks about art, asthma, and his autobiography, Long Drawn Out Trip.
I'm loving your book.
Thank you.
Was there anything you learned from writing Long Drawn Out Trip that you didn't from making documentaries, for example?
A lot. When I was first asked to write it by my publisher, I thought, 'Oh I'm not sure if I want to do this'. Then after thinking about it, I thought I better give it a crack. I cobbled together some bits and pieces I'd written already to give myself a sort of a footprint to start with, you know, the foundations. And then it began to sort of interest me, because I don't really know anything about myself, and they told me, the publishers, that what people would want to know is what formed this so-called 'grotesque, ferocious' (laughs) and all these adjectives that they attach to me… 'satirical, bitter artist', you know, and what was it that started all this? And of course I thought about it myself, why I have such a black view of life. And I've always answered that it's because of my asthmatic childhood and it was war time.
A lot of other people had similar beginnings, but haven't actually turned out to be bitter or black-viewed artists.
We all have childhood memories and they're usually sort of extreme things that float to the top; things when you were hurt or something dramatic happened. The quieter, normal day-to-day things don't stay in the memory. So I started with those and I realised that I didn't know much about my parents. When they were alive I never bothered to ask them. I wasn't really interested I suppose, to be honest. But I began to delve. It's a bit like one of those editions of Who Do You Think You Are? You start almost like a detective tracing your own trail.
"We all have the ability to draw"
Asthma aside, it's a blessed life really, when you think about working with Pink Floyd, the Beatles and creating all those incredible art and sculptures.
Well it was, but luckily it was the only thing I could do. Because as you read, I'm uneducated really; my schooling was negative.
You've always come across as very well educated.
Oh thank you, but you can see (in the book) that I didn't really go to school very much. Until I was a little older, like 15 or 16. But even then I was still suffering with the bloody thing. Even though I still have asthma and I take a twice-daily dose of something to keep it level.
Is art good therapy for your asthma?
Very much so, yeah. That's a good question. I remember once saying on the Johnny Carson show in America, "If I'm not working I feel constipated". They said, "Ahh, that's a no no,". They didn't use the word constipated on television in the 60s or 70s. (Laughs). It is a bit like that, I feel kind of bottled up. And it is a great release; a great therapy really. It is for everyone. At the moment I am patron of something called Campaign for Drawing. It encourages people of whatever age to draw. We all have the ability to draw when we're children. But after a while people give it up. They think 'I can't draw. I can't do perspective. I can't do shading. I can't get a likeness. And my friends are laughing at my drawings'. It's a shame. Everybody has the ability to draw, but this campaign I'm patron of encourages people of whatever age to take it up again. But as you say, it is therapeutic.
"Nearest thing I'll get to being Tom Cruise"
When the promo for Pink Floyd's 'Another Brick in The Wall' was released 40 years ago, it was a revelation. That must have created a bigger fan base.
Yeah, it's extraordinary. I still get emails all the time. A guy sent me an email saying 'Could he have my signature?' I said 'Why?'. He said, 'Because I want to tattoo it on my arm. I've got all your drawings up and down my arm and all over my chest'. And I said 'Sure, you disfigure your body if you want to'. Anyway, when he was having the tattoo put on, he sent me a video of that happening, and he told me how the drawings in The Wall had got him through the Gulf War. And he sent me his Gulf War medal. I sent it back by the way. I said 'You're the hero. Not me.' It just shows the impact that music and to a certain extent visuals can have on people's lives or minds.
Knowing how much you loved Disney as a kid, what was it like getting that call to work on Hercules?
Unbelievable! And also Disney don't do that. They don't have outside designers joining. It's all done in-house. They have a Disney style and a Disney attitude. So it's only because the directors who knew me when they were growing up as students. They were kind enough to say that they were fans of my work at that time and I was asked to do it. I started doing a few bits and pieces, and then it grew and grew and grew. Eventually I designed every character and many of the scenes. I would say it's the nearest thing I'll get to being Tom Cruise. They treated me extremely well there.
"People thought I was going to die"
How far is too far in a piece of artwork?
Well I try not to think of that. When I'm working in my studio alone I just try to put down what I feel. Of course if you're working for a daily newspaper you've got your own self censorship going on. But I try really to, as I did with the book, to write down or put down the image I have in my mind and not think 'Oh they're never gonna print this,' but I can't pretend there isn't some element of censorship. As there is with all journalists. You can't eff and blind through every sentence. You've got to realise that the editor is going to take it all out anyway. I suppose one of the better things about being an artist is that editors can't intervene in that way. They can stop the drawing but they can't edit it. They can't say 'Oh that nose is too big', or redraw the nose for you. It's pretty free really being a cartoonist.
If you could give your 18-year-old self one piece of advice, what would it be?
Well, don't worry so much. I was such an anxious child. And I was an only child until the age of nine.Then my brother came along. I guess it was wartime, and with the asthma (Gerald coughs). Right on cue… People thought I was going to die. As Roger (Waters) says in one of his lyrics, "Mamma's gonna put all of her fears into you". I think you pick up a lot from your parents, and naturally they were worried about their sickly child. I would say now of course, here I am at this venerable age, I never thought I would get anywhere near it. And looking back, don't worry about it, you know? Things go wrong. Some things go right luckily. Try and lighten up. It's okay saying that, but you can't do it, especially when you're an 18 year old, who's extremely anxious about everything. Enjoy life in other words. It's an amazing place we are all in. And if one can only see it. When you start to think at the end of your life about losing it all, you realise how amazing it is.
Gerald Scarfe appears at Ilkley Literature Festival, October 6. Visit ilkleyliteraturefestival.org.uk for more details.
His new book, 'Long Drawn Out Trip' is released on September 26