Formby Hall, Liverpool – Review
By Helen Johnston
If ever you needed an example of how warm and friendly folk are on Merseyside then look no further than Formby Hall Golf Resort and Spa. Their staff were just about the friendliest staff I've ever met in a hotel, even though they were working through the hottest August bank holiday on record and must have wished they were on a sun lounger instead.
From the moment Jake checked us in, to the moment Tracey checked us out, the Formby Hall receptionists were charming, polite and ready to do anything to make our stay as comfortable as possible.
They weren't just putting this on for me as a visiting journalist either. They were like that with everyone, keeping their smiles and welcome warm even when faced with queues of guests checking in for two weddings on the same day.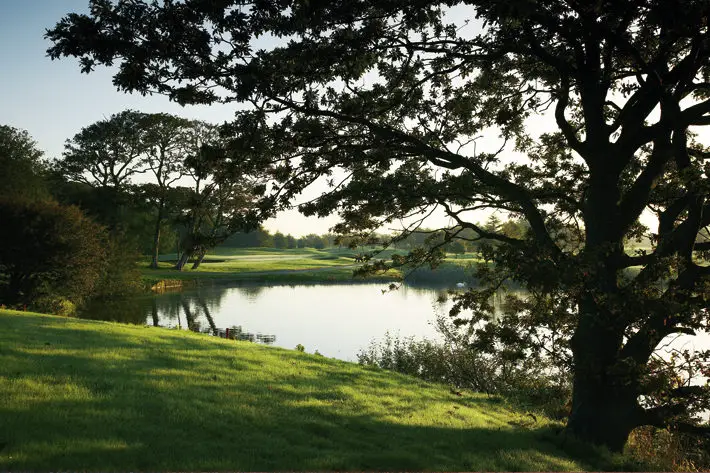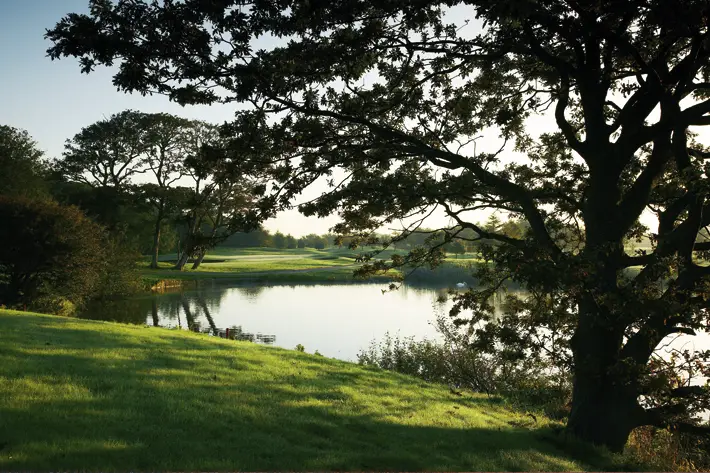 "Worked their magic"
Making guests feel comfortable is a skill but they've got it down to a fine art throughout this hotel and spa. We were booked in for head, neck and shoulder massages and as soon as we stepped over the threshold of the spa we were greeted by a member of staff who guided us to the contemporary bistro with mottos on the wall – 'The time to relax is when you haven't got time to relax' – where we were treated to a choice of complimentary drinks while filling in heath forms.
Then it was over to the tranquillity lounge, all sumptuous velvet sofas and soothing music, where I thumbed through the latest copy of Hello! magazine, wondering who all the 'celebrities' featured in its pages were.
Our therapists called us through to a double treatment room where they worked their magic on us. As soon as they put the eye pads on me I was relaxed, and the massage eased away various tension knots in my neck and shoulders. It was over all too soon and I got to my feet reluctantly to exit this oasis of comfort.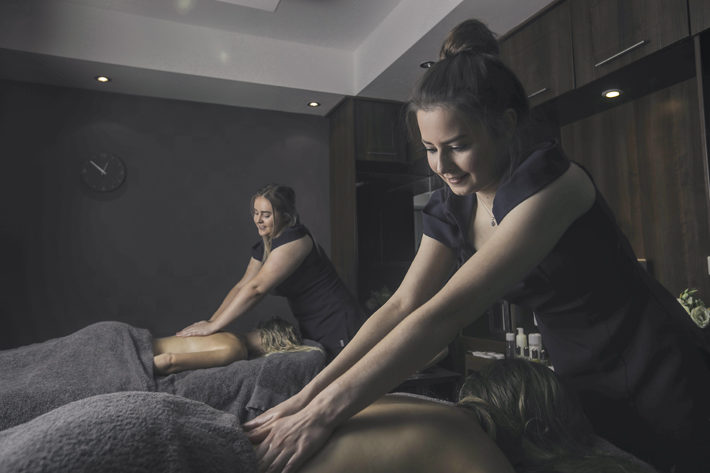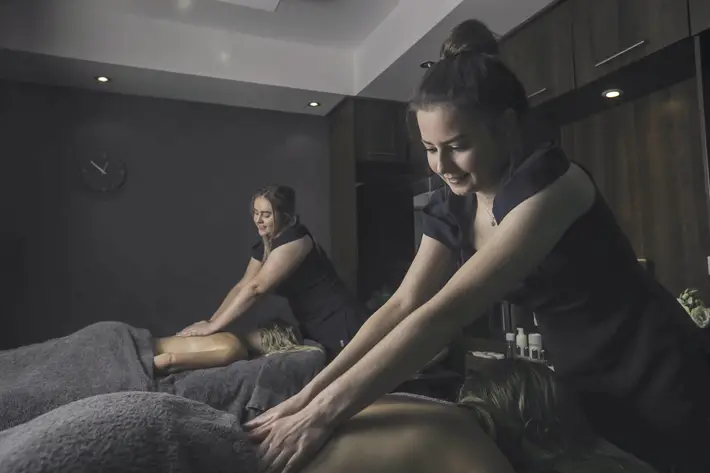 Luckily, thermal heaven was just a few doors down the corridor so within minutes I was horizontal again, this time on a heated mosaic-tiled lounger curved in all the right places for maximum comfort. The doors were open on to a balcony and the sun shone in, so I closed my eyes and drifted off again.
Before long though, another appointment awaited, this time with two wheels. Formby Hall offers bike hire for guests to explore the surrounding countryside and we were invited to take a picnic and cycle to the beach. I had a romantic image of sweeping along country lanes with a wicker basket on the front of a large sit-up-and-beg bike.
The reality proved to be a lot different when I was presented with a road bike with a crossbar so high I would have needed the flexibility of a gymnast to swing my leg over it. So I ended up on a largish kid's bike. We were given paper maps of cycle routes but with nowhere to put them we just went with the advice of the hotel staff and followed their directions to Ainsdale beach. The cycle lane was like the curate's egg, good in parts. Much like most of the cycling infrastructure in this country it wasn't thought through (at one point the lane moved from one side of the road to the other with no signposting). In some places it was overgrown which made it so narrow it was a case of breathing in and hoping for the best when passing cyclists coming from the opposite direction.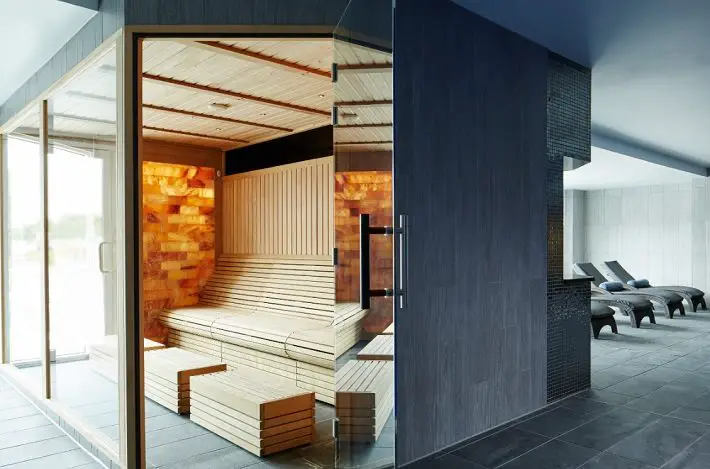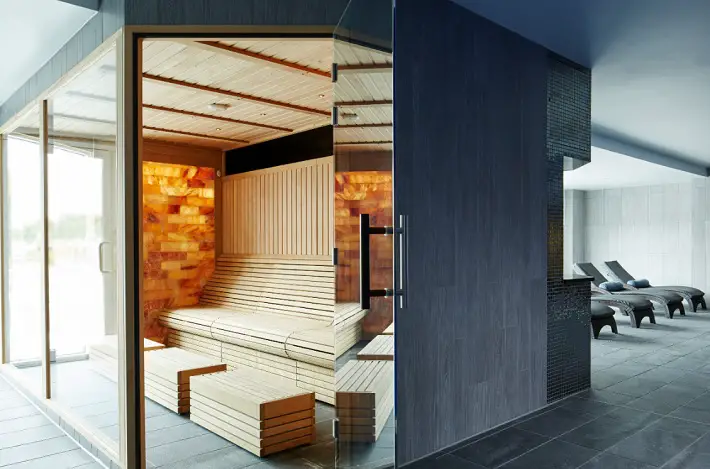 "Plenty of space"
Despite this we made it to the wide-open sands of Ainsdale where the sea was a distant grey strip on the horizon. No matter, the sky was clear blue, the sun was beating down, and there was plenty of space despite the volume of traffic bringing the bank holiday hordes. We felt quite smug as we avoided the queue of cars and the £10 parking fee by swishing past on our bikes, albeit with me having my knees under my chin.
Formby Hall kitchen staff had done us proud with the picnic, all neatly packed into a handy rucksack complete with cutlery, plates, a chopping board and salt and pepper pots. We had sandwiches, crisps, apples, bananas and yoghurts, plus fruit juice and bottled water in glass bottles. Full marks to the hotel for ditching the plastic, and well done to Harrogate Spring Water for using glass. Just one thought, we weren't asked if we had any dietary requirements which could have been a problem if we were vegetarian because the sandwiches were ham and tuna.
The weather was glorious, so it was almost a shame to go back indoors at the hotel although the pool was welcoming after the warm work of cycling. It's a good size and although there were quite a few people using the facilities, it never seemed crowded. There is also a hot tub, a laconium at 35-40c degrees which I found more bearable than the stifling heat of the 70c sauna.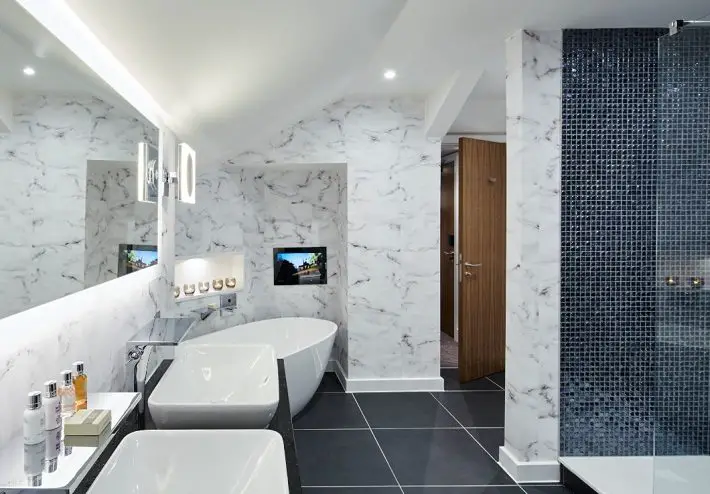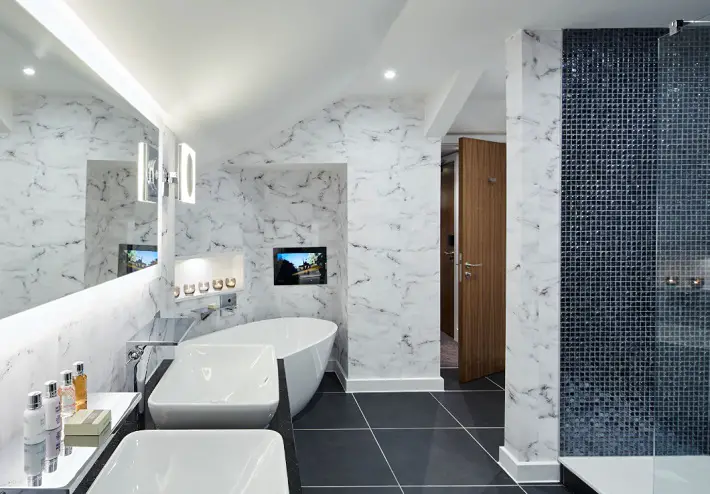 Formby Hall is the only hotel in the north west to have its own 18-hole championship golf course so it's no surprise that the restaurant is called The Fairway Grill. Here again, the staff were all friendly and welcoming. The set menu was great value with three courses for £21. The food was presented beautifully and was delicious with big portions proving a challenge to finish. We treated ourselves to gin cocktails, one called Bramble and the other called Cucumberry, which the bar man who brought it to the table joked was a daft name. No pretensions here thankfully. Breakfast is self-service and there is a wide choice of food, from a full English to fruit and croissants.
Patio doors lead from the bar area to a terrace with seating, so we were able to enjoy the warm summer evenings. There was a live singer on the Saturday night too and TV areas for those who wanted to catch up on the day's sport.


"Beautiful"
Our room was huge. Not only did it have all the usual bedroom furniture, it also had a sofa and chairs, and a beautiful bathroom with a big bath and a big separate shower. It was a shame we were only there for two nights because I didn't do justice to the enormous wardrobe.
This area of the north west is nicknamed the golf coast and Formby Hall also has an award-winning PGA Academy, the Harold Swash Putting Solutions for Excellence and an in-house concierge and shop. Watching seasoned golfers strolling round the course in the sunshine made me start wishing I knew how to play. I need another visit to learn.
Formby Hall Golf Resort & Spa, Southport Old Road, Formby, Southport L37 0AB
Hotel rooms from £149
01704 875 699
formbyhallgolfresort.co.uk