An Antidote to Decay – How Huddersfield Town Built the Stadium of the Future
By Tom Whitworth
Throughout the 1990s, and after Hillsborough and the subsequent demands of the Taylor Report that all top-level football grounds in England and Scotland should become all-seater, a period of great change took place at grounds across the country.
In the 1980s, under-investment and neglect had caused many historic venues to crumble. They were dangerous and in some cases deadly. Post-Taylor, there would come renovated or new stands – the old terracing replaced by row after row of plastic seats – and in some cases entirely new stadiums. In all, it was a multi-million-pound nationwide building project that transformed grounds into safer and more comfortable arenas.
Between 1990 and 1999 a dozen new stadiums would be built by English league clubs – at Walsall, Chester, Millwall, Huddersfield, Northampton, Middlesbrough, Bolton, Derby, Stoke, Sunderland, Reading and Wigan. Of these, the project in Huddersfield stood out as the most impressive, showing the way as one of the most influential developments of the decade.
"John Smith's Stadium 1" by ahisgett is licensed under CC BY 2.0
"Newer and safer"
The Alfred McAlpine Stadium opened in the summer of 1994 with its futuristic and modern design. Bold and beautiful, bright and eye-catching, it sat in a dominant position in the landscape of the northern mill town. In the book, All Points North, a collection of writings on life and work, music and sport by the local poet Simon Armitage, he described it as 'looking like a blue and white lunar module'.
'[W]e do not build exciting modern stadia in this country,' the author and stadium expert Simon Inglis would write after it opened, 'certainly not in places like Huddersfield.'
With its Archibald Leitch-designed Main Stand, Huddersfield Town's old Leeds Road had been a fine example of the traditional English football ground. It was located in the town and over the years had held record crowds of 60,000-plus to watch their First Division championship-winning teams (in the 1920s Town won three in a row).
The club had had the great and innovative manager Herbert Chapman and later, before he arrived in Liverpool, Bill Shankly. By the late 1980s, though, tight finances at the club had meant that upkeep had lapsed as some areas grew tired and fell into disrepair. There were trough-like toilets for the gents and big puddles in the car park when it rained. Restrictions had been placed on the ground's capacity – average attendances in the early 1990s had ranged from just 5,500 to 7,500. The view from the club was that something better, newer and safer was needed.
"Huddersfield Town – McAlpine Stadium – The John Smith's Stadium" by Bradford Timeline is licensed under CC BY-NC 2.0
"Futuristic"
At the Lobb Partnership in London they had been devising a new, post-Hillsborough concept for the future of stadium design. Lobb had already worked on a few football, rugby and horse-racing stands and, at an exhibition in Birmingham in 1991, they unveiled the concept design, 'A Stadium for the 90s'. It was a forward-thinking design for a stadium with arching, blue-roofed stands with clear sight lines of the playing surface for spectators, a strong vision of a new way forward in the field, an antidote to what had become a landscape of decay. The Huddersfield Town hierarchy were impressed by Lobb's design and boldly opted to progress with their plan.
In the words of Rod Sheard, one of the chief architects at Lobb, the aim for the Huddersfield project was to create 'a versatile sports, entertainment and hospitality facility, with a commercial theme integrated into the design … A futuristic stadium for the ultimate benefit of supporters of football and rugby league, the business sector and everyone who lives in the Kirkless community … a blueprint for others to follow.'
In 1992 planning permission was granted for the new stadium, which was to be located only a short distance away from Leeds Road on a derelict former chemical works site beside the River Colne. It would be built into a wooded hill, Kilner Bank, and Town and Huddersfield Giants Rugby League club would be joint tenants.
"John Smith's Stadium – Noordoost tribune" by Superbeest040 is licensed under CC BY 2.0
"Dramatic"
During 1993 and 1994, the stadium rose from the ground and on matchdays some fans would make the short walk over from Leeds Road to take a look at how things were progressing.
The £15m final cost of the project was funded by £5m raised from the sale of the Leeds Road site, £3.75m from private investment, £4.25m in grants and £2m from the local council. Initially just two stands would be built along each side of the pitch, followed by a third behind one goal. The fourth, behind the opposite goal, would be finished a few years later eventually giving the stadium its 24,500 capacity.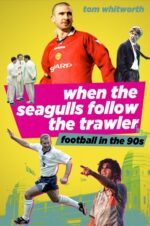 After it opened in 1994, Rod Sheard would hail the new stadium a 'landmark' venue and 'dramatic building whose strong curves and colours stand out starkly against the surrounding wooded slopes and the grey tones of most of Huddersfield's townscape'.
In 1995 recognition would come in the form of the Royal Institute of British Architects' (RIBA) Building of the Year award… Huddersfield's new home helped change the landscape for stadium design in this country. No longer were there fences or standing terraces; dilapidation and danger were gone too. A new standard had been set.
Article adapted from 'When the Seagulls Follow the Trawler' by Tom Whitworth. Published by Pitch Publishing, £12.99 hardback
Top image: "John Smith's Stadium – inkijk" by Superbeest040 is licensed under CC BY 2.0