The Brighouse Toffee Industry Mills – History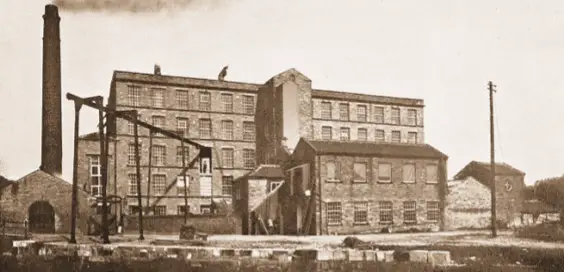 By Chris Helme
The family name of Turner conjures up all kinds of memories, not just for the people of Brighouse but for many people beyond its boundaries as well. Let us go back almost 130 years, when John Henry Turner and his wife Mary Ann Stone were making toffee during the late 1880s in their home.
In those early days Mary was making what became a real delicacy; she shared it with her family, friends and neighbours. So popular was her delicious home-made treats that John Henry started a small business selling it locally. Working together, the business slowly began to make a profit. Their home-made toffee became so popular that it made them enough extra money to make John Henry consider leaving his regular job at the Halifax Co-op and go into full-time production.
Then, in 1896, he met George Wainwright (another employee of the Co-op) and between them they decided to leave the job security of the Co-op and take up toffee-making together on a full-time basis. From small beginnings, the business grew rapidly. So much so that very soon after they had to buy even larger premises in River Street, Birds Royd. The business was still growing and expanding at an almost unstoppable rate, and it was not long before they had to consider moving again to even bigger premises.
"Synonymous with quality"
In 1908 they moved from River Street into the empty five-storey Camm's cotton mill at Brookfoot (a property that is now occupied by Avocet Hardware (UK) Ltd). They were embarking on an expansion programme that was literally a do-or-die situation. The company was to become the household name of Turnwright's, the Turner & Wainwright Toffee Co., and became a brand name that was synonymous with quality.
Throughout the First World War every 'comfort parcel' that was sent from Brighouse to France contained a slab of Turnwright's toffee – a welcome gift and a luxury to the lads at the front. Sadly, through the late 1920s and early 1930s the company hit a slump; with many major customers taking their accounts elsewhere, the business was on the verge of collapse. However, for a short period of time, John Henry Turner's son George stepped in, creating the name of Turner & Wainwright (1933) Ltd, but sadly it wasn't enough.
The building was sold not long afterwards to a mill owner from Rastrick. George Turner, however, had his own business interests at Owler Ings Mill, which many readers will recall burnt down during the 1970s. For most of this century the Turner family employed thousands of Brighouse people. Quite often whole families would have worked at either the toffee works or the mill in Owler Ings. The Turner family will always be part of the history of Brighouse.
"Resurrect"
With the demise of George Turner's efforts to resurrect the family firm at Brookfoot, the building was soon to have a new lease of life. Following the bombing of the Meredith & Drew factory and destruction during the London Blitz in 1940, the company relocated its production to Oldham, High Wycombe and Brighouse. The company headquarters was moved to Ashby-De-La-Zouch in 1943.
Meredith & Drew advertised itself as 'Britain's biggest biscuit bakers' in 1946 and by 1951 employed 2,500 people. In 1954 the company closed its Brighouse factory and reduced its seven nationwide factories to three at Halifax, Cinderford and Ashby-de-la-Zouch. Following the closing of the Meredith & Drew factory at Brookfoot, the mill remained empty until November 1955.
The mill was chosen as the site for the new Kosset Carpet Co., a business that was founded in the same year by five companies under the banner of Tufted Carpets Ltd, whose products would be sold under the trade name of Kosset Carpets. The five companies were Carpet Manufacturing Co., John Crossley-Carpet Trade Holdings, Brinton's, James Templeton and Thomas Bond Worth.

"Full-scale operations"
Once the decision had been taken, extensive work had to be carried out in the mill. All the work was completed just in time for the official opening of the new factory on 27 September 1956. It transpired that the visitors got more than just a simple opening ceremony. They were given the opportunity of looking around the factory with its full-scale operations in progress throughout the entire mill premises.
In 1965, Thomas Bond Worth ended its association with Kosset and in 1968 John Crossley Carpet Trades Holdings Ltd of Halifax and the Kidderminster-based Carpet Manufacturing Co. bought out the interests of their other two partners. Carpets International was formed in 1969, which then consolidated their interest in Kosset.
In 1985, Kosset was acquired by the John Crowther Group, which, in turn, was acquired by Coloroll in 1988. Following the collapse of Coloroll, the company was taken over through a management buyout at a cost of £17 million.
"Successfully turned around"
In 1992, Kosset was sold to Shaw Industries of Georgia, USA. Kosset Carpet is still available through the retail chain Carpetright. Following the turmoil of the 1980s and early '90s Brookfoot Mill became the new home of WMS PVCU Hardware Ltd. This company was later known Avocet WMS Hardware Ltd but was dissolved in November 2012. Shortly afterwards the business was rescued by the Jain family from the administrators.
This family have business interests not only in the UK but also in Malaysia, India and China. Since those dark days the company has been successfully turned around. The Jain family's ownership has brought with it many benefits, not least a highly experienced management team that has frequently demonstrated an ability to turn around the fortunes and reputations of companies.
Brookfoot Mill has had a number of ups and downs during in its lifetime – from a nineteenth century cotton industry through to the twenty-first century as a supplier of window and door hardware. Let us hope that it has turned the corner and the legacy of Brookfoot Mill being a major employer will continue.
Top image: There have been at least three mills in this area of Brookfoot dating back to the 1600s, the first of which was a corn mill. The mill seen here was built c. 1865 and at the time was owned by Samuel Leppington and operated by William, Alfred and Nicholas Cunliffe Camm, trading as Camm Brothers Spinners & Cotton Doublers. By 1882 the mill had over 400 employees. On 31 July 1883 the partnership was dissolved when William and Nicholas retired. This photograph is dated c. 1909.
'Brighouse at Work: People and Industries Through the Years' by Chris Helme is published by Amberley Publishing, £14.99