East Yorkshire Coast: Bempton Cliffs, Spurn, Bridlington – Travel Review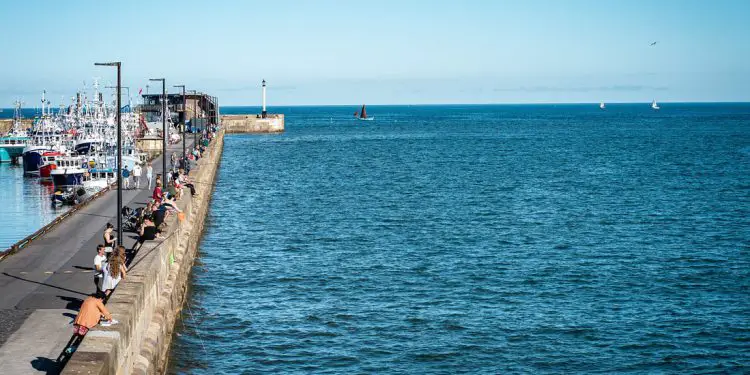 By Clare Jenkins, October 2023
Richard Ball is in full flight about Bempton Cliffs. "We've got up to five short-eared owls nesting here – they're the stars of the show at the moment. We've got fulmars, shags, cormorants and gannets and their chicks. We've had up to 2,000 gannets this year, despite avian flu, and a shag colony of 15 pairs. The kittiwakes have gone to Newfoundland, the puffins are in the North Sea and Atlantic now – we've had 3,000 here and at Flamborough… Ah, that's a chiffchaff you can hear…"
Richard, a volunteer at the RSPB reserve at Bempton, is a walking, talking, photographing bird gazetteer, only too happy to set up his tripod and telescope to show visitors close-ups of a gannet grooming her chick or puffins engaging in some Mr Punch-like activity. Want to know the difference between the summer and winter plumage of a bridled guillemot? Or how a puffin's beak changes colour depending on the season? Or how a gannet manages to dive into the sea headfirst at up to 60mph (it's the 'airbags' in their beaks, apparently)? Then Richard is your man. He can also point out the mackerel and herring runs in the North Sea, the "floating buffets of fish" that attract dolphins, porpoises and minke whales.
My husband and I meet him on the last day of our tour of Yorkshire's east coast, at Bempton, home to half a million seabirds between March and October. As a fraction of them wheel and swoop around us, he reflects on some of the benefits of his voluntary work.
"Haunting"
"There's a restful element to it all, and a rejuvenating one. Its effect on one's mental wellbeing is fantastic. Looking at the sea puts everything into perspective. You can rationalise things here. Whether it's rough or calm, it's exhilarating. And, as a volunteer, you get the fresh air, exercise and knowledge of wildlife. You also get the pleasure of showing people birds they haven't seen."
To date, Bempton and its 100-metre-high cliffs have managed to avoid the erosion that affects so much of this coast, thanks to being formed of hard chalk rather than sandstone. Elsewhere, though, are very visible signs of decay, notably at the tiny Holderness village of Ulrome. Two roads there are blocked by signs warning: "Danger! Coastal Erosion! Do Not Enter." It's only a matter of time before a row of terrace houses, still inhabited, windows stuffed with newspapers and ancient toys, fall over the edge.
When they do, they'll join some two dozen villages and hamlets that have disappeared, among them Frismersk, Orwithfleet, Monkwike and Tharlesthorpe, as the sea moves remorselessly inland. Partly because of that, partly because of the flat landscape, huge wheat fields, wide horizons and scattered homesteads, there's something of the Low Countries about the area, with additional brooding elements of The Birds and The Wicker Man. Lonely houses up lonely lanes, roads leading nowhere, a haunting sense of absent presences.
In this Year of the English Coast, we start our week-long tour at Sand Le Mere holiday park just outside the small village of Tunstall. On our way, we drive past road signs to more places with strong Viking and Saxon echoes: Thorngumbald, Swine, Swanland, Fangfoss and Wetwang.
"Exhilaratingly elemental"
Ignoring signs to Sunk Island and villages called Odd and Land of Nod, we stop off at Patrington, to visit the 14th Century church, self-styled 'Queen of Holderness'. In his book England's Thousand Best Churches, Simon Jenkins calls it "this paragon of beauty", gives it five stars, and writes: "Grotesque faces peer down at us from the gloom: monks, animals, villagers, an entire community come to inspire the carvers. Today they would instead pose for a group photograph."
To sample Patrington's community today, we have coffee at Cakey Bakey Yum Yum – which, despite its toe-curling name, is deservedly popular, with a wonderful array of cakes and ciabattas and charming young staff. Customer conversations range from swollen fingers – "It's been a month since I managed to get my thimble on" – to otter sightings, including one that "came to the caravan site and left all the duck guts at the side of the pond".
We're heading for the Yorkshire Wildlife Trust nature reserve at Spurn Point, the spit of land hanging like a loose thread into the Humber estuary. The peninsula is always vulnerable to the weather (check tide timetables to avoid being stranded), and storms earlier this year meant the final inhabitants, Humber Lifeboatmen and their families, had to evacuate their homes and move permanently to Grimsby.
There is something exhilaratingly elemental about Spurn, with its shingle beaches, sandy dunes and bird life: it's one of the most important sites in Europe for migratory birds. There's also now a Discovery Centre and another excellent café.
"Genteel"
After an invigorating walk, we move on to Withernsea and its 15th Century St Nicholas Church, closed for many years until the Churches Conservation Trust took it over, reopening it last year.
Our guide is Russell Mathers, roofer-cum-Seaside Radio DJ and another mine of information. Hardly stopping to draw breath, he tells us about the town's link to First World War nurse-heroine Edith Cavell, whose sister was matron of a local convalescent home and is buried in St Nicholas's dispiriting churchyard. He also points out the choirboys' graffiti behind a closed door and the memorial stone to the Sister Kirkes, two churches that, yes, disappeared into the sea.
"A third of a mile of coast has been lost in the last few years," he tells us. "That's why there's a sense of impermanence here."
The next day, after briefly touring Hornsea, a more genteel and handsome resort – much of the town is now a Conservation Area, and its award-winning museum is stuffed with Hornsea pottery – we drive to Bridlington, where we're spending a night at Salt on the Harbour, a fish restaurant with rooms attached.
The approach is unimpressive: down a slipway, in the middle of a car park, next to a fishing tackle shop. But the 900-year-old harbour, boats bobbing in the water, is attractive, the view from our spacious, sea-themed bedroom is lovely, and the building's history is interesting. Once RAF hangars, it's now known as the Lawrence Complex, after T.E. Lawrence (of Arabia fame), who spent three months here in 1934 as part of his RAF service. "Bridlington in winter is a silent place," he wrote to a friend, "where cats and landladies' husbands walk gently down the middle of the streets."
"Fascinating"
Its shopping streets are more neglected than silent nowadays, so we moved swiftly on from East Coast Raw Pet Foods, Promenade Mobility and Cosmic Gifts ('Gifts from another galaxy'). But its Edwardian-cum-Art Deco Spa offers a full programme of events, from Forbidden Nights (think high octane Full Monty) to the Manchester Camerata. And Ernest Whiteley's 'ladies outfitters', with its bow windows, wonky mannequins and old-fashioned furnishings, is a must-visit temple to corsets, vests, embroidered antimacassars and crocheted doilies.
It ought really to be in the Old Town, whose Georgian High Street is full of handsome town houses, bow-fronted antiques shops, independent cafes and The Old Globe Inn. You can see why this part of Brid was chosen to represent Walmington-on-Sea in the 2016 film of Dad's Army.
If you can face the steep winding stairs of the nearby Bayle Museum – housed in the former gateway to the 12th Century Priory – you'll find a fascinating social history of the town. Among items donated by local people are First World War medals, seaside and Civil War memorabilia, Queen Henrietta Maria's gloves (she landed in Brid in the 1640s, staying for a fortnight), druggists' bottles, and drawers full of embroidered cards, Spa programmes, Royal souvenirs and 1920s cartes de visites.
There's a recreated prison cell, a Victorian kitchen, a section on agriculture and vintage penny slot machines. "It commemorates people who would otherwise have been forgotten," says curator Chris Bonnett. "People come and see the medals and say, 'Those are my great-grandfather's'."
"Extraordinary building"
The neighbouring Priory Church, meanwhile, is impressively spacious and "similar in design to one depicted in the Bayeux Tapestry," according to Simon Jenkins. There's an embroidered display all about its founder, St John of Bridlington, 'Mouseman' altar rails by Robert Thompson of Kilburn, and a permanent exhibition about the history of the Priory, founded as an Augustinian monastery and once a centre of pilgrimage: Henry V came here in 1415 to pray at St John's tomb.
A visitor has just been lighting candles for her sick husband. "I love it here," she tells us. "It has such a wonderful feel to it. When the sun comes through the stained-glass windows at evensong, it fills the whole place with colour. It's an extraordinary building, and a living, working building. Such a lot goes on here – festivals, and concerts. I can prattle on about it all day."
After a comfortable night at Salt on the Harbour, we head north to Sewerby Hall, set in 50 acres of public gardens and parkland. Nicola Bennett – a former entertainer in the Canary Islands – gives us a tour of the hall. "We just want everyone to know about it," she says. "Because the world everyone lives in now, they're all looking at their phones. And this is inspirational."
Built in 1714 and extended in the 19th Century, the hall has been recreated as an Edwardian country home, complete with servants' wing with blocked-up windows to stop the maids and valets from looking out at the family. Among the items in the scullery are a root vegetable slicer, a bean slicer and hot water plates – how have we managed without them?
"Stylish"
There's a fine Oak Parlour (Simon Jenkins is full of praise for that, too), a dining-room with stylish table lamps (most of the furniture is on loan from the V&A), and a billiard room-cum-library. Then there's the Amy Johnson exhibition – born in Hull, she opened the hall in 1936. Cases contain some of her belongings, including boomerangs from her trip to Australia, a copy of her pilot's licence, her flying mask and helmet, and the flight bag recovered from her plane after it crashed into the Thames in 1941.
Her body was never found. Water, water everywhere…
Rooms at Salt on the Harbour start at £125 B&B for a harbour-facing room, £115 for the non-harbour facing doubles. harrisonleisure.com
Sewerby Hall & Gardens: sewerbyhall.co.uk. The hall is only open at weekends during the winter months, though its gardens, café and zoo are open during the week. Its Winter Woodland festival runs from 8th to 22nd December.
Visit East Yorkshire: visiteastyorkshire.co.uk