Sand le Mere Holiday Village – Review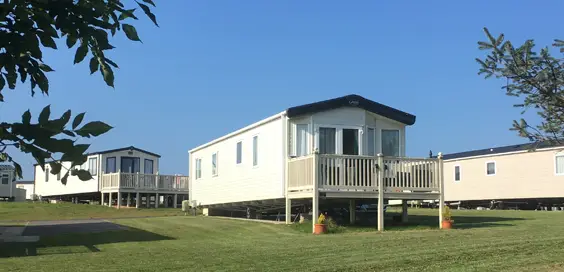 By Matt Callard
It must be difficult for Bridge Leisure Parks, the owners of Sand le Mere, a holiday village on the Yorkshire coast about four-miles north of Withernsea, to branch out and attract newcomers to their site when a very large proportion of their current clientele want a very traditional take on the holiday park experience.
It's an experience that I remember well as a child – albeit some 30-odd years ago – and, at the time, it was all I knew of holidays away with the family. They might have had the more prosaic name of caravan parks back then, but the thrill of staying in a new home, the family packing in together a stone's throw away from the beach, the rowdy evening entertainment, the (in our case) mad scrap to be first in the outdoor pool all made for some indelible memories. At the time I was blissfully unaware of some of the moor ramshackle elements of these places – I mean, I was having such a good time why would I be bothered if there was chips with chips on the in-house menu and an outdoor khazi.
But then came the Costa del Sol and the cheap allure of Benidorm – and the family never looked back. I'm not alone in this, I know. There's a couple of generations of 40-50 somethings that would say the same thing.
"A step up"
Except, for some, the caravan park holiday experience is all they ever want or need – and Sand Le Mere cater very well for them. The caravans line up, there's a huge arcade, a bar and food area, swimming pool, the obligatory bingo and turns in the club. You don't need to leave the site, if that's your thing. But carefully and sensitively they're trying to reach out to new customers while still satisfying their core clientele. Maybe they can reach those who haven't tried a holiday village before or even those, like me, who've been lured away by the guaranteed sunshine and favourable exchange rates of European hot spots, but who now have a young family in tow and the thought of two babies, a toddler and Leeds-Bradford Airport is too awful to contemplate.
So here we are, six strong including grandma, checking in not to a caravan, but into one of Sand le Mere's new lodges. A step up both in price and size from the caravans and including a decking area, en suite, separate kitchen and an altogether less cramped air than I remember from caravan living. Course, they're not really lodges. They're very large static caravans with a wood effect throughout – but the cosmetic difference sets them apart from the masses of traditional-style caravans on the park – and they look impressive.
"Everything you'll need"
There's a couple of sofas in the living room and a small (by today's standards) wall-mounted TV with Freeview. Porch doors fold out on to the decking area, where there's a large outdoor table – alas, in true UK holiday style we never got the weather to test it out. In the main room there's also a good-sized dining table that will comfortably seat six.
The L-shaped front room includes a kitchen with dishwasher, fridge, freezer and washing machine. Utensils are ample and we didn't discover it lacking any everyday-use items. There's really everything you'll need on the practical side.
The main bedroom is roomy with a really nice en suite with shower. The bed was comfortable and, importantly, there's little noise at night (something I don't remember being the case back in the caravan days). There are two other bedrooms, one with a double and one with two singles. Everything was clean, everything was in order.
You're definitely spared the cramped conditions of caravan life, although don't go thinking you're into cat swinging territory inside. Living space is still bijou, you just don't need to live in each others' pockets. The only real issue I had was with the wi-fi, which was intermittent to say the least. It's not free either, so when I rung and complained the problem seemed to get sorted, only for the sporadic connection to return within half an hour. After that, I pretty much gave up on it.
"Real star"
So what then of the site itself? Our lodge was conveniently located for the main reception (a three-minute walk). Staff there were friendly and helpful and answered my questions (I always come with a notebook full), including one about beach access – more about that later. Around reception you'll find a coffee shop, the afore-mentioned arcade, sweet shop and access to the bar restaurant.
In there, the décor needed an upgrade, with a tired looking carpet and, where we sat at least, a few rips on the seating. The mostly fast food/bar snack menu was disappointing and the food we ordered was mundane, indifferent to anything you could order at your local Wetherspoons. You don't expect Michelin stars here, but a bit of wit and invention with the menu – a taste of the seaside or the countryside, perhaps – would work wonders.
The real star of the Sand le Mere on site experience though is the indoor pool. Free for guests, there's a baby pool and a good-sized main pool included. For us, we'd have preferred it to stay open a little longer (it closed at 5:30pm), but it's a great way to end a spot of day-tripping or a place to hide from the inclement British weather.
"Beautiful stretch of beach"
Elsewhere on site there are a couple of play areas for the kids, a crazy golf course, sensory room and an indoor archery centre that you can book.
Which brings us to the somewhat thorny issue of beach access. At the top end of Sand le Mere, about a 10 minute walk from our lodge, is hilly access to a beautiful stretch of beach. It really should be the location's main selling point and a must-visit for anyone staying on site. The problem is the cliffs are eroding at a rate which the local council deem dangerous and they've asked residents to instead take a short drive to nearby Withernsea beach.
Needless to say it's advice that is not heeded by everyone, including ourselves, who take the steep slope down to the beach anyway. But I'm certainly not going to say that's the right thing to do, so please check with reception for updates on this situation.
"On your doorstep"
The other big plus about Sand le Mere is, of course, the location. You don't need a guide to the wonders of the Yorkshire coast here, but it is all truly right there on your doorstep. We enjoyed one terrific excursion to The Deep in Hull, about half an hour away. It's a wonderful journey through the wonders of the seas – interactive, colourful and, at times, quite breathtaking. One ocean-sized tank is mesmerising, with swordfish, sharks and all manner of sea-dwellers inside. You could stare at it for hours. The quality of the restaurant means a whole day stay with a family is a must.
Yorkshire needs places like Sand le Mere to prosper and bring in new visitors to the county – and slowly and steadily the site is adapting to the changing demands of the modern holidaymaker. With a few more upgrades to the food offering and a solution to the beach access, it would surely lure plenty more to its impressive collection of lodges.
We stayed at Sand Le Mere on the East Yorkshire coast where a 4-night stay in a 2-bedroom lodge, arriving on 19 August, starts at £769 based on four people sharing.
01964 670403
sand-le-mere.co.uk