Leeds City College Pop-Up – Restaurant Review
Leeds City College is putting their hospitality and catering students in the good-eats-in-Leeds spotlight at the moment, by hosting a pop-up restaurant once a month. And after popping along myself for a meal with them, I can safely say that these young people are doing something incredibly good.
Situated in the Printworks Kitchen and Bar, the public are invited to book a table and experience the talents and skills that the students are picking up in and out of the kitchen. It's all about experience and education, but for the diner it's about an evening of great food, and great service.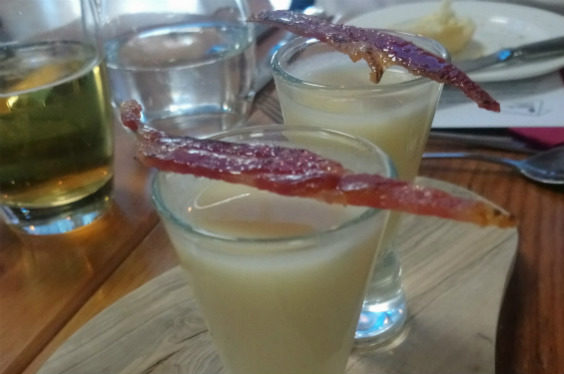 "Nicely welcomed"
We arrived at the Printworks at around 6:30pm, and we were taken care of right from the start. Nicely welcomed, led to our table, and asked if we'd like water and a drink whilst we checked out the menu. Politeness personified, and smiles aplenty. We ordered a couple of beers to sip whilst we took a look at the offering, and with a glance round the room we could see the place was full.
It didn't feel like we were in a more casual deli-café type of place. They'd created a restaurant ambience, nicely positioning tables and using good lighting. And we hoped that the food would match, with the easy-choice menu and its quirky titled dishes. Diners can have two courses for £12 or three for £15, and you have two options for each course. One option of starter and main being vegetarian.
My friend and I both went for the Bradford Fisheries starter. We both chose the Nice Bita' Lamb for our main courses too.  We'd come back to desserts later, if we had the room. 
Whilst we waited had a lot of subtle attention from our waiting team. Many of them brought our drinks, asked how we were… they balanced the right amount of interaction with leaving us to it. We felt very naturally taken care of, and if we didn't know that these guys were still learning the ropes we'd have been none the wiser. 
If this is how our waiting staff provide service now, I can only imaging where they'll be in five years' time.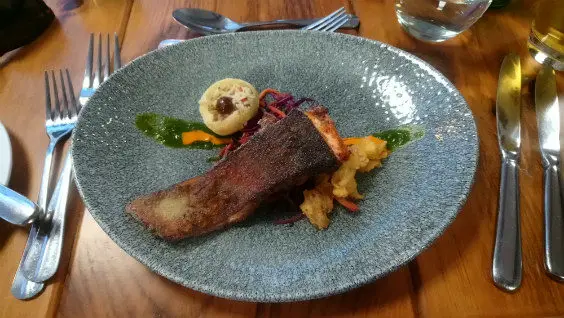 "Impressive presentation"
But it wasn't just about the excellent service. We were hungry and we were looking forward to seeing what the food was all about. Before the first course, we were presented with the Dales Pig Shot. A nice, warm amuse bouche, which combined celeriac and parsnip to form a mild taste. It came with candied pancetta to contrast it.  It was impressive in presentation, and it was a very nice way to kick off the food element of the evening.
The Bradford Fisheries starter came soon after, and the look and smell of the dish was wonderful. The plate is a variation of fish offerings, with an Indian theme running through them. We had Masala trout with Indian scraps. Whitby crab pani puri was also on the plate, complemented with taramind, cabbage, carrot and coriander.
And it was a big plate, which could have been a main course. Each element of the dish was nicely prepared, and had a very fresh taste. The masala trout had a nice level of spice, and there was a lightness to the crab. Two clean plates for us on that one.
The hospitality staff were again attentive between courses, and there was a noticeable pride beaming out of them throughout service. This rubbed off on the diners.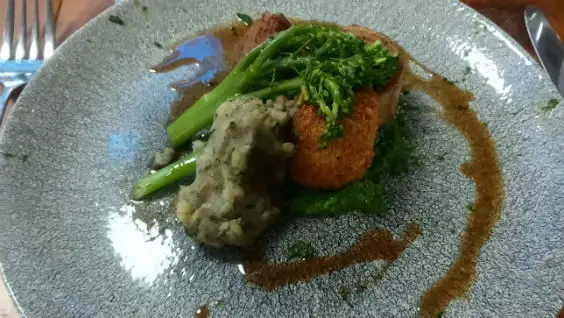 "The pièce de résistance"
Our main courses followed quickly, and once again the chefs had done something pretty special. A rolled lamb breast was served with watercress salsa verde. Accompanying that was a pressed Jersey royal potato and Esholt wild garlic deuxelle. Asparagus was substituted for broccoli. Now I'm not a massive Lamb lover, but tonight I was in awe of it. The breast was tender and very tasty, and the whole course was of a standard you'd find in some of Leeds' most prestigious restaurants. But the pièce de résistance was a spiced lamb croquette.
Something that I barely noticed on the menu, the taste of this and its soft-meets-crunch texture has me eulogising to my friend sat across from me in the hope he'd offer me his. He didn't. That was the only disappointment of the entire meal.
With the second course equally as impressive as the first, we had to go for dessert. And we chose both options here between us, sharing them out so we got to sample them both.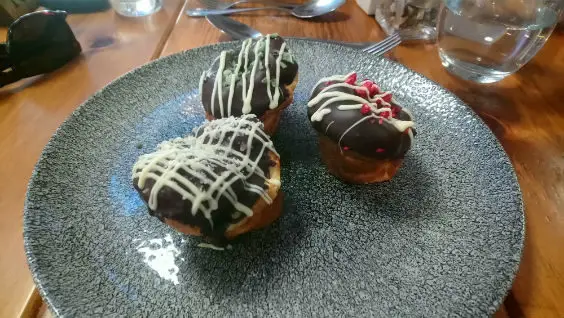 "A popular thing"
The Yorkshire pudding profiteroles sounded good, and the six champion parfait did too.  We had two very fresh plates served up, which again looked the business and we couldn't wait to tuck in.
The parfait came in six different flavours, and were delightful.  They beat the Yorkshire Pudding profiteroles in to second place quite easily, with these coming with raspberry, lemon and vanilla white and dark chocolate.  Both dishes were a lovely way to end a lovely meal though, and we finished our evening very impressed.
I had a chat with chef and tutor Fabrice Teston at the end of service, and he said: "We believe that in addition to teaching in the classroom, the students' contact with customers is absolutely vital for their development. They enjoy it and thrive during these sessions. The evening is usually run by our chef tutors, but once a month it's run by an external chef. We are planning to increase these events to three evenings a month from September. We've already contacted several chefs who are keen to work with us. They will be offering their time and experience for free, and we are very grateful for this. but they also know that in order to find the best staff, our department is the place to find them."
I can see the popularity of this event soaring. I'd think once word gets round there'll be a waiting list.
My friend and I said our thank yous to as many of the people who'd taken care of us as we could, because we'd had a special level of service and special level of food that pleasantly surprised us. 
It'll be worth heading back to the pop-up restaurant from Leeds City College's food and drink department once service resumes after the summer break.