Waterside Barn, Derbyshire – Review
By Rachel Howard
The idea of a staycation has never been more significant than in 2020. Where many of us usually enjoy spending a couple of weeks abroad, this year we're all having to think a little outside the box for our annual holidays or to celebrate a special occasion.
In recent years it has become de rigueur to spend milestone events somewhere away from home – be it a cocktails on a beach with the girls, Vegas for the guys or maybe even a cruise for a loved-up couple celebrating a special anniversary. But for those of us celebrating in 2020, we have a few Covid-related challenges to overcome, meaning it is time to look a little closer to home and scale things back a touch.
So, for my own milestone birthday (the big 4-0), I decide to throw away the original ideas of Ibiza, Edinburgh (and a thousand other big dreams…!) and take look at something completely different.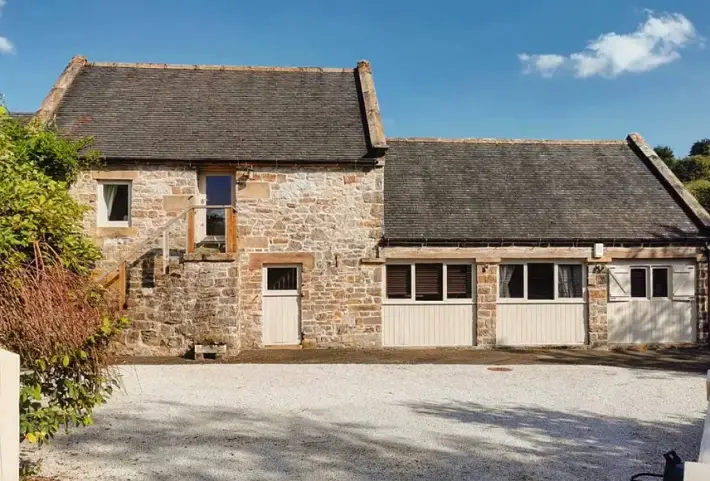 "Seriously luxurious"
My "something completely different" is Waterside Barn in the village of Bradbourne, near Ashbourne in Derbyshire. The grade ll listed property is one of four buildings that make up Bradbourne Mill – the oldest surviving water mill in Derbyshire. Nestled just off the main road, the location couldn't be more perfect – it is beautifully peaceful and surrounded by the stunning Peak District landscape, but only a few miles from all of the National Park's attractions, including Chatsworth House and Gardens, Stannage Edge and the Heights of Abraham.
The barn itself has been lovingly restored into a spectacular, and seriously luxurious, home away from home. Sleeping up to 10 people, there are four spacious bedrooms with private bathroom facilities; a state of the art kitchen-diner; a huge sitting room with vaulted ceiling, exposed beams and a log burner; and to top it all off, a luxury spa hot tub overlooking the beautiful gardens that melt seamlessly into the surrounding landscape. Should the weather play ball, there is even an array of garden furniture allowing al-fresco dining and socialising.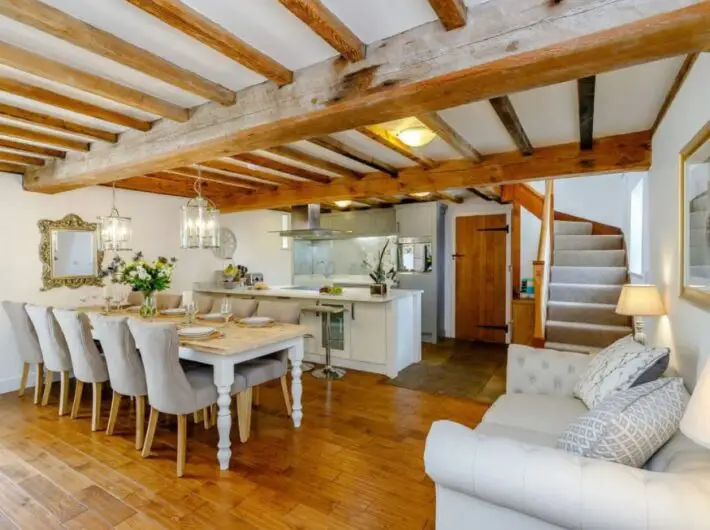 "Private chef"
The owners of Waterside Barn have done an exquisite job with the refurbishment of this property and have really thought of everything. From the classy, neutral decor to one of the best welcome hampers I have ever had the delight of receiving – this is, hands down, the best accommodation I could ever have hoped for. The manager went above and beyond to make this stay extra special – working in conjunction with my friends to arrange balloons, decorations and little treats here and there – it's touches like that that make this place really stand out from the crowd. Within minutes of arriving, all thoughts of beaches, parties and nights out are gone, and even as the rain pours down, we pop the champagne, leap into the hot tub and savour every moment.
For our first night, we decide on the easy option of takeaway pizzas for dinner, but for the second night – my actual birthday – we know we want something a little more special. Due to Covid, we know we'd feel more comfortable staying at the barn as opposed to heading out for a meal, so we opt for something none of us have ever tried before – hire in a private chef to cook a five-course meal just for us.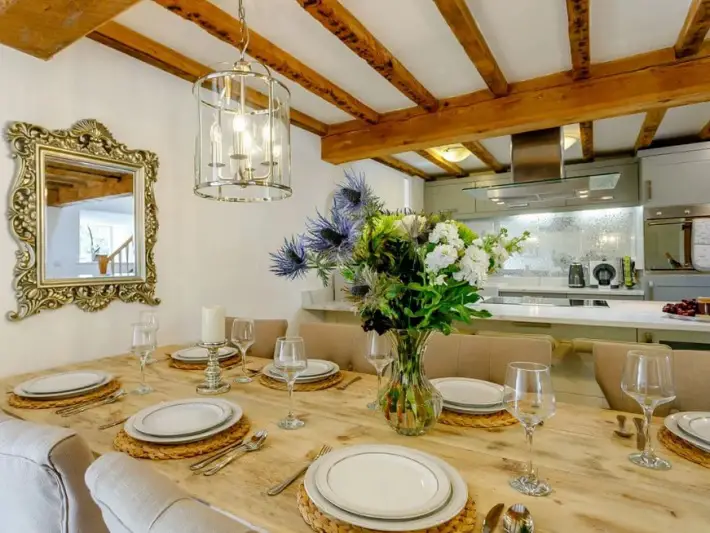 "Perfect excuse to stay in"
The owners of Waterside Barn recommend Mark Hadfield and wow, what a brilliant decision it is! Having pre-ordered our menu choices, Mark arrives with his assistant Michelle, and we are treated to an evening of top-class, Michelin-standard dining. All social-distancing rules are followed and health and hygiene standards are impeccable. Canapés are served to us in the sitting room, and are followed by a sit-down meal of goats cheese soufflé, a main course of fillet of beef and a dessert of dark chocolate delice. The menu is rounded off with a selection of petit fours. It provides me with the sort of special evening I craved for my birthday but thought was completely out of reach in 2020.
Of course, one of the things you can't guarantee with a staycation is the weather, and unfortunately my birthday weekend coincides with a storm that lasts most of the weekend. Under normal circumstances I'd have been disappointed that we couldn't get out and about and explore, but honestly, when you're staying at Waterside Barn, it just provides you with the perfect excuse to stay in, light the fire and enjoy the immaculate facilities on offer. By the time Sunday rolls around, we are all devastated to be leaving and are already hoping for a return visit.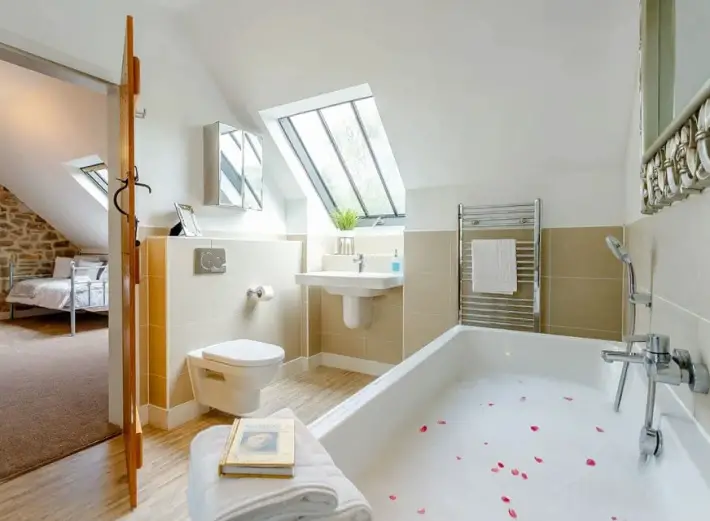 "Picture-perfect"
It's not often that somewhere really blows a whole group's socks off, but this place really did. I couldn't have asked for more for my big 4-0 – it will be remembered forever by all six of us. For anyone celebrating a special occasion, or just wanting to take a break from the stresses of 2020, you'll struggle to find anywhere better than Waterside Barn. It's a picture-perfect piece of the Peak District and fully deserves its place in my memory bank.
Pricing:
Low season week: from £1,819.00
High season week: from £2,535.00
Note: use of the hot tub for the duration of the stay is charged at £195
Due to the latest 'rule of six' restrictions, discounted rates are being offered to those who are groups of six or less/one household or support group for 2020 and the beginning of 2021.
bookings@thewatersidebarn.co.uk
www.watersidebarn.co.uk
Instagram: @watersidebarn
For information and contact details for private dining with Mark Hadfield: mark-hadfield.co.uk