A Road Trip Around Shropshire – Travel Review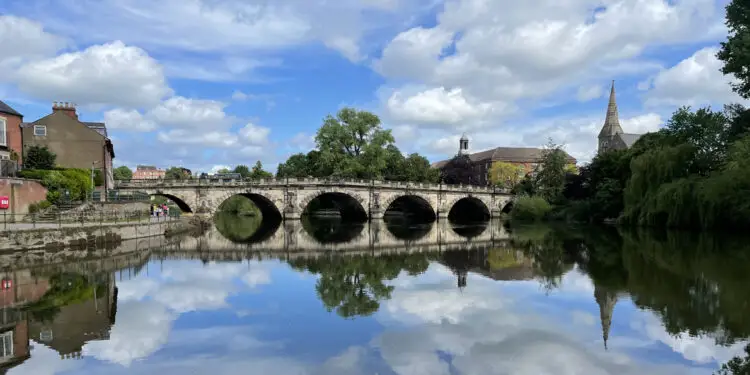 By Helen Johnston
I have to admit I wasn't entirely sure where Shropshire is until it came to actually driving there. I knew it was over to the left and down from Yorkshire and that Shrewsbury was somewhere in it, but that was about it.
So, it was time to put that right. With foreign travel looking increasingly precarious and hotspots like Devon and Cornwall already booked solid, Shropshire was calling. And what better way to see it than a mini road trip staying in three different locations in three different types of accommodation?
It was a mum-and-daughter getaway and we had four days to get a feel for the county which gave us Charles Darwin, war poet Wilfred Owen, actor Greg Davies, and golfer Ian Woosnam. Not to mention the fact that Daniel Craig's dad lives there.
Shropshire is indeed to the far west of England, the entire length of one side bordering on to Wales. Our first night's stay was very close to this border, glamping just outside Ellesmere, and we drove in and out of Wales on our way there.
"Quintessential English countryside"
We stayed in a wooden pod in Archers Meadow at Birch Hill Farm campsite and could see the blue-grey hue of the Welsh mountains in the distance. The sun had been shining all day and the pod had the pleasant smell of warm wood when we entered. With its curved wooden ceiling it reminded me of an upside-down boat. This being glamping it had all mod cons – electricity, hot water, even WiFi.
The amazing view to the front of the pod was of quintessential English countryside, gently rolling green fields, enormous leafy trees and a chorus of bird song. It brought to mind a line from a poem about "those blue-remembered hills", which I looked up and discovered was from 'A Shropshire Lad XL' by A.E. Housman. The view was so relaxing that after an evening stroll round Ellesmere, we gave up on the idea of calling in at a pub and bought a bottle of Pimms to enjoy back at the pod as the sun went down.
The campsite is run by Ian and Janet Kelly and is a perfect get-away-from-it-all escape. Ian is from Barnsley and had a career in the Army before settling in Shropshire. Remarkably, when he searched his family history he discovered he had ancestors who lived in Ellesmere 200 years ago and he is now a bell ringer in the church where they were baptised and married.
The area around Ellesmere has nine meres and is sometimes dubbed Shropshire's lake district although Ian said that meres are more like "Ice Age puddles", shallower than the lakes found in Cumbria. As well as checking out The Mere in Ellesmere we also walked alongside the Llangollen Canal which has attracted the likes of Hollywood star Harrison Ford, who sailed a narrowboat along it with his wife Calista Flockhart in 2004.
On our way to Ellesmere we called in for lunch at Fordhall Farm, near Market Drayton, the first community-owned farm in England. Charlotte Hollins had just graduated from university and her brother Ben had just left sixth form in 2004 when they took on the biggest fight of their lives – saving the farm that had been in their family for generations.
Their dad Arthur was in his late 80s by then (Charlotte was born when he was 67) so the siblings decided to try selling community shares in the farm. By some miracle, the pair managed to raise over £800,000 in less than six months by selling £50 not-for-profit shares to people from all over the world.
"It was incredible really and we're so glad we did it. Ben is now a tenant farmer here so we still have the family connection, but the farm is owned and used by the community," said Charlotte.
"Community spirit"
Schoolchildren visit, there's a bountiful veg garden tended by adults with learning difficulties, pigs rolling happily in muck, and nature trails named after Charlotte, Ben and Arthur. These encourage visitors who might not be used to the countryside to venture further away from the car park than they might otherwise do. There's also a cafe and a farm shop so the connection between what's grown on the land and what appears on our plates is made obvious.
Community spirit seems to feature strongly in Shropshire life and Charlotte's passion for Fordhall is matched by that of Sue Elllis for Whittington Castle, between Ellesmere and Oswestry, which is also a community-run venture. Sue is the castle manager and she brings its history to life with a warmth that shows her obvious affection for the place.
Among the legends associated with the castle are Dick Whittington, of course, whose coat of arms bears an uncanny resemblance to that of Fulk Fitzwarin, whose family held the lordship of the castle for 11 generations from 1204 to 1420. They also had land in Yorkshire and there are many similarities between Fulk and Robin Hood (who Sheffield claims as its own), such as the fact that both were outlawed by King John.
It's small and photogenic and has plenty of green space for children to run around. Its moat is home to two swans, Lady Beatrice and Sir Tom, who welcomed their first cygnet into the world the day we visited. Lady B was just plain Beatrice to begin with and had another mate called Benedict, but then he went AWOL and another male flew in.
Sue said: "We asked the community to come up with a name for the new male and the favourite was Sir Tom, so we upgraded Beatrice to Lady."
The castle café has its own claim to fame, selling delightful pastries made by Adam Cleal, who was a semi-finalist on Bake Off: The Professionals in 2019. I can testify that his blueberry and lemon croissants are the best I've tasted.
Adam is the pastry chef at a patisserie in Oswestry, the border town which passed between England and Wales over the centuries. Although now firmly in England there is still a Welsh Shop in the indoor market. There are still Welsh names too, such as Cae-Glas Park where annual events are held, such as the hot air balloon carnival which this year will be held on August 21-22.
The town was busy with shoppers when we visited and plenty of people were enjoying the sun at pavement cafes. We ate at the award-winning Fat Rabbit which has a completely plant-based menu. The past year's Covid restrictions produced one positive for owner Linda Clark, who set about creating a garden seating area out back when customers weren't allowed indoors. This sun trap was the perfect place to eat our tasty vegan sausage sandwiches and sip on our colourfully cool fruit smoothies and Linda is planning to extend it further. Fine food and drink is a speciality of Shropshire and Stonehouse Brewery at nearby Weston has received awards for its gin and makes cider using apples from its own orchard.
Then it was time to head south for Ludlow and a night at The Feathers Hotel, which began life in 1619 as a house built for lawyer Rees Jones from Pembrokeshire. His initials can still be seen imprinted on the iron lock of the front door. It became a hotel in 1670 and is a bit of a Tardis with the top floors stretching on either side above shops. It was described as the "most handsome inn in the world" by travel writer and author Jan Morris in the New York Times in 1983.
"Packed with independent shops"
It takes its name from the Prince of Wales' feathers and they are carved into the gable ends. There's also a wooden balcony where politicians would make speeches in the run up to elections. The Feathers closed in 2018 but was rescued by Crest Hotels and underwent a £2.7m restoration with a grand opening planned for April 2020…which of course couldn't happen because of the pandemic. Another notable event in the hotel's long history.
It's right in the centre of town and is one of 500 listed buildings in Ludlow, which is a remarkable number for a small town of 11,000 people. Ludlow Castle was home to several Princes of Wales including Arthur and his wife Catherine of Aragon in 1502. Some years after his death she married his brother Henry VIII. The castle is both family and dog-friendly with several spiral-staircased towers to climb for views of the surrounding countryside and River Teme.
Ludlow is packed with independent shops offering something different to the usual high street chains, such as Bodenhams which has been run by the same family since 1860. There's also a lively outdoor market selling everything from garlic graters to soap.
Between Ludlow and Shrewsbury is Carding Mill Valley and the Long Mynd, a beautiful part of the Shropshire Hills owned by the National Trust and the perfect spot for a picnic. It's popular with day-trippers from the Midlands and no wonder. A shallow babbling stream runs along the valley, ideal for children to paddle in, and there are plenty of walks to explore on both level and steeper ground. It's a wonderful place to relax and enjoy nature. There is also a tearoom and, more importantly, toilets.
And so to Shrewsbury, Shropshire's county town, and the birthplace of Charles Darwin. It's also home to Shrewsbury School which counts Michael Palin (born in Sheffield) as one of its past pupils. It was one of the buildings pointed out to us by the captain of the Sabrina cruise boat, a 45-minute informative trip along the loop of the River Severn that curves round the town. Sabrina was the Roman name for the Severn, which is the longest river in the UK at 220 miles.
There are nine bridges in the loop, including the English (top picture) and Welsh bridges. If you're struggling to tell them apart just remember the Welsh bridge has five arches, the same number of letters as Welsh, and the English bridge has seven arches. The boat's captain cleared up a debate about how to pronounce Shrewsbury, saying those who live within the loop say Shrows, and those outside say Shrews.
He also pointed out a new home being built close to the riverbank designed for sustainable living and with a price tag of £4m, which drew a few gasps from the passengers. I wonder how sustainable the mortgage will be.
Our home for the night might not have cost millions but it had a wealth of history inside its sturdy walls. It was Wesley House tucked away on picturesque Fish Street, right in the heart of Shrewsbury and within easy walking distance of all the sights. It's owned by Jo Henshaw who spent two years restoring it, uncovering such treasures as a cast iron range in the kitchen hidden behind a stud wall. The kitchen, which also has all mod cons for self-catering, features eye-catching photos of Shrewsbury taken by Jo and encased in a glass splashback running the length of the units.
"Beautiful green space"
Wesley House is a listed building dating back to the 1500s and John Wesley, the founder of Methodism, preached there on his first visit to Shrewsbury in March 1761. After Jo had restored the house, a Catholic priest offered to bless it and the symbol 20+C+M+B+19 is chalked above the front door. The letters are for Caspar, Melchior and Balthazar, the names of the Three Kings, and the numbers are for the year. The letters also stand for the Latin blessing Christus Mansionem Benedicat, meaning May Christ Bless This House.
There are plenty of independent shops in Shrewsbury as well as an excellent two-floor indoor market. The sunny weather had us heading for The Quarry Park, next to the river, which is a beautiful green space featuring tree-lined promenades and a colourful sunken garden. Close by is the unusual circular St Chad's Church where Darwin was baptised, while close to the English Bridge is The Abbey which has a memorial sculpture to Wilfred Owen in its grounds. At lunchtime we happened to be passing Palmer's, a not-for-profit café at the Central Baptist Church, which proved to be another great example of community spirit.
To paraphrase A.E. Housman, Shropshire's roads proved to be "the happy highways" leading us to ancient castles, beautiful countryside, market towns and friendly people. And now I know exactly where Shropshire is on the map.
For details of the accommodation:
Archers Meadow, Ellesmere archersmeadow.co.uk
The Feathers Hotel, Ludlow feathersatludlow.co.uk
Wesley House, Shrewsbury stayinshrewsbury.com
Attractions and eating:
Fat Rabbit, Oswestry fatrabbitvegan.com
Fordhall Farm fordhallfarm.com
Sabrina boat trip sabrinaboat.co.uk
Whittington Castle whittingtoncastle.co.uk
General information on Shropshire: visitshropshire.co.uk