City of Bath – Travel Review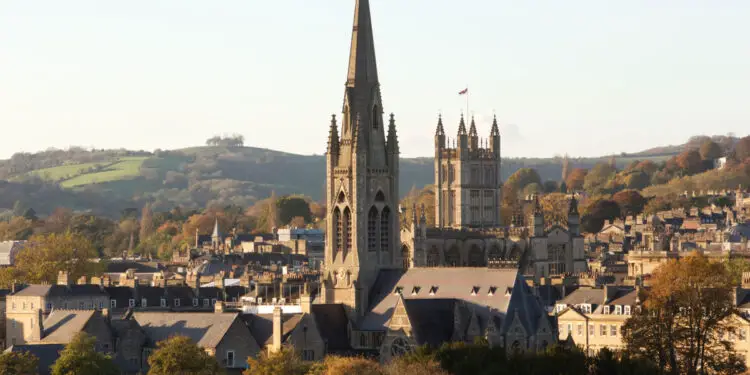 By Helen Johnston
Apparently, Queen Victoria refused to set foot in Bath for her entire 64-year reign because of a disparaging remark someone made about her appearance when she opened a park there as an 11-year-old princess. Well more fool her.
With its mellow limestone buildings and quaint cobbled streets Bath is a clear contender for Britain's most beautiful city. What's more it has been classified as a UNESCO World Heritage site, and no wonder because it's soaked in history.
Aside from the obvious attraction of the Roman Baths, which gave the city its name, there are an array of Georgian homes, Italianate bridges over the winding River Avon, and ornately decorated buildings on every street. Even the modern shopping precinct remains in keeping with the general air of gentility.
"Georgian houses on both sides of a wide boulevard"
One of the best ways to see these treasures is on the open-top bus tours which run regularly from stops close to the Abbey. We did two, first was the skyline tour which took us out of Bath and up into the rolling Somerset hills from where it's possible to look back and see the city nestled in the valley below.
We passed huge houses with lots of glass to make the most of the stunning views, the kind of places you expect to see featured on Grand Designs. Other more historic buildings include the prestigious fee-paying King Edward's School, established in 1552 and which boasts comedian Bill Bailey among its former pupils; and the former Bathwick Hill hexagaonal toll house. There are also two National Trust properties, Prior Park landscape gardens and Claverton Down woodland play area.
We were also taken to Great Pulteney Street, which boasts long lines of symmetrical Georgian houses on both sides of a wide boulevard. Running off it are short side streets, one with only two houses on, which were left unfinished when the Napoleonic wars caused funding for house building to dry up. Many a costume drama has been filmed here. Pulteney Bridge is at one end and is one of only four bridges in the world to have shops all along both sides.
Our second tour took us round the compact city centre revealing the grandeur of addresses like the stunning sweep of the 18th century Royal Crescent, 30 terraced houses now divided into flats. They were built and designed by John Wood the Younger and a quick internet search reveals they go for upwards of £500,000. They overlook Royal Victoria Park, the aforementioned park opened by the princess in 1830. Her sulky dislike of Bath led to her describing it as "odious". The hostility wasn't mutual however, and there are several statues of Queen Victoria around the city.
It's no cheap matter keeping Bath's properties looking that lovely creamy colour either. Our tour guide revealed it costs £10-15,000 to clean a Georgian terrace, a delicate process to avoid ruining the limestone.
And so, to the ancient Baths. You have to hand it to the Romans, they were way ahead of their time. They were doing spa treatments well before the phrase 'me time' had been invented. After discovering the naturally occurring bubbling hot springs they built a large and impressive spa complex in AD75 which they named Aquae Sulis (waters of the goddess Sulis). They used lead to line the pipes channelling the water into lead-lined baths. The grand bath is still there in all its glory, only minus its roof. This means the water is exposed to direct sunlight and causes it to turn green with algae.
"Considered a sacred place"
The excellent audio guide included with the entrance ticket is vital to get the most out of this fascinating place which includes streets 2,000 years old, a frigidarium (cold) and a laconium (intense dry heat). The idea was to move through a series of warm rooms before plunging into a cold pool, much like modern spas.
The Baths were also considered a sacred place and there was a temple built to worship Sulis. All of this is brought to life by screens showing actors in Roman garb going about their business and through carefully laid out artefacts. The complex is below modern street level and gets a bit pongy at times but it's worth it to see the natural waters bubbling and steaming as they surface.
It's impossible to write about Bath without mentioning Jane Austen, and there is a centre dedicated to her on Queen Square, another stop on the bus tour. Although she set two of her novels in Bath – Northanger Abbey and Persuasion – she didn't actually like living in the city. Word has it that she found the people shallow and obsessed with status and when she moved away with her family to Clifton, she wrote to her sister Cassandra she expressed happiness at having 'escaped'.
Another famous resident was Nelson, albeit only for a period of months. There is a commemorative plaque at 2, Pierrepoint Street, where he lodged after returning in 1781 from fighting in the American War of Independence. He was a frequent visitor afterwards and his sisters all lived in Bath at various times.
If you fancy something a bit more risqué to look at, try the Grayson Perry exhibition at the Holburne Museum, which runs until January 3, 2021. Sub-titled The Pre-Therapy Years it is a funny and fascinating look at the transvestite artist's ceramics made between 1982 and 1994, complete with lewd images and swear words. I had no idea his art had helped to fund his love of motorcycles. This small museum is located in Sydney Gardens, the oldest park in Bath and once frequented by Austen. It proved a lovely autumnal walk with all the trees ablaze in red and gold.
There are multiple cute cafes to stop for a bite to eat and a cuppa, including Sally Lunn's in one of Bath's oldest houses dating back to a mind-boggling 1482 when Edward IV was on the throne. There was a long queue, so we wandered on and found a quaint place which had Bath buns on the menu, which are a sugary version of a fruit teacake and very nice too. Of course, when you order these you're immediately marked out as a northerner with your flat-vowelled pronunciation of bath. The tea shop staff referred to them as Barth buns, but we won't hold that against them.
"Strict protocols in place"
We stayed at the Abbey Hotel on North Parade, which as its name suggests is just a stone's throw from the abbey and an excellent base for sightseeing and shopping. A bowl of fresh fruit in the room was a lovely welcome and there were delicious-smelling fig and vanilla toiletries in the bathroom from the local Natural Spa Factory. Dinner was in the hotel restaurant called the Abbey Hotel Kitchen which offers a range of mouth-watering dishes using local produce. The chips accompanying my fish were possibly the best I've ever tasted. Portions were generous and the staff were attentive and friendly, treating us to a board of sweet treats to finish.
Taking a city break during a pandemic might seem an unlikely option, but everywhere we visited had strict protocols in place for mask-wearing, hand-sanitising and social distancing. I didn't feel at risk at any point and in fact, getting away was a welcome mental health boost after months of working from home. It showed the adaptability and resilience of everyone working in tourism and hospitality to find a way to carry on through challenging times, which is to be applauded. I bet even Queen Victoria would acknowledge that, begrudgingly.
Abbey Hotel Bath
North Parade
Bed & breakfast from £149; Dinner, bed & breakfast from £209. (Prices per room, per night)
www.abbeyhotelbath.co.uk
Holburne Museum
Great Pulteney Street
www.holburne.org
Tickets adults £11, concessions £5.50
City Sightseeing Bath bus tours
www.city-sightseeing.com
Tickets from £17
Details of all Bath's attractions can be found on the city's official tourism site www.vistbath.co.uk
images: Visit Bath