Jeepers Creepers (2001) – Film Review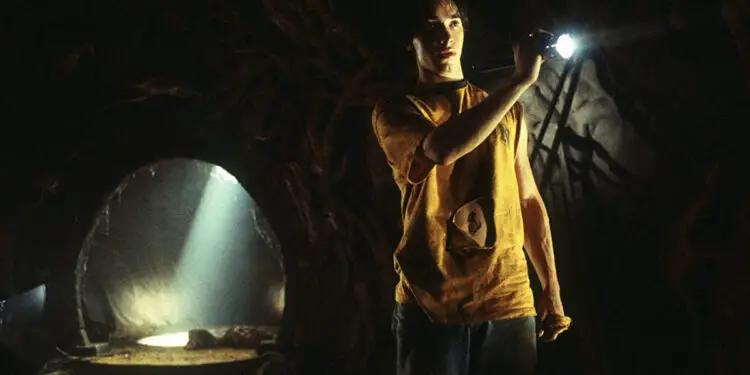 Director: Victor Salva
Cast: Justin Long, Gina Philips, Patricia Belcher
Certificate: 15
by Sarah Morgan
Since the dawn of cinematic time, has there ever been a period when horror movies weren't popular and didn't make money?
I can't think of one. Every generation has had its fair share of iconic ghouls, and the turn-of-the-millennium youngsters are no exception.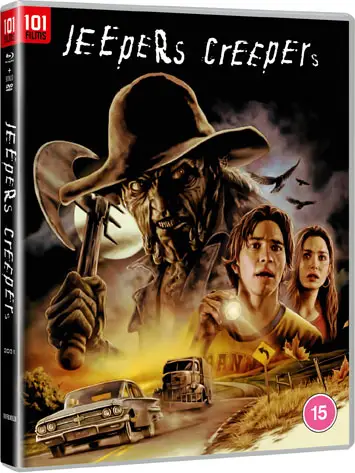 The likes of Ginger Snaps, Final Destination, Scream, The Blair Witch Project, Urban Legend and their numerous sequels were all released around that time. Jeepers Creepers can be added to that list too.
When we first meet siblings Tricia and Derry, they're travelling home for spring break from college. They've opted not to take the fastest highway route, but a more scenic journey using rural backroads – which turns out to be a huge mistake.
"Highly watchable"
En route they're run off the road by a huge, scary-looking truck. Once back on track, they pass the same truck, whose driver appears to be dumping bodies down a mysterious tunnel. Later, they decide to go back and check out the site, in case anyone can be saved – another mistake.
Derry discovers the tunnel leads to an underground dungeon where the dead and barely alive have been stored; some have been sewn together, or had body parts removed in a rather rudimentary fashion.
Tricia and Derry then try to raise the alarm, little realising the driver – known as The Creeper – has been keeping a very close eye on them and he would like to add one of them to his grisly menagerie…
Controversial writer-director Victor Salva has crafted a decent if not very original story – there are shades of several different movies here, including Steven Spielberg's Duel – but it's highly watchable and you can imagine teens lapping up the scares on its cinema release.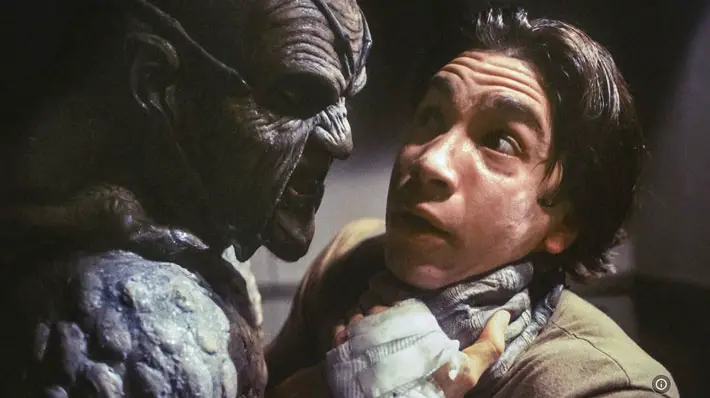 "Excellent special features"
Gina Phillips and Justin Long are suitably wide-eyed and photogenic as the siblings, while Jonathan Breck is genuinely menacing as The Creeper. However, the character hasn't had the longevity of, say, Michael Myers or Freddy Krueger. I must admit I preferred the idea of him before it's revealed he's some sort of superhuman mutant – it's far scarier when it appears he's simply an unhinged man.
Despite being largely forgettable, the film was successful enough to receive two sequels. The disc is worth checking out, however, due to some excellent interviews among the special features, including one with Salva, who discusses how instrumental Godfather director Francis Ford Coppola was in getting the movie made.
As for the title, it comes from the song victims hear shortly before The Creeper strikes – you'll never hear it in the same way again.
Special Features
• Commentary with writer/director Victor Salva and stars Gina Philips and Justin Long
• Commentary with director Victor Salva
• Jeepers Creepers: Then and Now
• From Critters to Creepers – An Interview with producer Barry Opper
• The Town Psychic – An Interview with actress Patricia Belcher
• Deleted & Extended Scenes
• Photo Gallery
• Theatrical Trailer
• Bonus DVD: Behind the Peepers – The Making of Jeepers Creepers
Jeepers Creepers is released on Blu-ray by 101 Films, £12