Ryanair Flight Canceled — What to Do?
Are you stranded after your Ryanair flight was canceled? You're not alone. Hundreds of passengers have to deal with last-minute cancellations, leaving them wondering what to do and why flights get delayed or canceled.
In this article, we'll consider your rights when your Ryanair flight is canceled, the most common flight delay reasons, as well as an overview of the services and compensation that you might be entitled to. If your Ryanair flight has been canceled, read on to find out what you should do.
Why did this happen? Why do flights get delayed or canceled?
Flights get canceled, and Ryanair is no exception in this case. There are many reasons for delayed flights and why cancellations can happen.
Flights may be canceled due to inclement weather, mechanical issues, air traffic control restrictions, staff shortages, labor disputes and other operational problems.
In some cases, a flight may be canceled due to an airline's financial concerns. Air carriers often cancel flights when demand is low in order to avoid operating at a loss.
Cancellations can also occur due to airline scheduling changes or passenger health issues.
Is it possible to get compensation and how to do it?
Starting from February 17, 2005, the Flight Compensation Regulation (EC No 261/2004) stipulates compensation and help to passengers in the event of flight cancellations, long delays, or denied boarding.
There are certain requirements stated in the Regulation that your Ryanair flight needs to qualify for you to be entitled to compensation:
● There was a flight disruption (flight delay of over 3 hours, cancellation or overbooking);
● Your flight was from or within the EU or arrived in the EU and was operated by an EU airline;
● The flight disruption was the airline's fault.
However, if the reasons for delayed flights were due to factors outside the airline's control, getting compensation is unlikely. Such factors include adverse weather conditions, medical emergencies, airport employee strikes, airplane manufacturing flaws, political instability, etc.
In case of flight cancellation, the airline has to provide you with the following options:
● full reimbursement of your ticket within 7 days of the date of the flight AND, in case you have a connecting flight, a return flight to the airport of departure as soon as possible;
● alternative flight to your final destination at the earliest opportunity;
● alternative flight at a later date of your choice, if seats are available.
Moreover, you can claim additional compensation of up to €600 for the delayed flight.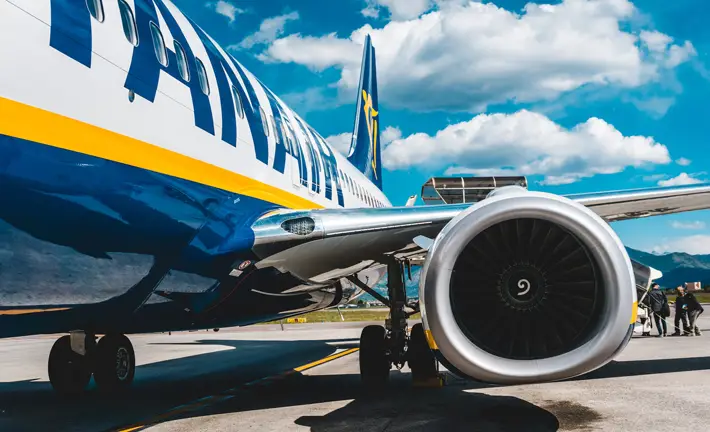 What is the possible amount of compensation?
Your Ryanair compensation for a delayed flight depends on your flight distance — the longer the flight, the bigger the compensation:
● For flights up to 1500 km, the compensation is €250;
● For flights from 1500 km to 3500 km, the compensation is €400;
● For flights that are longer than 3500 km, the compensation is €600.
However, they are not covered for flight disruptions caused by extraordinary circumstances that are not an airline's fault.
What you should do to avoid such a situation
To minimize the risks of dealing with flight cancellations, it's important to:
● Check the airline's recent performance and previous flight delays and cancellation stats;
● Check for any expected disruptions from academic or religious holidays, as well as school and university holidays;
● Choose airlines with low cancellation rates;
● Purchase a refundable ticket. If you purchase a refundable ticket, you will have the option to receive a full or partial refund if your flight does get canceled;
● Select nonstop flights. Nonstop flights have a lower risk of cancellation compared to those with stops;
● Check the status of your flight before heading to the airport;
● Purchase travel insurance. Many airlines offer travel insurance that covers canceled flights.
To conclude
If your Ryanair flight has been canceled, the first thing to do is to contact Ryanair's customer service team. Make sure to have all the relevant details on hand, such as your reservation number and flight details, so that they can help you resolve the situation quickly.
Additionally, it may be possible to rebook the flight or seek a refund from Ryanair, so be sure to inquire about these options. Finally, check the terms and conditions of your ticket and research Ryanair's passenger regulations for more information about your rights and what you can do in the event of a canceled flight.