Rio de Janeiro, Brazil – Travel Review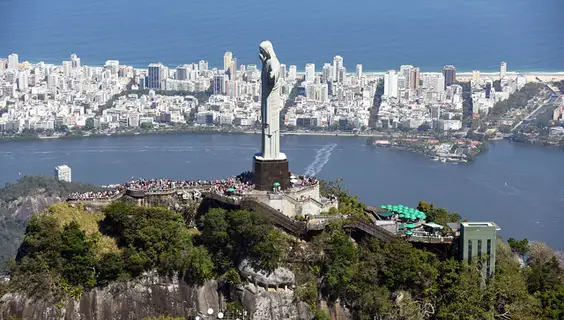 Brazil, land of carnival and samba, beaches and mountains, rainforest and waterfalls. This huge country takes up around half of South America and is home to nearly 210 million people. Helen Johnston explored three of its diverse locations. Here first, is Rio de Janeiro…
Strolling along the sands of Copacabana beach it was inevitable that Barry Manilow's voice would worm its way into my head, singing of showgirl Lola and how Copacabana is the hottest spot north of Havana… hang on, how can Rio de Janeiro be north of Havana?
A quick Google search reveals that Barry wasn't singing about the beach at all but about a nightclub in New York called Copacabana. What a let-down.
Whatever, I'm going to carry on believing that "music and passion are always the fashion" at the real Copacabana, a name synonymous with Brazil's most famous city.
This lovely crescent-shaped stretch of white sand is 2.5 miles long, dotted with football nets, volleyball courts, gym equipment, sand sculptures, cafés and souvenir sellers. With the temperature in the high 20Cs even during winter, this is an outdoor city and people gravitate naturally to the beach in their free time.
Women of all ages and sizes stroll un-selfconsciously in bikinis, barefoot boys play football, cyclists and scooter riders zip along the cycle lane, alongside the wide wavy-tiled pavement where families stroll and walk their dogs.
It's possible to wander all the way along to Ipanema beach, another place made famous by a song. 'The Girl from Ipanema' is a Brazilian bossa nova melody with music by Antonio Carlo Jobim, an international hit in the mid-'60s.
"Awe-inspiring"
Towering over all this beach life on top of Corcovado mountain is Rio's world-famous landmark, Christ the Redeemer, his arms outstretched in blessing. This glorious statue made of concrete and sandstone is, quite simply, stunning. It has become the very symbol of Rio, welcoming locals and visitors alike, and has been designated quite rightly as one of the New Seven Wonders of the World.
Brazil has the world's largest Catholic population and this art deco figure of Jesus is also a symbol of that faith. It was designed by French sculptor Paul Landowski and built by Brazilian engineer Heitor da Silva Costa. It took nine years to complete and opened in 1931. Its dimensions are awe-inspiring, 30m (98ft) high and standing on a pedestal of 8m (28ft), its arms stretching 28m (92ft) wide. Despite being nearly 90 years old, it looks surprisingly modern and untouched by time.
The best time to go for photos is in the morning and when we arrived the statue was shining white against a clear blue sky, views stretching for miles in all directions with just a hint of haze hanging over the scattering of islands drifting off to the horizon.
It was fairly busy with tourists but not unbearably so. Clusters of people were taking hundreds of photos, all vying for the best Instagram pose. The trend seemed to be to stand with arms outstretched mimicking the statue. Being at the feet of Jesus wasn't a reverential experience, it was more joyous. Everyone was smiling and laughing, happy that they'd made it here to this special place, making for a genuinely uplifting experience. The Catholic in me felt compelled to light a candle or make a donation but the tiny chapel housed in the pedestal was shut for repair, so I bought something in the gift shop instead. Conscience clear.
"Explore"
It's possible to get to Christ the Redeemer by car but that would be missing out on the fun of the Trem do Corcovado. The red open-air train chugs its way steadily up the 710m (2329) granite mountain, passing through the Tijuca National Park tropical rain forest with a stop for anyone who wants to get off and explore.
Back at the foot of the mountain we caught a bus downtown to the port area where the thought-provoking Museu do Amanhá (Museum of Tomorrow) awaits. We tend to think of museums as places for learning about what's gone before, but this science museum takes the opposite approach, looking at what lies ahead for our planet. And it's not the most reassuring vision.
It warns that in the next 30 years we will need to increase our food production by 60% to be able to feed an anticipated 10 billion people, which requires sustainability, innovation and diversity. It was good to see the University of Leeds name-checked among institutions taking part in research to cultivate a bean resistant to climate change and higher temperatures. Beans are a food staple in South American countries, so this is seen as an urgent issue.
Other innovative solutions include vertical farms and attempts to grow crops in deserts and other inhospitable environments. So, the future isn't totally bleak and some of the exhibition rooms were uplifting, particularly one which highlighted the way human beings support and care for each other through family and community.
The futuristic museum building is a wonder to behold, all glass and white walls making for a light and airy space, with a great view of the port beyond. The downtown area of Rio is a busy, bustling place with lots of buses, street stalls and plenty of people crowding the pavements.
"Superb"
July is mid-winter in Brazil so we weren't surprised to wake up to cloud and rain one day and we were lucky enough to be able to shelter in the rustic charm of the new Posi Italian restaurant in upmarket Ipanema, a short underground journey from Copacabana.
It's run by Michelin star chef Elia Schramm who is executive chef of Posi and six other restaurants. The food is superb. I would have been happy just filling up on the focaccia bread starter, the best I've ever tasted. Elia has travelled all over the world finding inspiration for his menus but isn't pretentious about the restaurant experience. "We don't use tablecloths and we have the olive oil jar on the table rather than in a special container…we want people to just enjoy the food in a comfortable place." Judging by the packed restaurant full of chat and laughter, it's a winning formula.
From the lemon-yellow décor of the restaurant it was back out into grey skies and the discovery that low cloud had descended over the summit of Sugar Loaf mountain, meaning we didn't get to enjoy the views which are said to rival those from Corcovado.
Instead we got a view of hundreds of Cariocas (as people from Rio are known) queueing to get tickets to the Copa America final. Brazil had beaten Argentina in the semi-final and excitement was building for the final against Peru in Rio's Maracaña stadium (which Brazil won). The stadium could host over 100,000 spectators in the days before seating became compulsory but can still hold nearly 79,000 now. Its size is testament to Brazil's love of the beautiful game.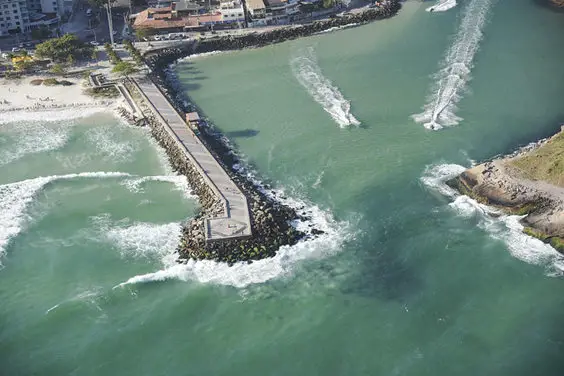 "City of contrasts"
Rio is a city of contrasts, from the wealthy to the very poor. On our arrival we hit morning rush hour on the taxi ride in from the airport and coffee sellers were walking between the slow-moving cars on the multi-lane highway, flasks balanced on trays hung round their necks. Our driver said when unemployment is high people take to the streets to make a living. She pointed out the infamous favelas clinging to the hillsides and explained how they are an important part of Rio's history. "When slaves escaped they ran to the hills, so when they got their freedom they built their homes there."
Although Rio is no longer Brazil's capital, it is still the city most people would name first. As we left its bustle and beaches behind, I'd still got Barry Manilow's ear worm in my head. Those lyrics really should be south of Havana.
As part of Helen's Brazilian itinerary she also visited Salvador and Foz do Iguaçu
With thanks to Rio tourist information office for access to attractions. For more information on places to visit go to riotur.rio.