Lewis Capaldi – Live Review – Scarborough Open Air Theatre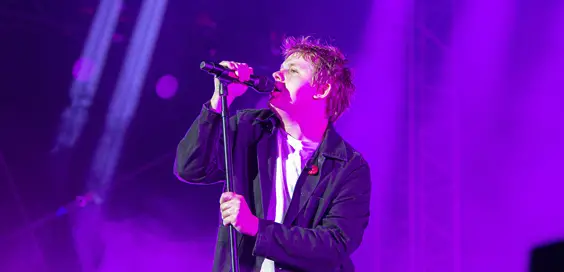 By Rachel Howard, July 2019
A couple of years ago, if someone had said Lewis Capaldi to you, the chances are you wouldn't have known who they were talking about. But fast forward a mere 18 months and his name is familiar to just about everyone who knows contemporary music, and perhaps even those who don't. Not only is he rapidly becoming one of the UK's most successful singer-songwriters, he's also making a name for himself as something of a comedian – if you follow him on social media you'll know what I mean.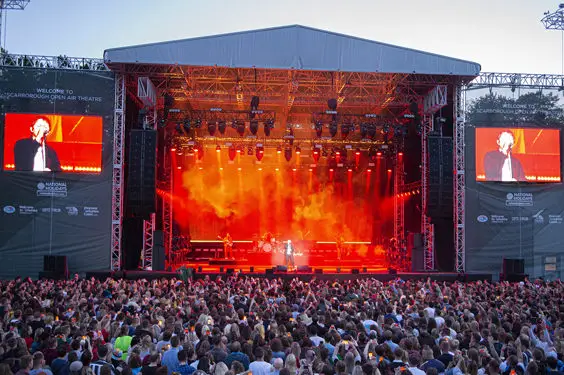 This mix of musical talent and hilarious banter is what makes me jump at the chance of watching the Scottish star live at Scarborough Open Air Theatre. It's my first time at the venue and I have to say I'm mightily impressed. It has welcomed a plethora of big names over the last few years – Britney Spears, Nile Rodgers and Chic, Noel Gallagher, Lionel Richie and Little Mix to name just a few – but I wasn't prepared for what an intimate yet grand venue it is. The amphitheatre-style seating provides everyone with a fantastic view, while the standing area is so close to the stage you can almost climb up there and join in (not quite, but nearly!).
It's no surprise to hear that tonight's concert is a sell out – all 8,000 tickets were snapped up so quickly that a limited number of extra standing tickets were released soon after. And as we walk into the venue, it's clear that those 8,000 people are up for one heck of a good night. The atmosphere is buzzing. It's a beautiful summer's evening and everyone is excited to get their first glimpse of the man himself.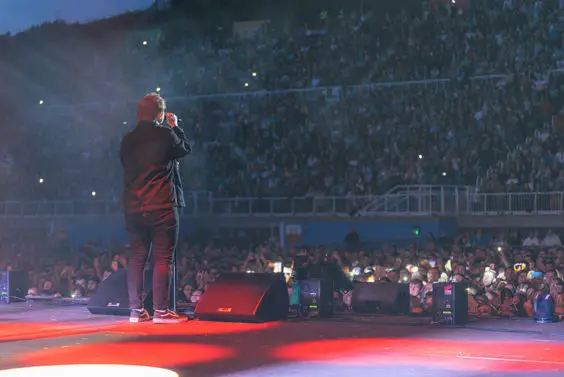 "A party atmosphere"
As he takes to the stage to open with 'Grace', confetti canons go off, laser lights beam everywhere and we settle in for a fantastic night of entertainment. What follows are the highlights from his debut album, Divinely Uninspired to a Hellish Extent. Well known tracks including 'Hold Me While You Wait' get the audience singing along so loudly you can feel the emotion within the crowd, while tracks 'Hollywood' and 'Maybe' up the tempo and provide a party atmosphere, despite the heart-breaking lyrics and often sad sentiments behind the songs.
As I mentioned earlier, the straight-talking Scotsman is becoming very well known for his dry sense of humour, and this side of him is on full display in between the songs. However, a little word of warning: his language isn't the cleanest so it might not be something to recommend you to take the kids to, but as long as you aren't easily offended, you'll find yourself in hysterics. Especially so when the call of nature comes and, after some encouragement from the audience, he runs backstage, taking the microphone with him. I feel like we all know Lewis Capaldi a little more intimately after that!
The gig continues with tracks including 'Bruises', 'Headspace' and 'Fade' and all too quickly we know it must be the finale when we hear the opening chords of 'Someone You Loved'. His most well-known track was at the top of the UK charts for seven weeks, reached the top of the Irish Singles Charts and is currently storming up the US Billboard Hot 100. It feels like every single audience member is in full voice as Lewis and his brilliant band completely bring the house down. More confetti, more lasers, everyone on their feet… it's a special moment and one I won't forget in a hurry.
Lewis Capaldi may only be a 22-year-old Glaswegian lad, but he is taking the music world by storm and I can't see it being long before he's selling out arenas and bringing out even more record-breaking albums. So now is the time to see this stellar musician in slightly more intimate venues and really appreciate the talent on display. I can guarantee you won't be disappointed.
images: Cuffe & Taylor