Copenhagen, Denmark – Travel Review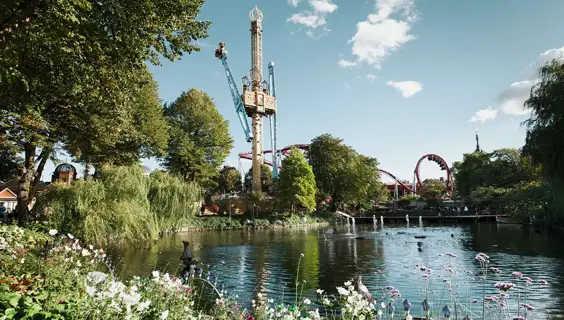 Copenhagen, Denmark
Travel Review
by Helen Johnston
They know a lot about being happy in Copenhagen and it seems to come down to two things, bikes and beer. Probably.
Denmark's capital is home to the Happiness Research Institute so it's hardly surprising the nation is in the top three of the happiest countries in the world. Copenhagen is also home to the Carlsberg Museum, celebrating one of Denmark's most famous exports, and has a lot of bikes. There's got to be a connection.
It's not as though everyone is walking round grinning, but there is definitely an air of quiet contentment to the place. And the quietness is significant because, while citizens of other big European cities (our own Yorkshire ones included) live with the constant noise of traffic, Copenhageners enjoy the hum of electric vehicles and the occasional ping of a bike bell.
It also means they're breathing in cleaner air and not choking on exhaust fumes. Bikes aren't seen as the preserve of lycra-clad sporty types hunched over racing handlebars either. Copenhagen bikes are solid sit-up-and-beg types ridden by men in suits and women in floaty dresses.
"Perfect for a long weekend"
When we emerged from Central Station, there were hundreds of bikes parked up, some stacked in two-storey bike racks. Apparently Copenhagen has more bikes than people and some 35,000 commuters use them to cross the Queen Louise Bridge at rush hour.
Cycle lanes are wide enough to ride two-abreast and of course Copenhagen has the advantage of being flat, but everyone seems so much healthier (and happier) on two wheels.
Copenhagen is less than two hours away by plane and its compact size makes it perfect for a long weekend getaway.
The hop-on, hop-off city sightseeing buses are ideal for getting a feel for the place and for stopping off at various attractions like The Little Mermaid perched on her rock at Langelinje Pier. The mermaid was the subject of a fairy tale by Danish author Hans Christian Andersen and the statue was commissioned by the brewer Carl Jacobsen, whose father J.C. Jacobsen founded the Carlsberg brewery.
"Different attitude"
The buses go to the Carlsberg Museum in the Vesterbro area of Copenhagen, where the admission ticket entitles visitors to a free beer along with the chance to find out more about the success of the brewery which claims to produce 'probably the best beer in the world'. The museum boasts the world's largest collection of bottled beers, more than 22,000 so far and counting.
It can be expensive going out for a beer in Copenhagen, which is probably why they have a different attitude to booze than we have. It was around £9 a pint in the amusement park Tivoli Gardens, but a bit cheaper elsewhere.
Tivoli Gardens (pictured, top) is celebrating its 175th anniversary this year and remains a huge family attraction. We took advantage of the reduced entrance fee after 7pm on Friday night and enjoyed the added bonus of a concert by Danish rock band Mew, singing in English. I'd never heard of them but can confirm I am now officially a fan and still have the chorus to Zookeeper's Boy in my head. The park has plenty of rides to go on as well as stalls, shops and the lovely gardens to wander in. Tivoli Food Hall is next door and offers a mouthwatering range of different dishes, from Danish smørrebrød open sandwiches to burritos and Chinese.
"Outdoor attractions"
One of the most picturesque areas of the city is Nyhavn with its colourful 17th century waterfront and canal, from where you can pick up a boat tour. This is a wonderful place to sit and eat, drink, enjoy conversation and watch the world go by. It seemed the epitome of Danish "hygge", with blankets provided on the backs of chairs to wrap up in if the weather turns cool.
Luckily for us the late summer sun remained warm enough to explore outdoor attractions like the beautiful Frederiksburg Gardens where families were out picnicking and enjoying a free Sunday afternoon rock 'n roll concert, dancing and singing along in the sunshine.
Denmark has a constitutional monarchy like our own, although more low key, and it's possible to book a guided tour round the Amalienborg and Christiansborg palaces. If you just want a quick peek it's possible to go into the royal chapel at Christiansborg without booking. From there it's a short walk to the Danish War Museum which charts the country's military history from early seafaring days, complete with naval costumes to dress up in, to present conflicts. There is a thought-provoking re-creation of the life of a soldier in Afghanistan, giving visitors the chance to see for themselves the harsh reality of life on the front line.
"Carbon neutral"
Copenhagen also offers a quality shopping experience, with many high-end designer shops as well as more affordable options. Strøget is Europe's longest pedestrianised shopping street and includes department store Illum which has a rooftop café providing a grand view of the city. Strolling round the city it's easy to be tempted by the smell of hotdogs from one of the stalls selling this Danish classic.
It's not just bikes that make Copenhagen environmentally-friendly either, there is also a progressive policy on plastic. For instance, plastic drinking glasses in Tivoli Gardens can be recycled in machines which give you 5DKK back. The tap water is fine to drink so visitors can also reduce waste by refilling a drinks container rather than buying bottled water. The city is aiming to be carbon neutral by 2025, while Denmark aims to be fossil-fuel free by 2050.
So, the people are friendly, the city is clean, and the food is good. If Carlsberg made a city break, Copenhagen would be it.
If you're planning on doing a lot of sightseeing then the Copenhagen Card is a good option. The 48-hour price is 569DKK for adults and 289DKK for children. This gives free admission to 86 museums and attractions, free transport by train, bus and metro and discounts on sightseeing tours and restaurants. More details at copenhagencard.com.
The journey from the airport to the city centre is about 12 minutes by train. We stayed at The Annex hostel, part of the Absalon Hotel which is only five minutes walk from Central Station. The bedrooms are clean and comfortable, there is a lounge with bar, recreation facilities such as table football and a pool table, and the use of a kitchen. Twin room with communal bathroom from 495DKK, or with private bathroom from 1000DKK. An excellent self-service breakfast is available for an extra charge. More details at annexcopenhagen.dk.
Hop-on Hop-off City Sightseeing buses operate three tours from a stop close to the tourist information office on Vesterbrogade. More details at city-sightseeing.com.
Copenhagen Tourist Information visitcopenhagen.dk.