No 1 The Mansions by Mansley, London – Hotel Review
When heading down to London with the family on the two-and-a-half-hour train journey from Yorkshire, it's exciting.  Talking about the things you're going to see, the food you're going to eat, and the photos you're going to take.
But where is the best place to call home for two nights for two adults and a nine-year-old who've got plenty to cram in?
Well, let me introduce you to No 1 The Mansions by Mansley. And in our case, a two bedroomed apartment, with space, grace and a level of service that's something else.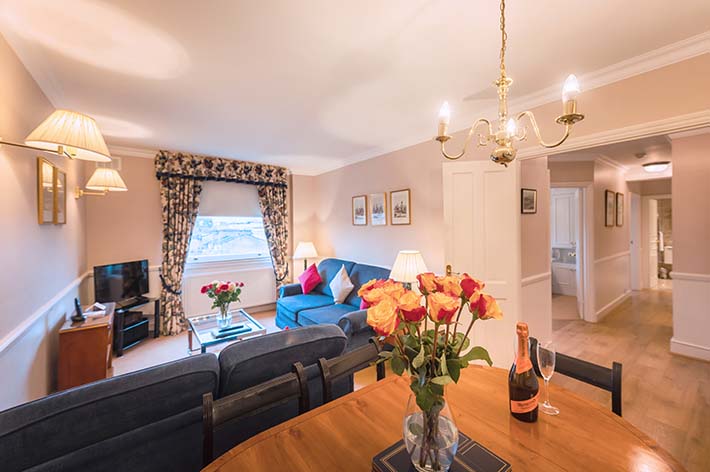 "Clean and well presented"
When you arrive in London as an outsider, the rest of the city is carrying on around you at a rapid pace. Navigating the smoke with your bags and cases can boggle your mind. But we were heading to a spot that minimised all that. One of the huge perks about staying in No 1 The Mansions by Mansley is its location. As soon as you're off the train, you're on to the Piccadilly Line. You jump off at Earls Court Station, turn right, and with a three minute walk down the road, you're there. You find it quickly first time, and even faster once you've got your bearings and you're coming and going as you please. And being in such a good spot, it meant that we were always pretty close to where we wanted to go – or we could at least be there in good time.
Arriving outside, the exterior the apartment block looked very nice. Traditional, and in keeping with the rest of the street. Its look is very reminiscent of watching a 60s London film, there's no modernisation at the front which is great, and it's clean and well presented. A huge, heavy black door was beckoning us in.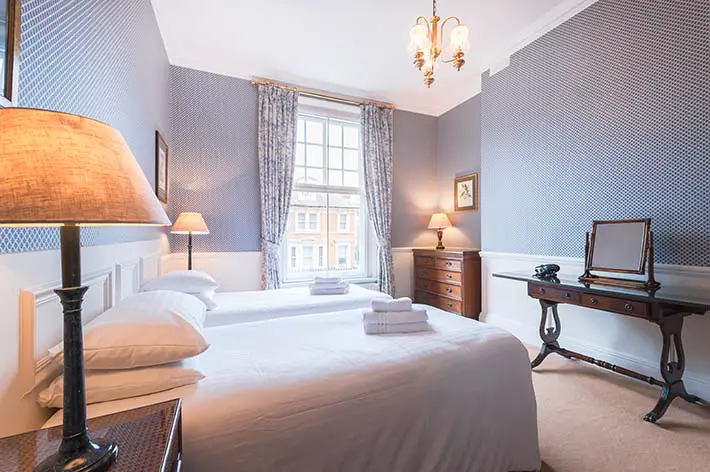 "The warmest of genuine welcomes"
We arrived for our 4pm check-in a little early. Not a problem though, and we received the warmest of genuine welcomes from Roy, the Guest Services Manager. He donned his mask, but not before we received a smile from him from 8 metres away, behind a perspex screen. There couldn't be a more pleasant first impression of the service we were going to receive for the duration of our stay.
We'd already completed most of our check-in online. I simply had to sign a form, and Roy escorted us up to our accomodation. And this is where we knew we'd come to the right place. As we walked in to the apartment, we were a bit taken aback at the size of it.
Room two was more than a spacious serviced apartment. I'd equate it to a decent sized piece of living accommodation. Go left in the hallway, and we're in large living room, with two sofas, a television, and a roomy space with a dining table for six people.
We head down the hall with a kitchen, and two double bedrooms off to the left. A large bathroom was waiting for us at the end, with a toilet and a shower room opposite the bedrooms.  We were absolutely delighted with No 1 The Mansions by Mansley, and looked forward to our two nights here.
There wasn't much time for settling in just yet though. It was 4pm on day one of our visit to London, we needed food and wanted to stretch our legs after all those hours on trains and tubes.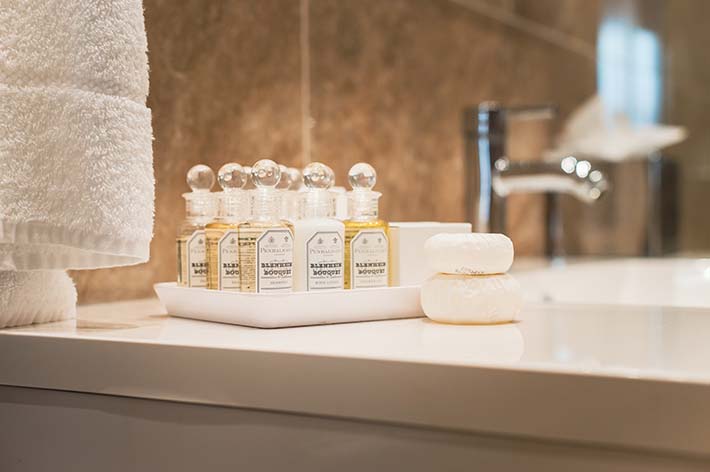 "Abundance of eateries"
We headed back out of the apartment, and after a quick Google decided to take a 20 minute wander to Kensington High Street. In doing so, we passed the abundance of eateries, bars, bistros and coffee shops chains just on our doorstep, making a mental note of a few spots that we might come in handy over the next few days.
The walk to the High Street was nice. You get the London feel wherever you are in the capital, and on this route its very pleasant.  We were in the upbeat hubbub of everything before we knew it, stopping off for a juice before deciding what we'd like for dinner.  We passed Gordon Ramsey's Street Burger (me turning down a burger is a big thing, you know!), and a number of chains. So, we decided to eat at a lovely, small, independent Italian restaurant called Pino instead, just two minutes away from the Design Museum.
It was a nice way to say hello to London for the first time since we went into and came out of lockdown. And as we strolled back towards Earls Court, we were looking forward to getting back to our roomy, spacious apartment.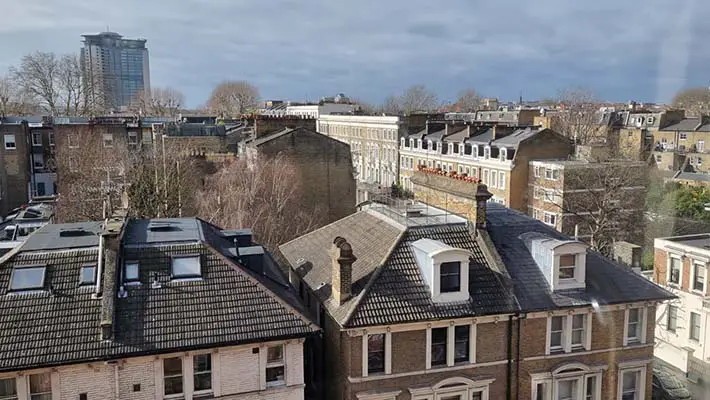 "Traditional, elegant"
We were home for 8.30pm, and this is where the two bedroomed apartment proved to be a brilliant fit for us.  Our 9 year old needed to sleep. My partner wanted to chill, and I fancied a bit of TV. So, the little one jumped in her own bed without being disturbed. My other half could lay on our bed in our bedroom, and I could flick through the channels. You can't do this in a compact hotel room. And it's a benefit that you really appreciate when the family returns to unwind the way they want to.
It was here when I took time to check out the living room a bit more closely.  The set up is one of a traditional, elegant home. I like that, but I did feel there could be a little touch of love given to the place here and there.  The sofas, although comfy are a little old, and we didn't have cushions. And it's difficult to keep a light coloured carpet immaculate for a long period of time.
But everything else…there was plenty to write home about. We felt more than comfortable, and we were very happy in our surroundings. We were high enough in the building to see over the rooftops across the road, and it made for pleasant viewing. My partner joined me in the lounge for a final cuppa, before we headed to bed. Ready for a very busy day two.
"In the thick of the Earls Court action"
We woke up to our 8.30am alarm, in a very comfortable bed.  The curtains completely blocked out the light, and we had one of those snugglesome duvets that made you want to stay in bed a lot longer than necessary.
Both bedrooms are nice, and carry a comfortable feel of home. Dressing gowns, disposable slippers and a hairdryer are supplied. There's an iron and ironing board too (an absolute must for me). And, although the wardrobes might be a little on the old side, they're a good size. For those of you who want to look your best, there's a nice mirror and small dressing table in the corner of one of the rooms.
You're not in a rush to leave the bedroom, and that's a sure sign of comfort.  If you're a light sleeper, you might need earplugs (which are always a good idea when you're staying overnight in London anyway). Being in the thick of the Earls Court action, there's 24 hour goings on around No 1 The Mansions by Mansley. The perspex in front of each window in the apartment certainly keeps the heat in the room, but unfortunately doesn't keep all the noise out. We slept well, but your night might be temporarily interrupted by car horns, and loud voices from outside.
"Felt like everything was just a stones throw away"
Our second day was our main day in the capital. We were booked into the Rainforest Cafe for lunch to entertain our young girl. Then we were at the theatre at 2.30pm, before wanting to go and see the Queen before dark.
We left our apartment, and headed to Earls Court Station. We were on a tube in no time, and in Leicester Square not long after that. The thing that keeps entering my mind is that the location of No 1 The Mansions. It felt like everything was just a stones throw away.  You're not in an area where you have to plan a complex route to get to places. And that affords you the luxury of knowing that wherever you are, it's easy to get home. There's huge peace of mind that comes with that sort of thing, especially when you're with the kids.
Because of that we were able to take our time making our way through the city. We were in plenty of time for our lunch, and we could go to watch Back to the Future at the Adelphi without wondering what we'd have time for after. After the show, we decided to walk the 1.2 miles from the theatre to Buckingham Palace, which the little one loved. And we could saunter back to experience Covent Garden by night. All the while, we didn't have to worry about getting home.
Knowing how easy it was to get back to our apartment made our trip to London much more relaxed than it maybe could have been.
"Spotlessly clean"
We were back in our apartment for about 9.30pm, after spending a good 10 hours out and about. After saying goodnight to our girl, we had a quick drink on the sofa before retiring to our room. We slept very well on our second night and again, we didn't want to get up, such was the levels of comfort in our bed.
Our check-out time was 10am, so we had to shower, pack, and have a spot of breakfast. The bathrooms are fantastic.  They're modern, with large glossy tiled walls and floors and huge mirrors. And the lighting is kind too – which make freshening up, taking a bath or a shower a really nice experience.  It's worth noting that the bath is huge too. Longer than the one you've probably got at home, and more than just a token tub that's been squeezed in for the sake of it.  The Papoutsanis range of toiletries added an extra lovely touch.
No 1 The Mansions provided us with a small complimentary breakfast basket with a few croissants, breakfast bars, porridge and Weetabix – along with a tea tray and a carton of fresh milk in the fridge. All very much appreciated, and lovingly consumed during our stay.
The kitchen is lovely too. Compact, but pretty modern with everything you need including crockery, cups and glasses, and everything spotlessly clean. There's washing up liquid, cloths, a washing machine and a microwave. We could easily have taken the kitchen for granted, but it's another room that's reinforces this homely feeling.
"Give me a home from home like this every time"
And after we'd packed, and eaten it was time to depart.  We had five hours until our train. And, once again, because of the location we had no qualms leaving our luggage at No 1 The Mansions by Mansley, knowing we could go and have lunch at Sketch, followed by a toy buying spree at Hamley's. And we'd have plenty of time to go back for our bags before heading to King Cross.
We'd had a lovely stay at No 1 The Mansions by Mansley. Being here gave us a number of benefits. Benefits such as the space we wouldn't get in a hotel. The proximity to Earls Court Station was a huge positive for us.  And guest Services Manager Roy, and the rest of the team really are a credit to the accommodation.
But what made it for me was that we could enjoy London without worrying about the route home. And we knew that when it was time to head back, getting there was easy. And it was a clean, comfy and spacious. What more could you ask for?
A stay in the capital? Give me a home from home like this every time.
No 1 The Mansions by Mansley, 219 Earls Ct Rd, London SW5 9BN
Rates for a two bedroom apartment at No 1 The Mansions by Mansley start at £250 per night. With 24 apartments available, there are a wide-range of options that appeal to couples and families that sleep between two and eight people.
Fantastic central location – close to the best sights and attractions. It's a three minute walk to Earls Court Underground, with a direct connection to London Heathrow Airport. Cafés, restaurants, bars, supermarkets, pharmacies and healthcare centres are between two and five minutes away by foot.
020 7016 5900
www.bymansley.com