Three Coins in the Fountain (1954) – Film Review
Director: Jean Negulesco
Cast: Clifton Webb, Dorothy McGuire, Jean Peters
Certificate: U
By Sarah Morgan
Mention the title of this 1954 movie and what springs to mind? Well, if you're of a certain age, probably the hit tune performed on the soundtrack by an uncredited Frank Sinatra. It won an Oscar for Best Song and has gone on to become a popular standard, while the film itself is almost forgotten.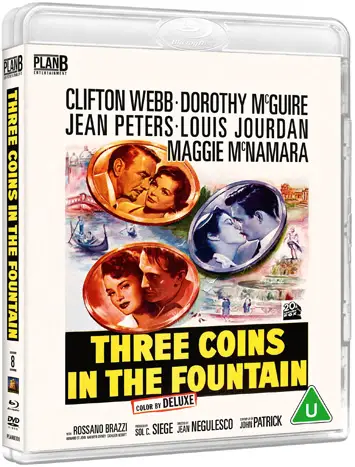 Originally titled 'We Believe in Love' and based on a novel by John H Secondari, it follows the romantic fortunes of three American women living in Rome.
"Catches the eye"
The eldest of them, Dorothy McGuire's Frances, has been the secretary of famed reclusive novelist John Frederick Shadwell (Clifton Webb) for 15 years and is madly in love with him. He, meanwhile, appears to see her only as a friend and employee.
Frances shares an apartment with Jean Peters' Anita, who works at the Italian office of a large US corporation. She's handed in her notice and is preparing to return home, claiming she's getting married. However, the truth is she's fallen for local interpreter Giorgio (Rossano Brazzi), but thinks there's no future in the relationship because their employer forbids it.
Into Frances and Anita's world comes Maria, played by Maggie McNamara. Fresh faced and a little naive, she catches the eye of aristocrat Prince Dino (Louis Jourdan), and sets out to tame his womanising ways.
Let's face it, this is not sophisticated storytelling and neither is it groundbreaking stuff. Indeed, William Wyler's Roman Holiday, released the previous year, tells a far better and more moving love story set in the Eternal City than any of the three featured here.
"Looks delightful"
However, anyone looking for a pleasant diversion should give Three Coins in the Fountain a try. The performances – particularly by the three principal females and Brazzi – are a delight.
Sadly the same cannot be said about Webb, who is so good in the classic film noir Laura, but seems ill at ease as a romantic lead. Why Frances would fall for his 'charms' is a mystery.
The film itself looks delightful. The sun is always shining, showing off Rome's sights beautifully – if the local tourist board didn't pay director Jean Negulesco to paint the place in such a favourable light, it really should have done. If you've never been there you'll want to go after seeing the movie. And if you've been, it will make you want to go again.
Special Features:
• High-Definition Transfer
• UK Blu-ray Premiere
• Stills Gallery
• Optional English SDH Subtitles for the Main Feature
Three Coins in the Fountain is released on Blu-ray by Signal One Entertainment, £14.99