Hyatt Regency London Stratford – Hotel Review
By Roger Crow, July 2022
Back in 2001, I stayed in a hotel in Edmonton, Canada, located in the biggest shopping mall in the world. The hostelry was as epic as its surroundings.
I'm happily reminded of those few days when Mrs C and I enjoy 24 hours at The Hyatt Regency in London Stratford.
It's one of the newest hostelries in the company's empire, and rather impressive to say the least.
As I'm the first journo to review it, I can't wait to get started; the fact they can fit us in at all during one of the busiest weekends of the year is remarkable.
The world seems to have descended on the capital for assorted gigs; thankfully we arrive around noon on Saturday when it's still relatively quiet.
"Spotless"
In case you didn't know it, Westfield Stratford City is the largest urban shopping and leisure destination in Europe. And jaw-dropping it is too, with everything you can imagine on the doorstep, including bowling alley, casino, 17-screen cinema and more than 250 shops and 65 restaurants.
There's little wonder our hotel is used as a base for nearby gigs at the Olympic Park.
Having said hello to the desk clerk in the lobby, we're whisked to the third floor and reception, where (the frankly magnificent) Dina does a terrific job of checking us in and showing us around.
A few minutes later, we're at our room on the fourth floor, which has key card access as standard and all the mod cons you need for a great stay.
The first, most important thing for any weary traveller is a kettle and tea-making facilities. A small selection of teas, coffees in filter pouches, sugars and UHT milk in sachets mean we can depressurise while getting ready for a night on the town.
The spotless, elegant bathroom is terrific, again with everything you need. One thing you won't need is a degree in how to turn the shower on; it's a joy to use. There's the overhead waterfall version (always a delight), and the standard shower head, should you want to pretend to be Ferris Bueller staging a concert.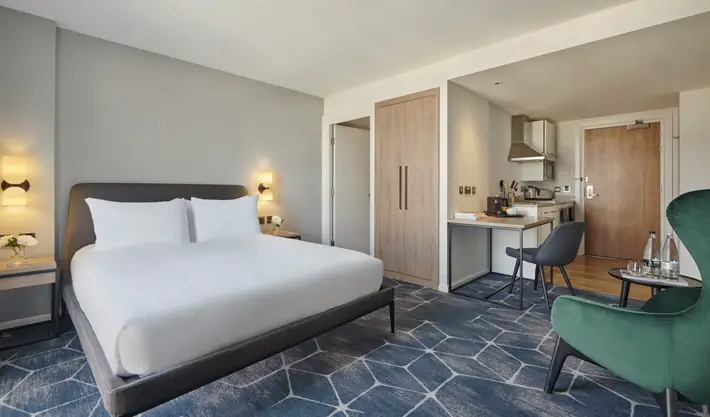 "Masterpiece of design"
Next question: is there an iron/ironing board? At first glance, no, but then you realise the vertical shelf unit by the mini fridge is actually a slender cupboard which contains said items and a hair dryer. It's a masterpiece of design.
"It's a good little iron and ironing board," remarks Rachel, as she sets to work removing creases from our posh attire. "How many times do you get an iron out in a hotel room and there's marks on it that ruin your clothes?"
Nothing like that here thankfully.
In the hours that follow, everyone and their mother seems to be in town for the local Red Hot Chili Peppers gig, and check-in is heaving. We head to the nearest Tube about 10 minute-walk away for the trek across town to the Albert Hall.
By the time we return, 'Planet Westfield' is filled with post-party revellers, but our floor and room is blissfully quiet. We enjoy another cuppa and soak up Macca's performance at Glastonbury on the phenomenal flat screen TV (with a huge range of global channels). However, the bed is so comfortable it's not long before we're asleep.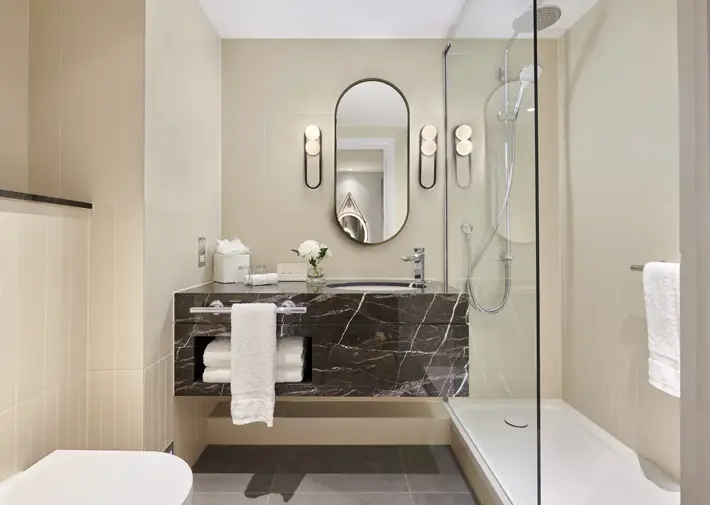 "Splendid"
Naturally there's air con, which is obviously worth programming to ensure a good night, and handily there's a bathroom nightlight to ensure you can nip to the loo without disturbing a partner. Oh, and the splendid headboard has adjustable reading lights built in, which is a great design.
And yes, there are robes and slippers as you'd expect from a high end hotel.
As the place is pretty full, we've been advised to head to breakfast early as it can get pretty busy. And I'm glad we do. It's a splendid affair in a beautifully crafted dining room. (The elegant lights are well worth a few photos if you're a design geek like me).
Once you've given your room number at the desk, it's a case of help yourself. And the array of goodies on offer is marvellous. Orange, apple and cranberry juices, and coffee, naturally along with assorted teas. There's fruit compotes, which are deliciously fresh; assorted mueslis and all the favourite cereals, along with a toaster and assorted breads.
If you fancy a full English, there's back bacon, beans, sausages, beautiful scrambled eggs – though you can have an omelette freshly made. Plus, flat mushrooms; hash browns, croissants. There's also gorgeous cheeses and jams to go with your toast.
You definitely get your money's worth, and the service is excellent. The Breakfast Manager does a terrific job of ensuring we have everything we need.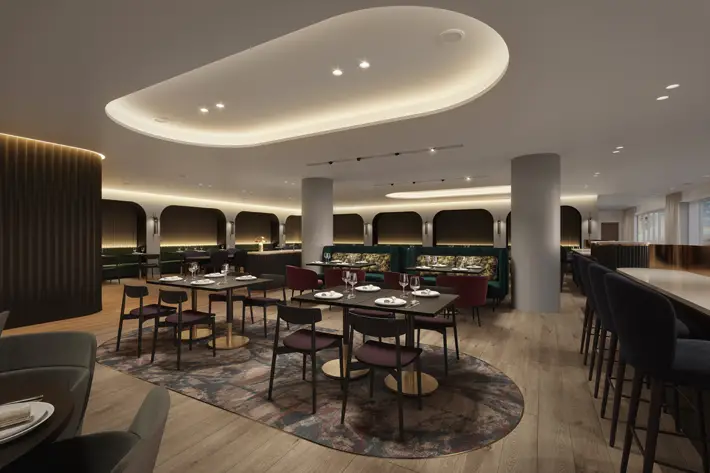 "Beautifully prepared"
If there's a couple of issues it's that the air con is too cold and the gap between the single tables is pretty tight. Yes, you can shuffle the table a little, but it's a precarious act getting to your seat along the banquette, especially if there's a table-full of goodies ready to transfer their sauce to your clothes. Minor issues, because on the whole breakfast is a fabulous experience, and if like us you've skipped dinner the night before, it's all the more welcome.
Obviously the joy of early breakfast is making the most of the surrounding area before check-out.
We head to Abbey Road for a few selfies on THAT crossing, and enjoy a magical mystery tour round Baker Street trying to find 221B, before heading back for dinner on site.
The lure of the very first barbecue on The Elondi Restaurant, Bar and Terrace is too good to resist. There are still a few cosmetic touches being finished on the exterior, but the hotel is 99% complete, and the dinner does not disappoint. We have a terrific time sampling burgers – vegan and beef. I have the latter, which is exquisite with blue cheese. They are beautifully prepared, while sides of duck fat chips, salad and the most incredible maple-glazed salmon, which melts in the mouth. (Seriously, it may be the best salmon I've tasted).
Best of all, I get to rattle on about my love of Italian food with Head Chef Alessansro Femino. And what he doesn't know about cooking isn't worth knowing. The guy needs to write a book, or have his own show, but if you'll excuse the obvious, he has far too much on his plate.
"State-of-the-art"
We intend to stay for an hour, but have such a good time, that turns into two.
Eleven years ago when we stayed in a Hyatt in Orlando, the fact staff were ready with towels for rain-lashed residents as they came in off the street was a terrific touch we've never forgotten.
It's that level of customer care which has been present at every one of their assorted hostelries I've stayed in over the years, and it's good to see that's not changed at their fabulous new hotel in one of the busiest areas on Earth.
If I hadn't walked miles over the weekend, I would happily have tried out the top floor 24-hour fitness centre. There's state-of-the-art equipment, from treadmills and weights to yoga mats and balls, along with fresh towels and watercoolers.
It's with a heavy heart that we head to King's Cross. However, next time we're in town, especially for a gig in the London Stratford area, we'd have no hesitation in staying again.
An outstanding hotel with engaging staff who are a credit to the industry.
Hyatt Regency London Stratford, 10a Chestnut Plaza, Montfichet Road, Westfield Stratford City, London, E20 1GL
A stay at Hyatt Regency London Stratford costs from £190 per room, including breakfast
0203 301 5680
hyatt.com