Courtyard by Marriott Inverness Airport – Hotel Review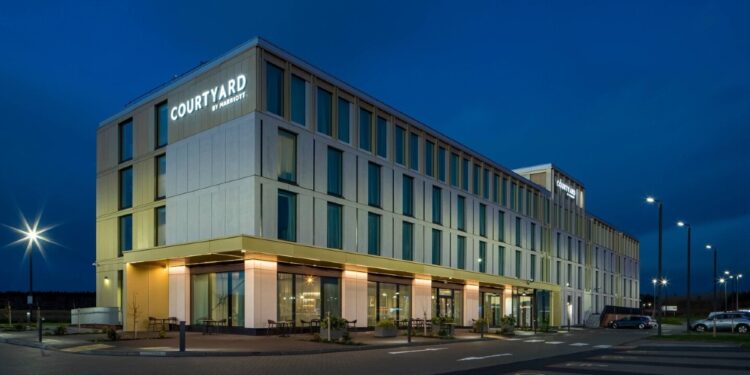 Seven-hundred-and-eight miles in a single day from Yorkshire to bonnie Scotland is a long enough drive for anyone. But with a trip to Inverness on the cards during a late-summer heatwave, it's well worth the journey.
In the eight hour journey, you take in some amazing sights as you head towards Carlisle via the Lakes. And you need that in the second half of your journey. In fact, it's where your trip up to Scotland really begins. We lost count of the number of times me and my partner said, "Wow, look at that" as views and scenery came into our eye-line. It helped time to pass, which was nice as we wanted to get to Courtyard by Marriott Inverness Airport as quickly as we could.
And when we did get there and walked in we got the warmest and most genuine welcome I've ever received. It was the perfect greeting after being on the road for so long and made us immediately feel right at home.
"A fantastic first impression"
The check-in process was seamless, and they confirmed our dinner reservation in the restaurant that evening. We did shift the time as we wanted to unwind a little, and they had no problem accommodating us.
So far, so good. A fantastic first impression of this hotel, and as we were handed our key card, we headed for floor two. From the hotel entrance to our door, every part of the hotel was clean. Shiny clean and spotless in reception and the lift area, and our corridor smelled nice and fresh.  The moment of truth is always that first few steps into your room though, isn't it?
Well, we entered 227 with two suitcases, a couple of messenger bags, and weary muscles and we liked what we saw. A couple of bottles of prosecco welcomed us, together with a Tunnocks Teacake and Tunnocks Caramel Bar. Nice touch. A spaciously compact room, with a massive bed. Plenty of space for our clothes and for our baggage. And clean edges and lines throughout. The furnishings are tasteful with quality finishes, and the bathroom modern, complete with a walk-in shower, lovely toiletries and nice, kind lighting.
Much of the bathroom wall and door is frosted glass, with a gap of about 1.5cm when you shut the door. Aesthetically pleasing, but removes a touch of privacy from visiting the bathroom. Overall though, we were really happy with where we were and so far, the long journey from Yorkshire had been worthwhile.
"Lovely, warm service"
You're in quite a remote area when you stay at Courtyard by Marriot Inverness. You're across the road from the airport, and the Moray Firth is just up the road. But there isn't that much else around to see and do. That makes you plan things though. Organise a trip or excursion, as opposed to wander out of the front door and see what you might come across. It also gives a peaceful tilt towards your stay as well. Being out of town usually equates to a more laid-back stay. And it gives you the perfect excuse to eat in your hotel too!
We'd built up a hunger after our journey north, and after freshening up we headed down for dinner. The restaurant followed the rest of the hotel, in that it was modern, spacious and spotlessly clean. It was nicely busy, and we were shown over to a booth in the corner. The hotel's perfect levels of service continued in the restaurant. We were welcomed nicely, asked where we were from and what brought us here. Far from intrusive, once again we were just receiving lovely, warm service.
The menu looked nice, giving us a medium-sized range of dishes to choose from. Plenty of vegetarian options catered for too.  I chose a starter of Squid and White Bait, and my other half liked the sound of the Falafel.  The Buttermilk Chicken burger was my choice for main course, and she plumped for the Panang Vegetable Curry. I also asked for a can of Irn-Bru too, because when in Rome…
"Impressed"
Our starters arrived quickly, and I was surprised at how nicely both dishes were presented. Whilst we weren't expecting anything too extravagant, it was nice that the chefs had made a little effort to dress the plate. they tasted great too.  The Squid and White Bait were cooked perfectly, were tender and had a lovely flavour to them. They carried a subtle fragrance and were perfectly crisp on the outside. The dressing served as a perfectly balanced, fresh addition to the dish and I was happy with what I'd been served. Equally, my partner enjoyed her Falafel. Again, it looked great and had been nicely cooked. We cleared our plates and looked forward to the next course.
Glancing around the restaurant, we had a couple of families in, many business people, and a few who I overheard talking about building work they were carrying out over at the airport. Very quickly though, our people watching was interrupted by delivery of our main courses. A nice, neat plate of chicken burger for me, and a huge, varied plate of curry across the table. I was really jealous of that dish, it looked sensational.  Lots of it, and she was very impressed with how nice it tasted. My other half isn't vegetarian, but regularly orders veggie dishes because she likes them. She was more than impressed with this one.
My Buttermilk Chicken burger looked good, if ever-so slightly overdone. But it was still delicious, and certainly didn't spoil our feast.  We rounded things off with a dessert – cheesecake for me and Belgian waffles for her. We both won here – we loved what we'd ordered and they were a perfect way to round off a nice meal, and let two weary travellers head up to bed for an early night.

"A glorious sleep"
Night one in our hotel couldn't have gone any better. We fell asleep after watching a spot of TV, and neither of us woke until our alarm went at 8am the following morning. We'd had a glorious sleep on an ultra-comfy bed, and our tiredness from yesterday's journey had well and truly been taken away. I grabbed a coffee from the Nespresso machine and made my better half a cup of tea.  
Despite our reservations about the gap in the door of the bathroom, the shower was lovely and the bathroom itself a nice place to freshen up and get ready. We wanted to get a nice breakfast down us before heading out for a busy day, so another trip to the restaurant beckoned. And once again we weren't going to be disappointed.
We were nicely welcomed into the restaurant again, with our room number taken and asked to sit where we liked. We took a table with a couple of comfy chairs by the TV and I decided on a cooked breakfast. This was served canteen style, and when I went over to the counter they were waiting on sausage and eggs. The duty manager apologised and said she'd come and tell me when a fresh batch were out if I preferred to wait at my table. This let my partner head over for the continental buffet and as she returned with her food, so did the manager as promised to tell me there was a full breakfast to choose from again. Faultless stuff, once again.
Put simply, we couldn't find any faults with this hotel. We loved our breakfasts and with everything going so well at Courtyard Marriot Inverness, we were excited for our day out.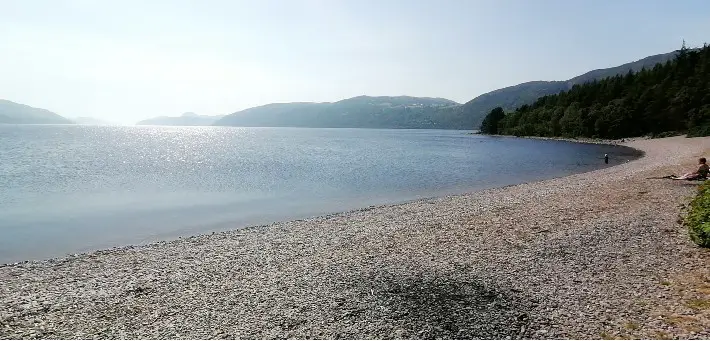 "Loch Ness was absolutely breathtaking"
Down here in Yorkshire, we have this picture in our mind of much of Scotland to be cloudy, drizzly and cold. Well, the heatwave gives you a different perspective of the place, and we headed to Loch Ness in shorts, t-shirts, sunnies and suncream. We'd decided that we'd head for Dores Beach, a highly recommended area of Loch Ness that promised nice views and nice walks. Something we both like.
It's only 17 miles from the hotel, just 30 minutes in the car. It's a pleasant, easy drive too – and with it being easy to park, our mid-morning arrival had already begun nicely.  We were welcomed with a view that'll be a memory for the rest of our lives. A clear sky, a clear band of water and hills aplenty as you looked into the distance.
We were lost for words. I'd never envisaged a visit up here to be as amazing as it this. Loch Ness was absolutely breathtaking, and none of my photos do the place justice. And to think that we were staying only 30 minutes away from this in the Courtyard Marriott Inverness… this had already become one of my favourite trips away. In all, we spent about four hours exploring the beach, watching the water and taking in the views. We also walked around the trail through the woods and relaxed on the beach. And we had to buy gifts from the beach camper van and probably didn't stop smiling the whole time we were there.
We were having such a great day, we decided to drive a bit further and go to Falls Of Foyers. Another 40 minutes drive, but worth it for a fabulous walk – with LOTS of steep steps, and some more memories to make.  We aimed to get back to our hotel for about 9pm, heading for the drive home just after 8 o'clock.
"Sad to leave"
There's plenty of parking space at the hotel, and during our stay parking was free. We returned and were parked up just before 9, and once again as we walked in we were greeted warmly. We asked if we could order a pizza for our room for a late tea, and the staff were happy to oblige. They phoned our room when it was ready 15 minutes later and I went downstairs to collect it.
The pizza was the only blip of our stay. The £16 Pepperoni pizza could have been much better. A tad sickly, the cheese had a plastic texture, and it wasn't really worth the price. We opted to buy a couple of Pot Noodles from the side kitchen instead, and actually enjoyed those in our room before showering and heading to bed.
Did the pizza spoil our stay? Not at all. My partner and I had a perfect trip to Inverness, and to Loch Ness – and our stay at the hotel was a highlight. As a place to stay it was perfect, and as a base for some of the things we got to see and do it was perfect too. I couldn't speak much more highly of the Marriot in Inverness.
The following morning after breakfast we headed to Urquart Castle on our way South, to round off our trip nicely. But we were sad to leave the hotel. We hadn't been here long enough, and we could easily have stayed for another two or three nights. But we will be back in summer 2022 – but this time probably fly from Manchester, and land just over the road.
What a lovely stay, in a lovely hotel, with lots of genuinely hospitable people. Courtyard by Marriot Inverness Airport can be very proud of their hotel, and their staff.  They helped to make our summer trip to the area one that we won't forget.
Courtyard by Marriott Inverness Airport, Fresson Circle, Dalcross, Inverness  IV2 7BL
https://www.marriott.com/hotels/travel/invcy-courtyard-inverness-airport